Craig Jones anticipates his 2008 season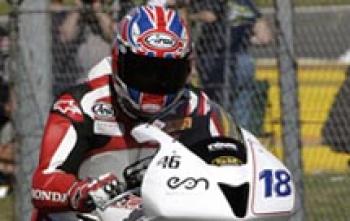 © Raceline Photography
By blue2bikes
January 7 2008
Northwich rider Craig Jones is looking forward to the 2008 World Supersport series with a new anticipation, having suffered a mediocre 2007 season in his rookie year, aboard his Reve 600cc Honda. Craig suffered with technical problems throughout the early part of 2007, and then overcame them in the latter part of the season - which meant he managed to gain a very creditable fifth position overall
It was a good ending to a season where Craig would have been in the top three if not for the technical problems and, as Craig stated, "I was somewhat disappointed to not have finished higher in the series but, as anyone knows, racing motorcycles is not just a matter of getting on the machine and riding as hard as you can. Anyone can suffer from technical problems - it's just that I had more than my fair share of them throughout the early part of the season."
So what is in store for Craig for the 2008 season? Having talked to Craig, he said, "I have had a very relaxed Christmas period, knowing which team I would be riding for, and already signing the contract prior to the Christmas break. This meant I could relax and focus myself in readiness for the 2008 series. I will again be competing in the World Supersport class, with most of my 2007 team, but under the banner of Parkalgare Honda Racing - with a new team manager, namely Simon Buckmaster the former manager of the British Superbike Rizla team during 2007, alongside my new team-mate Miguel Praia.
"The team will still be run from the UK, and will have factory backing from Honda. With the engine tuners and the team back up in place, we can hopefully go out and make a determined effort to win the championship. I have also rested completely over the Christmas break, and have taken a two week holiday in the States, training hard and losing weight - which will stand me in good stead come testing during the latter part of January, at Almeria Spain in readiness for the start of the season. I will of course be on the new 2008 machine during testing, and will certainly be ready having had the chance to test new parts and set-up of the new machine."

© Raceline Photography
Craig will be joined by three other Brits for the 2008 series - namely Jonathan Rea, Tommy Hill, and none other the people's champion of British motorcycle racing, Chris 'The Stalker' Walker. Jonathan Rea was the runner up in the British Superbike Championship in 2007; with Tommy Hill a former R6 Cup Champion and former British Superbike Championship race winning rider. Whilst Chris Walker has ridden and won races in some major championships worldwide, he is yet to win a championship - a real crowd pleaser and a rider who is hard to beat.
When Craig was asked about his new British rivals, he said, "Obviously Jonathan, Tommy and Chris are all close friends of mine, and I am looking forward to competing against them. They are really fast riders, and you can be sure there will be more than one Brit on the podium this year."
The first race of the championship is in Qatar, at the Doha/Losail Circuit on 23rd February 2008. WSS is a fifteen-round event, ending on 2nd November at the Portimão Circuit in Portugal, and making two visits to our shores - on 3rd August at Brands Hatch and 7th September at Donington Park.
Craig will undertake three testing sessions in readiness for the series, and hopefully will get off to a good start, free of all the gremlins he suffered during 2007. You can be sure that Craig will be out there giving it his all - his determination is clear to see, and he will certainly be on the podium.