Cal Crutchlow joins the CIA ... in BSB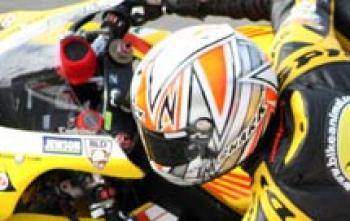 © Graham Etheridge
By Louise Cain
January 18 2008
Cal Crutchlow joins the CIA - the CIA INSURANCE team that is - a bike insurance specialist that has ambitious plans for 2008, including winning British Superbike races and challenging for the championship with one of the hottest talents in the country.
"Cal Crutchlow is a champion in the making, and one of the hardest and most competitive riders in the world," said CIA Insurance Director Lee Martin. "Those are qualities that CIA Insurance can relate to - we are bike riders and specialists, offer extremely competitive rates and champion policies.
"Cal Crutchlow is all about the excitement of racing, the love of motorcycling and winning. He is the ideal addition to the CIA Insurance team, and already he is smiling as we have saved him money on his own insurance policies."

Cal Crutchlow
CIA Insurance is based in Rugby, just five-miles from Cal's home, and has been trading for more than 25 years. 2008 marks a step-up in performance for CIA Insurance, with a focus on delivering the best policies and prices to the motorcycle market - and making sure that they get to taste some champagne as well.
HM Plant Honda factory BSB racer Cal said: "CIA Insurance has big plans to be the best provider of insurance in the UK - mirroring my own ambitions to be the best British racer and win championships. I like the team at CIA Insurance; I think we are going to have a successful 2008 and some fun while we are at it.
"As for insurance policies, it's easy to be cynical and say that I would endorse CIA Insurance no matter what, but the fact is the policies it has written for me have cost me less and offer better service than anything I've had before. Bikes are the core for CIA but its home, travel, car and even professional insurance policies for me as a racer are all ace and well ahead of the competition."
Cal will sport a CIA Insurance logo on his leathers in 2008, alongside the firm's web address www.cia-insurance.co.uk on his helmet visor. You'll also have links to CIA Insurance from his personal website www.calcrutchlow.com.
Keep an eye CIA Insurance and Cal's websites, media and advertising as the year progresses, because CIA Insurance will be offering free tickets to join Cal at the 2008 BSB races amongst other prizes. If you need bike, home, car, caravan, commercial, let property or any kind of insurance, why not give CIA Insurance a call on 0870-4442-777 or visit www.cia-insurance.co.uk and join the winning team.