World Supersport podium for Craig Jones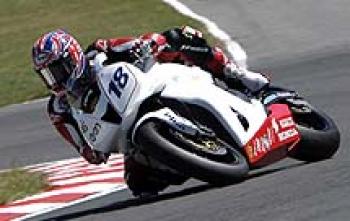 © Raceline Photography
By blue2bikes
March 7 2008
Northwich rider Craig Jones got off to a dream start to the new motorcycle racing season, taking a podium finish with the Parkalgar Honda at the first round of the 2008 Supersport World Championship series, which took place at the Losail GP circuit in Qatar.
Delighted with his winter testing schedule, and the set-up of his machine, Craig qualified second on the grid for the race - the best start he could have asked for from his new Parkalgar Honda backed machine.
Setting up his machine, Craig used different gearing to compensate for the high winds which dogged the qualifying sessions, and which was also forecast for race day.
Craig said, "I am more than happy with the set-up of my machine, and the gearing is helping me to be quicker through the turns - but I do lose out on the straights. If the strong winds die down tomorrow the gearing should be perfect."
Race day and Craig is in the lead from the off, then settled down to a solid fourth place come the final lap. Fabien Foret the then leader ran out of fuel, which pushed Craig up to third position.
Craig stated after the race, "You could say I was gifted the podium result, but that just shows that the back-up from my Parkalgar Honda team was spot on, and I thank them - this podium is for them. I was in contention with the leading riders, but going through the hairpin I missed a gear. Had it not been for that I would have gone for the overtake and a possible win."
The second round of the series took place last weekend at the famous Phillip Island circuit in Australia, a track not familiar to Parkalgar Honda so set-up of the machine was not going to be an easy task. Although Craig has raced at the circuit, the team had no data or set-up details for the machine so this was to play a large factor regarding the end result.
Having a tough time in qualifying due to a damp track and strong winds, Craig qualified in 12th position for the race. Struggling for grip, Craig managed to gain a 16th place finish. Craig said after the race, "We chose a different tyre than everyone else for the race, which was to prove the wrong choice in the end. Halfway through the race it started to lose grip and it was difficult for me to maintain a race pace.
"It was a hard weekend for me this weekend, and I never thought I would be coming away from here out of the points. Lack of testing didn't help, but this has made me stronger and I will learn from it. I can't wait for the next round at Valencia."
Craig now lies in sixth position in the rankings - his best ever season start to date.