First BSB win for Jon Kirkham at Croft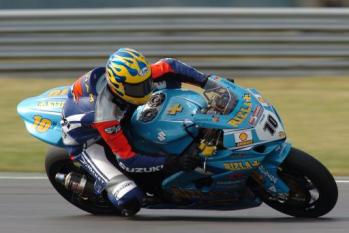 © Empics / PA Photos
By Dan Moakes
May 26 2011
With Tommy Hill hurt and unable to race at Oulton Park, Shane 'Shakey' Byrne had moved ahead as the championship pace-setter for the 2011 British Superbike championship. But there had been race victories for Honda, Yamaha and Suzuki, and several men were potentially contenders for the crown. Which team and which rider would be able to take the advantage?
Jon Kirkham is pictured on his 2006 Suzuki
Round three was being held at Croft circuit with its range of varying features, mostly fast and flowing. The past couple of seasons had seen wins here for Hill, Michael Laverty and Stuart Easton; and against initial expectations Tommy had undergone sufficient treatment on his damaged shoulder to be able to take part - albeit without the fitness to be able to push the limits. Points at least were crucial to his championship challenge.
There was a rain delay to final qualifying, but in the end it went ahead as normal, and with an HM Plant Honda at the front again. Having been on pole position at Brands Hatch, but 'only' seventh at Oulton, Byrne was back in first place here. Team-mate Ryuichi Kiyonari was not happy with his CBR1000RR here, only getting into P14, which was fifth of the Honda runners, and also behind the leading Evo class Honda.
Swan Yamaha rider Michael Laverty maintained his front row form in second, the only man to be on the front rank at all the rounds so far, and team-mate Hill managed a creditable eighth. The Motorpoint Yamaha team had both riders near the front, with Loris Baz third and James Westmoreland fifth. They were split by ultra experienced BSB man Michael Rutter, fourth on the Rapid Solicitors Bathams Ducati 1198.
The new Kawasaki ZX-10R managed sixth here, ridden by MSS Colchester man Easton, and with team-mate Gary Mason in P11. Sorrymate.com Honda rider Dan Linfoot was in seventh, and Tyco Honda rider Peter Hickman was in tenth. The first Suzuki machines were on row three, John Hopkins ninth (Samsung Crescent team) and Josh Brookes twelfth (Relentless by TAS team). Evo riders Alex Lowes and Glen Richards (both for WFR Honda) were either side of Kiyonari, and Jon Kirkham (Samsung Suzuki) took P16.
Race one had been preceded by some rain, and the track conditions were damp as start time approached. Then more rain fell and the start was delayed. A wet race was declared, with some extra warm-up laps and the contest itself shortened to 18 laps. The riders had to decide on which Pirelli tyres would be most suitable, and their choices varied. Front row men Byrne and Rutter opted for slicks, whereas Laverty chose wets. Others decided on the intermediates.
Byrne and Rutter led away, from Laverty, Hopkins, Easton, Westmoreland, Hill, Mason, Linfoot, Brookes, Richards, Simon Andrews (PR Racing Kawasaki), Lowes and Baz. They were all safely through the first right at Clervaux, the left kink and the tighter right of Hawthorn Bend. The next right curve leads to the right-left Chicane onto the back straight, and in that curve Laverty passed Rutter for second. Hopkins also made quick progress to slot into third, with Hill and Mason up behind fourth man Rutter.
Byrne and Laverty threatened to get away from the rest up front, but soon enough it was Byrne on his own moving clear. Mason soon passed Hill for fifth, then proceeded to leave the Yamaha man as he closed on Laverty, Hopkins and Rutter. Jenny Tinmouth on the Splitlath Aprilia had finally made her BSB début in this race, but unfortunately she crashed out very early on in the uncertain track conditions. The same fate awaited Steve Brogan on the Jentin Honda at Clervaux corner.
The lap at Croft ends with a left-then-right Complex and then the tight left-handed final Hairpin. It was at that corner that Laverty went wide, which allowed Hopkins to pass him for second on the inside. On the back straight there is a left kink before the braking zone for right-handed Tower Bend, and that kink saw Rutter also go through past Laverty. Before long it was clear that he was going to struggle on the wet tyres. Richards had made useful progress and, with Mason through to fourth, the Australian rider was next to relegate Laverty on the inside at the Hairpin.
The slick tyres were paying off, and Byrne was out on his own in the lead. Rutter has been known at times to cope very well with slick tyres on a partially wet surface, and here he was into a clear second place. However, he soon had to tour the Ducati round to the pits with a broken gear lever, and his chances of a podium result were gone. The team effected a repair job so he could resume, a lap or so later, but a points finish looked unlikely now.
Which left Byrne in a clear lead, and setting a new fastest lap, Hopkins on his own in second, and Mason into a podium position at this stage. In a BSB career that stretches back to 2002, with many race wins in the privateer Cup class, Gary's best outright result was fourth place. Richards was in P4 now, from Kirkham, Lowes, Baz, Easton, Hickman, Chris Walker (Pr1mo Kawasaki), Brookes, Laverty, Westmoreland, Scott Smart (Moto Rapido Ducati), Hill and Tommy Bridewell (Tyco Honda). Kiyonari was in the pits, but now it was raining again.
Hopkins was catching leader Byrne, and the reason was more obvious when the HM Plant Honda suffered an engine blow up. Smart continued with a damaged machine after an off at about this stage, but Shakey's exit led to the safety car being sent out, after eight of the 18 laps. At that moment, Hopkins had been in a clear lead, with Mason now second and a long way clear of the next man. The safety car meant that all gaps were closed up, and at the restart it was raining again.
Hopkins led Mason, Kirkham, Lowes, Baz and Easton, but with Kirkham overtaking Mason on the inside at Clervaux to make it a Samsung Crescent Suzuki one-two. Jon then also passed John when the former GP man made a mistake at Barcroft, the fast right kink in the second half of the circuit. Behind, Lowes put his Evo Honda into third place with a pass on Mason at the left-hander going into the Complex. Before long, the Kawasaki man reversed this position again. The first three were moving clear of the rest, and at this stage Hill was back in P14.
The Suzuki pair swapped places at the front. Hopkins passed Kirkham in the kink before Tower, but at that corner he went wide enough to let his team-mate through again on the inside. Jon then went on to pull clear of his Samsung-backed partner, and this resulted in a somewhat unexpected but well-deserved first BSB victory for Kirkham. Indeed, it was his first podium result in the series. Mason was still quite close at the finish, but Hopkins stayed ahead of the Kawasaki man to make it a Crescent Suzuki one-two, with Gary finally securing a rostrum result.
A late change gave Baz fourth place over Lowes, from Easton, Hickman Brookes, Richards, Hudson Kennaugh (Splitlath Aprilia), Westmoreland, John Laverty and Ian Lowry (both Buildbase BMW), Hill and Tom Tunstall (Doodson BMW). Walker's Kawasaki seemingly ran out of fuel in the late stages, having run in the top ten, whilst Michael Laverty's choice of the wet weather Pirelli tyres had clearly failed to work out.
By the time of race two, it was overcast but conditions were dry, and slick tyres were the selection all round. Fast laps from earlier non-finishers Byrne and Rutter had still given them good positions on the new grid, which saw Kirkham on pole, heading Hopkins, Mason, Byrne, Baz, Rutter, Lowes, Richards, Easton, Hickman, Michael Laverty, Brookes, Kennaugh, John Laverty, Walker and Bridewell.
This time Mason got the lead at the start, from Hopkins, Byrne, Kirkham, Rutter, Richards, Michael Laverty, Brookes, Hickman, Easton, Lowes and Walker. Laverty was on the move on the first lap, and by the right-handed 'out' part of the double apex Sunny Corner, he was on the inside of Kirkham. Sadly for the race one winner, Michael lost the front here and the pair crashed, and Jon's glory day ended early.
Meanwhile, Byrne was up to second, and then he passed Mason for the lead at the start of lap two. However, the safety car was about to go out following the Laverty-Kirkham crash, while the two riders were extricated and the bikes removed. At the restart, Hopkins moved past Mason for second place on the inside at Clervaux, at this stage with Rutter, Brookes, Richards and Easton in the next few places. It was not long before Byrne had got clear on his leading Honda.
As Richards dropped back, Easton and Hickman were soon through past Brookes. Just ahead, Mason passed Hopkins to retake second at the Complex, and then fourth man Rutter lost out to Easton on the main start-finish straight. Next Stuart overtook John for third, giving the MSS Colchester Kawasaki team second and third slots behind Byrne. Mason would be pushed back a place by the Scot, going through on the inside at the first left of the Complex.
Hopkins was fourth and Rutter was fifth, with a bit of a gap behind to Brookes, who had got ahead of Hickman at Clervaux. But soon Rutter would lose out to first Brookes and then Baz, which put the Ducati man in a bit of danger. This came when Linfoot tried to go inside Hickman at Tower and his machine clipped the rear of the other Honda. Linfoot crashed, and Rutter was close enough and lucky not to be involved. By this time Smart had already pulled out of the race.
With Byrne on the way to a second victory, second man Easton now had an almost comfortable margin over those behind. Hopkins overtook Mason on the inside at Tower for third, and soon Brookes also went past the green machine in a similar move. Before long, Baz also passed Mason, but he wasn't able to keep pace with the Suzuki pair ahead. Finally, Easton maintained second, with Hopkins third and Brookes on his tail.
Following the incident with Linfoot, Hickman had been running in ninth place and under pressure from Hill, with Lowes ahead of them both. Bridewell was behind, and soon the Tyco pair would go past the leading Evo runner, following Hill's example. Then Tommy got by Rutter and closed in on sixth man Mason. He made the pass on the inside for the Hairpin going onto the final lap, and from there made some inroads on Baz, but not enough as the Frenchman finished fifth.
Hill was the sixth man home, therefore, from Mason, Rutter, Hickman, Bridewell, Lowes, Westmoreland, Walker and Lowry. With his team-mate the clear victor, Kiyonari finished up a disappointing fifteenth, ahead of Richards on the Evo machine. From the two races, Kiyo only just outdid non-finishers Michael Laverty and Linfoot.
In terms of the championship, the biggest winner on the day was John Hopkins. With a second and a third place he was the high scorer, and it moved him up just behind Shane Byrne. Stuart Easton was the next best scorer and benefited similarly. The two race winners were each out of luck, and therefore not on the score sheets, in the other one of their two outings. But Byrne stayed in front, and meanwhile Jon Kirkham achieved the high point of his career to date. Probably much the same was true of Gary Mason. Tommy Hill performed well in the circumstances, but the opposite was surely true of Ryuichi Kiyonari. Still nobody has made a decisive break.
Standings after six races: Byrne 95; Hopkins 92; Easton 89; Kiyonari 59; Hill 56; Kirkham 54; Baz 51; Mason 44; Rutter 42; Hickman 37; M Laverty 35; Brookes 31; Lowes 30; Bridewell 28.
podium credits: Byrne 8, Hopkins 8, Kiyonari 5, Hill 5, Easton 5, Kirkham 3, Bridewell 1, Mason 1
wins: Honda 3, Suzuki 2, Yamaha 1.