Dramatic last lap action in MotoGP '05 round one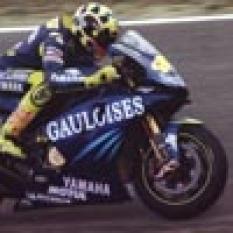 © Elliot L Doering
By Dan Moakes
April 10 2005
Valentino Rossi has been the leading rider in MotoGP competition for the last four years, even after switching from Honda to Yamaha. His chief rival of the last two seasons has been Sete Gibernau, and the start of the 2005 season shows that these two are going to carry on their battle in style.
Rossi on the 2004 Yamaha - photo © Elliot L Doering
The new MotoGP World Championship kicked off with a dramatic Spanish Grand Prix, at the Jeréz de la Frontera circuit, in the south of the country. It marked the first European season opener since 1986, taking place in front of a customarily sizeable and enthusiastic crowd, with four home riders to get behind in the premier class. Although three of these were on the second half of the grid, nine-time race winner Gibenau carried on from 2004 with another front row start.
Gibernau had been fastest in practice on the MoviStar Honda, but the new qualifying procedure, with only one session couting towards the grid, saw him demoted by pole man Rossi. The Gauloises Yamaha rider would start out front for the 26th time, but with three Honda men on his heels. Gibernau was joined on the front row by new team-mate Marco Melandri, whilst Nicky Hayden led row two with the factory Repsol machine. Three more RCVs filled row three, with Alex Barros and Troy Bayliss (both for Camel Pons) behind Makoto Tamada and the JIR bike. Max Biaggi would start from a worst ever 16th in his Repsol début.
Fifth place went to Shin'ya Nakano, with the revised 'big bang' firing Kawasaki, and Loris Capirossi was next on the lead Ducati, despite injuring his left ankle in a practice crash. Behind Bayliss came Alex Hofmann (Kawasaki), and John Hopkins on the first Suzuki, after an encouraging fourth place in practice. Then came Carlos Checa (Ducati), Toní Elías (Fortuna Yamaha), Kenny Roberts (Suzuki), and Colin Edwards in 15th on the second Gauloises bike, down from eighth in practice.
Biaggi was followed by Rubén Xaus (Fortuna Yamaha) and Roberto Rolfo (d'Antín Ducati), with Franco Battaini and James Ellison (both Blata WCM) split by Shane Byrne and the Proton-KTM. The WCM riders stayed with the 2004 bike, as the V6 Blata powerplant was not yet ready, while Byrne was giving the KTM V4 motor its first GP start.
Conditions were dry but windy, and Rossi had managed a harmless fall in the warm-up, but the first four all made good race starts. Gibernau went in front initially, but Rossi quickly got by, only to see his main rival fend him off and recover the lead. Hayden was third, from Melandri, with Nakano moving past fast mover Bayliss for fifth, ahead of Capirossi, Checa and Hofmann, then Elías, Tamada, Barros, Edwards, Roberts, Hopkins, Rolfo, Biaggi and Byrne. Hayden passed Rossi on lap one, whilst Xaus managed to crash at the last corner, and was forced into a lengthy pit stop.
The early pace was enough for the first four to start stretching away from Nakano and the rest, with Rossi fastest at first, but getting into a battle with Melandri after running wide at the Curva Dry Sack right-hander, a tight corner at the end of the back straight. Valentino fought back through the next stretch, but meanwhile Hayden was improving on the best lap so far. In no time at all, Gibernau, Hayden, Rossi and Melandri had moved into a race of their own, with Nakano getting away from the rest, and Bayliss heading a pack including Capirossi, Checa, Hofmann, Tamada, Edwards and so on.
In fact, the pace at the front kept up so that even Melandri seemed to drop back a touch, whilst Rossi got a move on and slipstreamed Hayden, getting through on the inside at Dry Sack. As Melandri lost touch, so the first two kept up the intensity, with Rossi pushing Gibernau on the back straight. Hayden also seemed likely to fall back, but then Gibernau suddenly pulled a few lengths over Rossi, who then came under pressure for the American rider.
Sete's lead was now around 0.9 seconds, but Valentino gradually started to claw it back, and closed in again. Hayden couldn't stay with him, and it ultimately became a two-man affair for victory. Gibernau's advantage was no more than a quarter of a second by half distance, but he seemed to have the edge. The Honda was obviously better on acceleration out of corners, particularly the final Ducados left-hand hairpin, even though Rossi's riding made up the difference though the many turns.
Rossi pushed on, looking threatening in places, but seemingly not anywhere that would let him pass. The lead pair raced on at impressive speed, with Valentino doing his utmost to regain ground whenever Sete got himself a bit of a gap. This was evident when 'the Doctor' went too fast into Dry Sack, and ran wide, but he recovered almost immediately. Then, as they were going into the penultimate lap, Rossi somehow managed to force his way through on the inside at Ducados, holding the lead at turn one.
They went into the final lap with Gibernau seemingly not close enough to pass, but the breathtaking drama was about to unfold. Rossi again went wide at Dry Sack, and his rival went through on the inside, and fought off the Yamaha into the next quick left. Rossi kept up his momentum as they rounded the next two or three corners almost together, and was able to run onto the inside through the fast right at Senna. Gibernau's more standard line put him back inside for the immediate second right at Ferrari, and he led again. There was nothing in it with one corner remaining.
As they barrelled towards Ducados, Rossi was to the left of Gibernau, and slightly behind. On the inside for the corner, Rossi forced his way into the gap, with a foot down at one point, and the two riders clashed. Gibernau could only run out into the gravel as the Honda man powered to victory, but he was at least able to rejoin the circuit and get home second, albeit having hurt his left arm in the incident. The crowd were understandably stunned, and Sete subsequently looked rather less than happy.
There hadn't been a battle for third, with Hayden and Melandri each having ended up circulating alone after the lead group broke up. But Hayden was out of luck, suffering a low side crash into the gravel when under no pressure, and was able only to get going again in order to reach the pits. Thus Melandri reached the podium for the third time, and in his first Honda outing, and RCV riders took four of the next five places.
The battle for sixth in the early stages had seen Barros coming through even as team-mate Bayliss was losing out. The experienced Brazilian passed Edwards, Bayliss, Checa and Tamada to run sixth, then proceeded to close on Nakano, who he passed at turn one and moved clear of. The injured Capirossi had quickly dropped back through this group, whilst Bayliss fought back past Checa and Tamada, and Biaggi made some progress from 17th on lap one. Barros was fourth at the flag, from Nakano, Bayliss, Biaggi, Tamada, Edwards and Checa.
The final points went to Hofmann, Elías, Capirossi, Hopkins and Rolfo, ahead of Ellison and Battaini. Xaus rejoined some laps down, and could do little more than keep out of the leaders' way and bring it home. Meanwhile, Byrne had withdrawn early on with engine troubles, and he was joined in the pits by former champion Roberts, having problems with the Suzuki.
MotoGP could not have asked for a more dramatic start to the season, nor further evidence of the intensity of competition between Valentino Rossi and Sete Gibernau. The champion was delighted to have won, but the local favourite, although he avoided comment, seemed very unimpressed with the way victory had been decided. The other Honda men had shown promise, whilst Shin'ya Nakano and Kawasaki had again done wonders. The next race cannot come too soon.
Standings after one race: Rossi 25; Gibernau 20; Melandri 16; Barros 13; Nakano 11; Bayliss 10; Biaggi 9; Tamada 8; Edwards 7; Checa 6; Hofmann 5; Elías 4; Capirossi 3; Hopkins 2; Rolfo 1.