Tommy Hill and Leon Haslam win at Cadwell Park BSB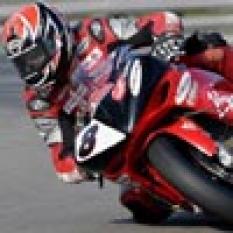 Raceline Photography
By Dan Moakes
September 8 2005
Fortunes changed for the British Superbike meeting at Cadwell Park, with Virgin Mobile Samsung rider Tommy Hill taking his first win, and the Airwaves Ducati men closing in on the HM Plant Honda riders in the title chase.
Round ten of the series took place on Bank Holiday Monday, at the spectacular and challenging Lincolnshire circuit. Cadwell Park's layout is dictated by the terrain, with fast, technical and steep sections running through variously open and wooded areas, as well as the famous leap over 'the Mountain', now preceded by a new right-left-right chicane to reduce speeds.
Qualifying again saw the GSE/Airwaves Ducatis among the front runners, but this time Leon Haslam (pole) and Gregorio Lavilla (third) were joined by second placed Hill, making Yamaha's first front row start since round two. The leading Honda was that of Karl Harris, with fourth matching his best performance from way back at Thruxton.
The HM Plant Honda pair, winners of thirteen races this year, were relatively lowly placed in seventh (Michael Rutter) and eleventh (Ryuichi Kiyonari). Rutter was still injured after his qualifying fall at Snetterton, and with a reduced points lead of 26 after coming to grief in Silverstone's first race. He was joined on row two by Glen Richards (Kawasaki), Jonathan Rea (Honda) and James Haydon (Suzuki).
Dean Thomas led row three on the second Hawk Kawasaki, with James Buckingham also ahead of 'Kiyo', and then John Reynolds, Gary Mason, Dennis Hobbs, Sean Emmett and Ben Wilson. Vivaldi Racing's Scott Smart had managed to struggle to 18th, but was hurting with collarbone trouble after the incident with Emmett at Silverstone, and would not start the races.
Race one saw Haslam, Hill and Richards get away in front, but there was an incident involving tail enders through Coppice, the first left-hander. With Jon Kirkham and others down, the safety car was despatched. When the action was restarted, five men emerged clear of the pursuing pack, which was headed by Rutter. Haslam led Hill, Richards, Lavilla and Harris, but successive moves by Gregorio at Park put him right behind team-mate Leon.
Gaps fluctuated between the leading trio, as Hill went with the two Ducatis. With two laps to go, Lavilla would replicate his other moves to get by Haslam. Richards and Harris were left to their own private battle, as they dropped off the leaders' pace. In the end Karl could not stay with Glen, who would run in a solitary fourth. Rutter had been followed by Thomas, Buckingham, Kiyonari, Haydon, Rea, Reynolds, Mason, Steve Plater and Chris Martin. By the latter stages, Kiyo and Haydon had moved forward in the group, while others would not make the flag - Rea taken out by Plater.
On the final lap, Lavilla led Haslam and Hill up the back straight to the Park right-hander. What happened next decided the race, as Leon pulled alongside on the Spaniard's right. Braking late, he couldn't quite make the corner, and ran wide onto the grass. With nowhere else to go, Gregorio was also forced off track, but not so far off line. Hill was left to run to the flag, with Lavilla getting back on in time to salvage second. Haslam's slightly lengthier excursion was compounded when he tried for second at Hall Bends, and in fact lost out to Richards, Harris and Kiyonari, to end up sixth.
Haydon was seventh on the leading Rizla Suzuki, from Rutter, Thomas, Buckingham, Mason, Reynolds, Emmett, Wilson, Danny Beaumont and Kieran Clarke.
Race two saw Haslam lead away, with Rutter quickly jumping Hill for second, in front of Lavilla, Richards, Harris and privateer Buckingham, who would soon lose out to Thomas. This time, Leon seemed determined to keep out of trouble by getting clear up front, and before long Rutter was also comfortably ahead of the next pair. Early problems hit Rea, going down at Coppice; and Buckingham, who took an excursion across the grass beyond the very same corner. Kiyonari remained outside the top ten in the early stages.
Haslam's easy ride was not to last, as team-mate Lavilla replicated his first race pace. The Spaniard overtook Hill at Park corner, then dealt with Rutter on the inside going into the chicane, with the following Yamaha also taking advantage. Emmett was out of the action around this stage, soon to be followed by points leader Rutter, with a somewhat unexpected crash for the Honda man at Chris Curve, the fast right that follows on from Park.
In the latter stages it again came down to the Airwaves pair, as Lavilla had caught up to Haslam. With Rutter out, Gregorio had no need to take any risks and jeopardise a good points result, and so it was that Leon had edged a slight margin as they took the flag. Meanwhile, Kiyonari had fought his way through the pack and got by Hill for third. Harris was fifth, from Haydon, Thomas, Reynolds, Plater, Mason, Buckingham, Tristan Palmer, Clarke and Martin, while Richards had fallen back from fifth and scored just the one point.
A pair of second place finishes for Gregorio Lavilla, a fifth and third for Ryuichi Kiyonari, and just eight points for Michael Rutter served to bring the three title challengers close together in the points table. And at the same time the order was shuffled, too. Rutter's misfortune means he now trails Lavilla by two, with ten-time winner Kiyo now just seven behind his team-mate. Leon Haslam stretched further away from the rest in fourth, but the big news was the win for Tommy Hill and Yamaha - easily the team's best weekend of the year to date, and a well deserved maiden success for the 20-year-old former R6 champion.
Standings after twenty races: Lavilla 326; Rutter 324; Kiyonari 317; Haslam 243; Richards 199; Harris 169; Thomas 145; Mason 127; M Laverty 113; Reynolds 96; Haydon and Hill 89; Emmett 82; Smart and Plater 76.
---
To buy the photograph shown above, visit Raceline Photography