British Superbike championship review 2005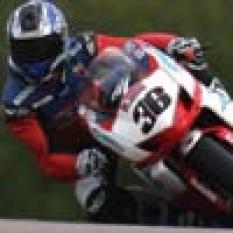 Raceline Photography
By Dan Moakes
December 13 2005
The 2005 British Superbike Championship was won by Gregorio Lavilla for Airwaves Ducati, defeating Ryuichi Kiyonari for HM Plant Honda. Read this site's review of another exciting and dramatic season - and discover our top ten riders.
The British Superbike Championship seemed to enter a new era in the 2005 season, although not necessarily in quite the same way as seen in the World Championship. Most of the established stars were back to renew their claims on what was potentially the most competitive series for years, but were this time joined by a particularly high number of promising newcomers and youngsters, who pointed the way to a rosy future. Experienced big name riders such as John Reynolds, Michael Rutter, Sean Emmett, James Haydon and Steve Plater, it turned out, were to be overshadowed by a pair of relatively inexperienced men on the BSB stage, from rather further afield. Spaniard Gregorio 'Greg' Lavilla and Japanese Ryuichi 'Kiyo' Kiyonari were those men, and would catch the eye with some masterful riding, even as a number of the younger guys were emerging with some impressive moments of their own.
Sadly, the season also marked the end of the John Reynolds era. The man from Nottingham was the reigning title holder, and had been the only rider to win a race in every one of the previous eight seasons - twelve of his 37 successes in the period having come with Rizla Suzuki. John's misfortune struck early, when he broke his right leg in a pre-season Valencia testing crash and, at almost 40 years of age, the chances of his mounting a full-on defence of the crown took a big knock. Getting back to race fitness in a matter of weeks was one thing, but his trademark determination meant there was no discounting 'JR', and so there he was on the third row of the grid at Brands Hatch. The going was tough for Reynolds, and it wasn't until Knockhill's seventh round that he was approaching his best form again. Four rostrum appearances followed, but a further incident took him out of the action with multiple injuries sustained in practice for the Brands finale. Despite having been signed to continue on into 2006, John decided the time was right for retirement.
Experienced 31-year-old Gregorio Lavilla started the season without a job, despite being a veteran of six full seasons in World Superbike competition, latterly with the Suzuki GSX-R1000, which he'd put on the podium seven times. As Suzuki's MotoGP test and reserve rider in 2004, the Spaniard had been on hand to fill in for Rizla Suzuki's Yukio Kagayama at Thruxton and, with that in mind, he was the first choice to substitute for Reynolds at this year's season opener. In the event, 'JR' was able to race, but Airwaves Ducati rider James Haydon was not. Gregorio duly took over, and was the second best performer on the day, with second and third places. From there he never looked back, with Haydon stepping aside to let him continue.
Lavilla had last raced a Ducati in 1998, and had only previously competed at four of the eleven British (and Irish) circuits in the series - Brands, Thruxton, Silverstone and Donington. Undeterred, he was a quick learner, no doubt helped greatly by the reborn GSE Racing team, winners of two BSB titles and four WSB races. Lavilla's lack of track knowledge may have worked against him in qualifying, but seemed to work in his favour in the races, as he was able to manufacture overtaking opportunities in places where others had perhaps not seen them in the past. And the Ducati 999 F04 worked more effectively on the UK circuits than had its predecessor during the 2004 season. Lavilla and young team-mate Leon Haslam shared top BSB billing with HRC's official HM Plant Honda squad over the balance of the season, with Rutter and Kiyonari retained for FireBlade duty - Harris and Rea were fielded in satellite Honda outfits.
Because of Reynolds' injuries, Michael Rutter surely assumed the role of favourite for the title, after such a strong first year with the factory-backed CBR1000RR FireBlade. Consistency and experience counted in the 33-year-old's favour, but the off-season period had seen team-mate Kiyonari surface as the quicker rider through an intensive testing regime. Kiyo threatened to run away with things to begin with, winning nine of his first eleven race finishes, but this run was interrupted by a blank slot across the Mallory and Oulton weekends after a big crash. Rutter finished every one of his first sixteen races in the top five, with first or second eleven times, and was therefore well ahead on points after Snetterton - where Kiyonari crashed again in race two. But the last five meetings turned into a bit of a nightmare for Michael, so that the impressive Lavilla emerged as Kiyo's challenger.

Lavilla, Kiyonari, Reynolds - photo © Raceline Photography
The story of the season might well have been summarised by a dramatic final lap of the second race at Oulton in September, which ended with Ryuichi defeating Gregorio by fractions. The podium score was now fifteen to the Japanese, and eighteen to the Spaniard. Lavilla may not have won as often, but was obviously getting the job done. He ended the year with a burst that saw him first or second in the last eleven outings, and a maiden double at Donington gave him enough of a lead going into the Brands Hatch finale, where he shared the wins with Haslam - also on a good streak. Kiyo's form in the same period saw just three wins, including the Oulton double. Silverstone had been a mixed affair for him - he had to fight back up to eighth after a race one fall, but had pole and won race two. He then lagged down the grid at Cadwell, and even missed the podium at Brands, where only victories would do for him. It was a missed opportunity for Honda, but they had provided plenty of excitement along the way.
The most regular challengers behind the 'big four' were Hawk Kawasaki's Australian pair of Glen Richards and Dean Thomas, plus Honda UK's Karl Harris. When circumstances and/or fitness were right, Sean Emmett, John Reynolds and James Haydon were able to capitalise on their experience, joining in at the sharp end of the second group, and most often the race for the non-podium positions was as enthralling as anything going on up front. Add to that the best of the various younger riders, all of whom joined in at one time or another, and there was plenty for the fans to get excited about.

Gregorio Lavilla in 2005 - photo © Raceline Photography
Motorcycle Racing Online's 2005 British Superbike top ten
1 Gregorio Lavilla - Airwaves Ducati
As mentioned, Gregorio Lavilla made the transition from unemployment to BSB superstardom in no time at all. To begin with, his qualifying efforts, on largely unfamiliar circuits, meant that he would start from the second row or worse, but his racecraft more than made up for this, and his dramatic moves went down well with the crowds. Mondello Park was a classic example, as he successively moved up on the other leaders to take his first win, and he also came through the field for further successes at Croft and Snetterton. A crash at that venue's first race followed an earlier incident at Mallory, plus a no-score in the wet at Oulton, but after this he was a model of professionalism - scoring 73 more points than Kiyo in the last eleven races. He may not have been the fastest rider, but he was the most accomplished racer, and the title was well earnt against such strong opposition.
2 Ryuichi Kiyonari - HM Plant Honda
2004 had been a learning year in Britain for Michelin, HRC, their man Ryuichi Kiyonari, and the rapid new FireBlade 1000 - and progress had seen them combine in dominant form at the Donington finale. 'Kiyo' returned for his second season with plenty of testing miles on the clock, and set out his intent with four wins in a row at the outset, again in dominant form. Indeed, he took more victories than anyone across the season, and was always hard to beat from the front - not quite the case when he had to battle. But the main set-back to his title hopes was a dramatic first lap crash at Mallory, which gave him concussion and meant four missed opportunities to score. He caught up this lost ground, aided by Rutter's problems, but a crash at Snetterton and lost points at Silverstone were to prove costly as Lavilla came on strong. Kiyo could not hold onto his lead, but will get another chance next year.
3 Michael Rutter - HM Plant Honda
Michael Rutter looked a good bet for a first BSB title after a dependably strong start to his campaign. Kiyonari was showing winning speed, but Michael finished the first sixteen outings in the top five, and was off the podium in only three. Five no-scores for Kiyo meant that Rutter led by 45 points after Snetterton. But the same event spelt trouble for the 33-year-old, as a qualifying tumble left him in some discomfort from collarbone injuries. He would struggle after this, not helping his cause next time in a low speed fall at Silverstone when second, and with Kiyo behind. Cadwell saw him lose the points lead, crashing in race two, and in fact his last ten races saw no further podium visits. It was a harsh appraisal of his performance when the works team let him go, but somehow all the means of HRC had failed to get the title. Rutter looked like the fall guy but will be a threat on another Honda in 2006.
4 Leon Haslam - Airwaves Ducati
An experienced rider at international level, more so than most of his British rivals, 2005 marked the first full-time BSB assault for 22-year-old Leon Haslam. With Haydon out of action early on, Haslam must have seen a chance to lead the way for GSE Ducati. He was on pole for the first races at Brands, and took the 999's first win, defeating Rutter in the wet at Oulton - where dramatic factors had seen a fight back to fourth in race one. But by then Lavilla had beaten him to the podium five times, and Leon would continue to operate as the team's number two - a very handy one at that. Two more poles and a total of nine front row starts actually made him the series' best qualifier. And he added two more wins as he came on strong towards the year's end - despite an off-track moment when challenging at Cadwell. His duties fulfilled, he set out his store of skills in an impressive finish at Brands Hatch.
5 Glen Richards - Hawk Kawasaki
Glen Richards was back in the role of team number one at Hawk Kawasaki this year, after a 2004 season disrupted by injury, and this time reached the podium first time out. He was a regular on the first two rows of the grid, led races on a number of occasions, and was surely the most likely threat for a win with the Kawasaki ZX-10R. In the end, his best showing - and likewise the bike's - was when taking a pair of runner-up slots at Mallory Park, ahead of the Ducatis. His momentum was interrupted at Snetterton, where a practice crash meant an injured collarbone, but Glen was back among the top six at the following Silverstone round, then added another third at Cadwell Park. Aside from the rostrum finishes, another of which was missed because of the water on track at Donington Park, there were twelve top six performances, and he finished a deserved 'best of the rest' in fifth overall.
6 Karl Harris - www.honda-racing.co.uk
Three times a British Supersport champion, Karl Harris embarked on his second full-time crack at BSB, proving that he fully deserved a place in the series. Racing for the 'UK' branded offshoot of Honda Racing's official British team, his Dunlop-shod FireBlade was likely the best of the non-HRC machinery. The high point for Karl was with some strong riding to a pair of thirds at the first Oulton meeting, as well as some good qualifying performances - twice ahead of both HM Plant bikes, and three times on the front row. Croft was a weekend to forget, but after eleven rounds he had taken sixteen top eight results, to put him sixth overall. Sadly, his season ended with a foot injury in the first race at Brands, and this meant the more consistent Thomas was able to creep ahead by a few points in the last race - but overall he had done enough to earn promotion to the Honda team proper.
7 Dean Thomas - Hawk Kawasaki
On balance, he was perhaps a touch slower than compatriot and team-mate Richards, and also missed out on a podium finish, but Dean Thomas completed a remarkable run with points scored in every race of 2005. The link up with Kawasaki pioneers Hawk marked Dean's first 'works' ride in BSB, and he proved worthy of it. A pole sitter with Sendo Ducati in 2004, he twice qualified second with the ZX-10R, and started ahead of Richards three other times. Unfortunately, for the second year running he had a tendency to fade at times, as when third and fourth on the road at Knockhill became two tenths, but he also scored a fourth at Mallory, and was sixth on seven occasions. In the wet at Oulton, Dean set fastest lap, and he finished the season strongly with two fifths at Brands - to out-perform Richards on the day and secure sixth in the final standings. He becomes the team leader next season.
8 Michael Laverty - Stobart Honda
Moving up after three strong Supersport years, Michael Laverty emerged as the top BSB rookie for 2005, not counting Lavilla. Teamed with two experienced runners, the 24-year-old started off steadily, advancing to top ten results in rounds three and four. The trip over to Mondello gave him 'home' advantage, and he duly took sixth in qualifying, ahead of the Hondas of Mason and Harris. There followed a notable run, when he was very much a part of the lead group and scored several top four results - third at Knockhill and second at Snetterton making him the only rostrum man for Stobart. The latter event had seen him make a first front row start, and go fastest in race two, but the bike also let him down in the first outing. Silverstone was not good to him, with an early incident that kept him out until Donington, and these late misfortunes dropped him from seventh to tenth in the final table.
9 Tommy Hill - Virgin Mobile Samsung
Fitness problems for Sean Emmett meant that, by mid-season, 20-year-old Tommy Hill effectively took over as team leader with Virgin Yamaha's revised 'big-bang' firing order R1. The bike didn't provide as much of a leap forward as first hoped, or not with Emmett off the boil, but Hill showed its potential at Mallory's third round - moving up to third until the bike broke in race one. Showing his willingness, he kept plugging away, and by Snetterton things were looking more promising. He was suddenly right near the front at Cadwell Park and, the only rider in touch, was perfectly placed when the Airwaves men raced each other onto the grass on the final lap. He followed this maiden win, and a fourth, with another good day at Oulton, again from second on the grid, and his strong end to the season took him through the top twenty to twelfth. He had surely proved himself among the best out there.
10 John Reynolds - Rizla Suzuki
On his day, the resolve and competitive spirit of John Reynolds were as visible as ever, but the season would prove his toughest, and the time spent battling to fitness make it difficult to judge as a whole. In a minor feat he made the first races at Brands, but beyond that needed true grit to finish ninth twice - a place behind team-mate Smart in the second. The pace told in the next few outings: he did not appear for races six through ten, and remained out of sorts on his return at Croft. But Knockhill marked a pivotal point, with seventh and sixth from the front row, and Snetterton saw the old 'JR' back, defeating new partner Haydon for the team's first rostrum in race one, following up with fourth and then another third at Silverstone. Best of all was Oulton - John fastest in race two, and with a pair of thirds close behind the title rivals. The end at Brands was cruel, but it had been a stellar career.
The best of the rest
In a strong field, some of the more dependable riders of recent years, including a number of race winners, found themselves edged down the final points table. In most cases, luck was not with these established fast men, although some impressive new boys had a hand in it. Things unfolded for the best of the 'others' as follows:
Gary Mason was one of the most consistent finishers in the championship, but without quite making the impact of rookie team-mate Laverty. Gary was switching from Virgin Yamaha to the MonsterMob-run Stobart Honda FireBlade, and was soon cast in the role of team leader due to Jeremy McWilliams' absence. Both rider and team were new to the bike, and Mason was the first to get it further up than the third row, and from there was a regular finisher in the top nine. This peaked with a fifth at Croft, but meant that, unlike Laverty, Plater and Harris, Gary missed out on a podium appearance with the Honda.
What might have been forJames Haydon? He started out as the team leader at GSE Racing, with the Airwaves Ducati, but then hurt his left hand in testing at Albacete. Lavilla's performance as substitute effectively usurped James' position and, after standing down, he was left waiting for another opportunity to arise. There were a few in the end, as he filled in for both Reynolds and Emmett before replacing Smart at Rizla Suzuki. His first meeting on the GSX-R had seen Haydon record the bike's best result to that point - a good fourth in the wet at Oulton - and later he was a top eight regular, when he kept out of trouble. Unfortunately, there were race crashes at five different circuits which, if nothing else, at least proved that he was trying as hard as ever. But he rounded out the year with his first BSB pole position, and converted to a race one podium by beating Kiyonari home for third.
Sean Emmett's season was spoilt by a left elbow fracture picked up at round one, made tricky as the wound subsequently became infected. Despite this, he started very well and recorded three fifths and two fourths on the revised Virgin Yamaha R1, which showed well in his hands, and looked to be a genuine contender. But then the unresolved nature of the injury kicked in - he ended up rested from three rounds and, after his return, was unable to crack the top ten. Even so, Sean's early results remained the team's best until Hill's win at Cadwell - which was their only podium result of the series - and the twelve-time winner has the skill and experience to come back strongly when fully fit.
Steve Plater was the victim of the Dienza team's sponsorship and financial problems. There were a couple of encouraging outings to seventh on the Sendo Kawasaki, especially getting among the leaders at Croft, but they preceded the team's non-appearance at Knockhill, and by the next round he had joined up with Hydrex Honda. The second Dienza bike did return from Silverstone, but without title sponsorship. Meanwhile, Plater's first Honda ride saw him start from row two, and take a best yet of fifth in the second race. Thereafter, his form was not so encouraging until the Brands finale, but with a second race chance on Harris' bike the Plater of old recorded his first podium visit in two years, no doubt proving his worth to potential employers for 2006.
Scott Smart must have experienced something of a letdown in 2005, following on from the glory of taking wins with the Hawk Kawasaki ZX-10R he'd helped to develop. Signed to Rizla Suzuki to take over from Yukio Kagayama, Scott found that the team's working methods didn't really gel with his own. With Reynolds hampered to begin with, they obviously looked to Smart to maintain their winning ways. He started out from the front row at Brands, but a pair of fifth places were his best results after five rounds, and a poor showing at Croft led to his dismissal. He went back to the ZX, joining Vivaldi Racing, and with this qualified seventh at Silverstone. However, a first lap crash and collarbone trouble stopped him racing again until Donington, but there he took seventh and eighth places - his best on the Kawasaki, and enough to continue into 2006 with the team.
18-year-old Jonathan Rea, the son of 1989 Junior TT winner Johnny, was the youngest rider in the field, and a very impressive one at that. He came to the fore in a big way at Mondello Park, where he took pole position in his first venture further forward than the back of row four. His first race there was disastrous, lasting seconds and ending in the gravel, but he ran with the leaders initially in race two, although their experience told quickly. But front row starts at both Croft and Knockhill proved that this was no fluke, and his best result was a seventh at the first of these venues - ahead of Haydon, Mason, Thomas and Plater. His second attempt secured him a jump start penalty, but a fighting performance followed in Scotland, where he raced in fourth before sliding out.
After twelve years in Grands Prix, Jeremy McWilliams was tipped as a potential BSB champion on his return to domestic competition. He led the way for Stobart Honda at the Brands opener but, unfortunately, his season was truncated by a combination of misfortunes that saw him race only ten times, and finish only five. A shoulder injury sustained at Thruxton meant he never improved on a seventh place from the first race of the year, and he was missing from Oulton and then the seven meetings following after Mondello Park. 20th overall was rather less than had been expected of the 41-year-old.
Rookie Ben Wilson was another to score points on a frequent basis, and seemed a pretty close match for Scott Smart when the former winner joined the Vivaldi team. Wilson scored particularly useful results at Snetterton, and was the squad's first rider home on ten occasions. However, fellow newcomer Tristan Palmer supplied Vivaldi's most glorious moment of the season, leading the field away for the re-started race at Mallory Park - but without taking any top ten finishes in the final analysis.
On his way to the privateers' Cup championship title, James Buckingham qualified tenth three times, right amongst the works riders. He was another regular finisher, with many points results and twelve class wins - and his best weekend, at Cadwell Park, saw a tenth and eleventh despite an excursion. He was duly rewarded for his efforts with a last minute Rizla Suzuki ride, in place of Reynolds at the final meeting, beating the likes of Emmett, Smart and Clarke in race two.
Other works riders Kieran Clarke, Jon Kirkham, John McGuinness, Dennis Hobbs, Richard Wren, John Laverty, Dean Ellison and Nick Medd had variously difficult times of it, perhaps unsurprisingly given the sheer number of top riders and machines in action. Six of these men failed to mount an uninterrupted year-long campaign, and various substitutes and stand-ins did no better. The last man from this group, and the one with the single most encouraging performance, was French rider Julien da Costa. The wet conditions at Oulton Park allowed the 23-year-old to record a fifth place finish, ahead of Richards, Plater, Emmett and so on.
It was another vintage year for the series, even if a single win for Yamaha was the only interruption to Honda and Ducati's run away success. Some new stars were born, but most of the 'old-timers' will be back again to take them on • Join us here for coverage of the 2006 season.
---
To buy the photographs shown above, visit Raceline Photography