Barrichello to go to space with Virgin Galactic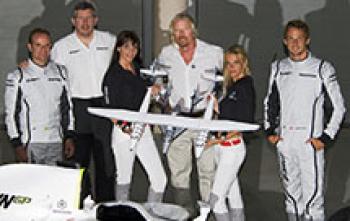 By Phil Huff
April 26 2009
The Virgin logos on the Brawn GP BGP 001 cars have been replaced this weekend with Virgin Galactic logos, Sir Richard Branson's space tourism venture. Having already signed up some 300 passengers, Rubens Barrichello has paid his $200,000 (£136,000/150,000) and, once the VMS and VSS (Virgin MotherShip and Virgin SpaceShip) become operational, will officially become an astronaut.
At a press conference in Bahrain yesterday, Rubens Barrichello was handed his ticket by Branson, and was joined by Formula One World Champion Niki Lauda, who will be training to become a space pilot for Virgin Galactic.
Rubens Barrichello
Future Astronaut
Brawn GP
"For me it is such a pleasure to be here and involved in Virgin Galactic because since I was a kid, it's a very, very clear feeling that I have always wanted to go to space. I became a racing driver, which involves getting a fast car, but I want to see up there how fast it goes. When I saw the project coming I asked if I could be a part of it, and Richard has given me access to it as there are a lot of people who wanted to be in there. So I am proud to be there. For me it is going to be such an experience. I am very encouraged and I have no more words – it is really kind to be a part of it."
Sir Richard Branson
Chairman
Virgin Group
"We are delighted that this weekend's sponsor of the Brawn GP team cars is Virgin Galactic… two flagship technology projects coming together in Bahrain for what promises to be the most exciting race of an already breathtaking season. Virgin Galactic is the leading technology project for the Virgin brand, developing a space launch system fit for the 21st century.
"We have established and proven without doubt that our first market, space tourism, is a large and vibrant one which will in itself make this business a commercial success. We now have around 300 future astronauts from over 40 countries including several from the Gulf States. However we have not yet signed up Bahrain's very first astronaut, although judging by the interest I've seen in the past 24 hours, I have a feeling we will done that by the end of the Grand Prix on Sunday!
"Our space launch system designer is Burt Rutan, who is to aviation what Ross Brawn is to Formula One. They are both brilliant engineers using new materials, technologies and cutting edge ideas to change the face of their respective industries forever. That's the reason Virgin has backed Burt to build Virgin Galactic's revolutionary spaceship and it is the reason we are backing Ross Brawn to create one of the greatest teams in Formula One. The world is in a race to find technology solutions before the pressures of population and planet overtake our ability to achieve what history tells us we are capable of and it is people like Burt Rutan and Ross Brawn who must be supported in making change happen. That is why we are particularly delighted to see the Virgin Galactic logo on the Brawn GP cars this weekend."