Merc set for dominance in new F1 era?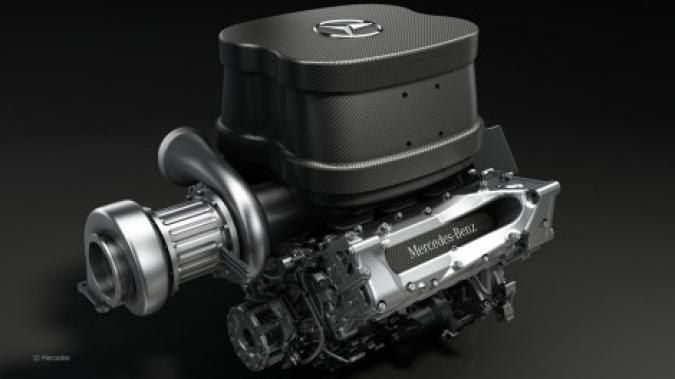 By De Jokke
February 21 2014
With RBR struggling and Mercedes topping the timesheets during pre-season testing, one could wonder if F1 is set for a MERCEDES ERA. Vettel mentioned that RBR's troubles could take a while: "We still have lots of problems – large and small – that we need to fix," Vettel is quoted by the German newspaper Die Welt. "Then we have got Melbourne and even if – and this is just me talking – even if the first six races don't go to plan, there's still 13 or 14 left," he insisted. (GMM) Williams was full of praise of the new merc engine: "It's a guality product and it is reliable" said Pat Symonds. Felipe Massa and Valtteri Bottas were already talking of better Williams times to come, speaking of the new merc engine and a better atmosphere within the team compared to last year. Dark horse remains Ferrari as we still have to see what the "reds" have in store... Looks like 2014 will be at least different to previous years.
Valtteri Bottas admits he expects the Mercedes-powered teams to be fighting together at the front of the field at the start of the season.

Mercedes, McLaren, Williams and Force India have all looked strong so far during the first six days of testing, with the new power unit running reliably. Having said he was impressed with the power available, Bottas admitted he felt confident after finishing half of his pre-season running.

When asked by Crash.net if Williams was likely to be facing Mercedes-powered opposition at the front of the grid this season, Bottas replied: "It could be.

"I think Ferrari is also looking like a strong engine and reliability is also not too bad. We'll see how much Renault can improve; I think we should not underestimate anyone. But we are hoping that we will be in this top 10 group and my feeling is that at least at the beginning of the season it could be mostly Mercedes-powered cars, but let's see. I actually think it could be quite tight – the field – especially the top 15 or something."

Having completed over 100 laps on Thursday, Bottas said it was clear there was a good base to work from with the FW36 but feels there is much more to come from it.

"I think this car straight out of the box has been not bad. Balance-wise we have not been struggling with any big issues. Of course there are a lot of things to improve but when there are no problems and the car is working it's not bad to drive. For sure we can improve it a lot but it's nice to see that the long runs we did and the full race distance in the afternoon was not that bad. So far it's quite a good feeling."

With Felipe Massa's lack of running on Wednesday being attributed to a wiring loom issue, Bottas praised the way Williams has been responding to problems.

"It goes quickly, much quicker than yesterday! The day goes quickly and I'm very happy with the work the mechanics did solving the problems overnight. This was the first proper day for us without any problems; a clean day and we went through the program. I think we need to be happy with this and hopefully we can have these kind of days a lot more now."
View a Printer Friendly version of this Story.
Merc set for dominance in new F1 era?
Discussion started by TotalMercedesGP.com - Mercedes GP New (IP Logged), 21/02/2014 09:21
TotalMercedesGP.com - Mercedes GP New
21/02/2014 09:21
What do you think? You can have your say by posting below.
If you do not already have an account
Click here to Register
.
Timba7
06/03/2014 09:32
My bet was Williams for 2013. And it went horribly wrong.. they were not competitive at all. So i am not that sure they will be in top 4 this season. But i was wrong 2013... so i might be wrong again. And Williams will be strong.
I kind of hope they will be up there with top teams. The team is legendary. Only Ferrari has more wins and titles. If i remember right.
De_JOKKE
07/03/2014 17:53
video: [url][/url]
"Leave it to Lewis Hamilton to ruin Red Bull's day" - Martin Brundle
In memoriam: Sessions
De_JOKKE
10/03/2014 21:52
merc engine vid:
video: [url][/url]
"Leave it to Lewis Hamilton to ruin Red Bull's day" - Martin Brundle
In memoriam: Sessions
Edited 1 time(s). Last edit at 2014:03:10:21:52:35 by De_JOKKE.
De_JOKKE
11/03/2014 08:23
Anyone read this:
[
willthef1journo.wordpress.com
]
Would be awesome!!!!
Horner might believe it:
[
www.gptoday.com
]
[
www.gptoday.com
]
[
www.gptoday.com
]
"Leave it to Lewis Hamilton to ruin Red Bull's day" - Martin Brundle
In memoriam: Sessions
De_JOKKE
11/03/2014 11:43
Alan McNish on hami:
[
www.bbc.com
]
"Leave it to Lewis Hamilton to ruin Red Bull's day" - Martin Brundle
In memoriam: Sessions
De_JOKKE
25/03/2014 12:56
[
www.gptoday.com
]
"Leave it to Lewis Hamilton to ruin Red Bull's day" - Martin Brundle
In memoriam: Sessions