British Grand Prix After Party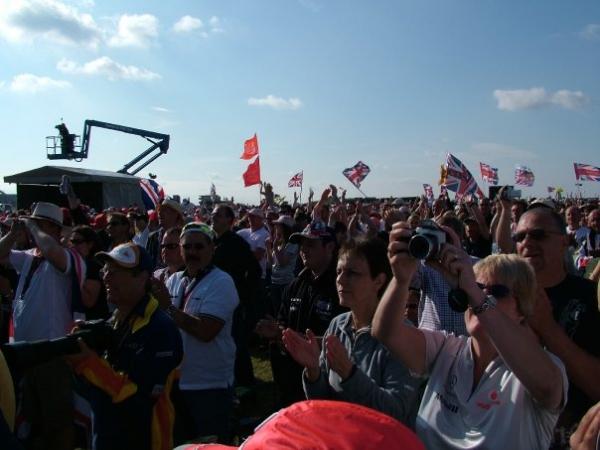 By Ian Lockwood
June 23 2009
The Grand Prix Party that takes place immediately after the British Grand Prix is a fantastic event that lets the drivers get closer to the fans and shed all that corporate speech that they have been spouting all weekend.
It is now a tradition that after the chequered flag falls on the final race at the British Grand Prix, the fans are let in to the centre of the circuit where a massive stage has been set up for the British Grand Prix Party.
Hosted by Tony Jardine, the party is a mixture of music and driver / celebrity appearances. This years music was supplied by regulars Eddie and the Robbers (featuring Eddie Jordan on drums) and Rolling Stones tribute band, The Counterfeit Stones.
Whilst the music creates a good atmosphere, the undoubted draw of the event are the driver and celebrity appearances. Once again, Tony Jardine did a marvellous job of whipping up the crowds support with rallying cries for the British Grand Prix to remain at Silverstone, pantomime jeers at the mention of Michael Schumacher, and altogether more heartfelt decrying of Max and Bernie!
The drivers present all seem to treat the event as a chance to genuinely interact with the fans and speak their minds much more freely than when they have a TV camera and microphone shoved in their faces post race.
This year some of the highlights included Eddie Jordan very vocally telling Max & FOTA to stop messing with a sport that belongs to the fans, not them. Lewis Hamilton cheerfully admitting that his 2009 McLaren is a dog of a car, Nelson Piquet letting on that Flavio is a bit of a tough boss to please, and Kazuki Nakajima revealing that the Toyota owned Fuji circuit is not a patch on Suzuka.
The party bosted an impressive roll call of drivers past and present including Johnny Herbert, Nelson Piquet Jr, Sir Stirling Moss, Sir Jackie Stewart, Derek Warwick, Kazuki Nakajima, Nico Rosberg, Damon Hill, Lewis Hamilton (and Pussycat Doll girlfriend), Ross Brawn, Rubens Barichello, Jenson Button, David Coulthard, Martin Brundle, Jake Humphrey, Eddie Jordan, and of course Christian Horner, Adrian Newey, Mark Webber and Sebstian Vettel.
View a Printer Friendly version of this Story.
British Grand Prix After Party
Discussion started by Racing Bulls , 23/06/2009 12:39
Racing Bulls
23/06/2009 12:39
What do you think? You can have your say by posting below.
If you do not already have an account
Click here to Register
.
RedWebber07
23/06/2009 17:13
Well, do tell, did our boys have anything interesting to say? I imagine Seb's reception was rather more rapturous than Mark's, given he won the race?
________________________
Mark Webber - WINNER 2009 German Grand Prix!
Both got a good reception - Mark is well liked in Britain and he would have been a popular winner. Seb won a few friends too by saying how much he loved the British GP and the British fans.
Keep your eye on Youtube for footage - some have been posted already....
[
www.youtube.com
]
www.racingbulls.net
Supersleeper
24/06/2009 13:54
Well it must have been some event, I had a mate who left the Red Bull after party at 9 O'clock the next morning.......and was too drunk to get on his flight out of the UK the next day.

Grant me the senility to forget the people I never liked, the good fortune to run into the ones I do, and the eyesight to tell the difference.
crazycaz
24/06/2009 15:44
Did anyone see the RBR flag,oz flag and saltire flag on a rather big flag pole well that was mine.
Yes - I did see that! - you were level to me, but on the opposite side of the stage.
www.racingbulls.net
crazycaz
24/06/2009 15:56
Small world,should have told you what I was planning to do then you could have come over.
I've even got a picture of your flag!!!!!
www.racingbulls.net
RedWebber07
24/06/2009 16:20
nice!
________________________
Mark Webber - WINNER 2009 German Grand Prix!
Vettel on stage at the party
[
">www.youtube.com
]
www.racingbulls.net
Vote Quimby
26/06/2009 12:02
That's a 22 year old kid! What a natural, in all senses of the word. What a gun. Go Seb. You're alright mate.
He's a very intelligent young man, notice the way he completely avoided talking about Mark, redirecting it to about his accent.
More Red Bull Racing headlines