Red Bull Abu Dhabi Friday Practice & Vettel Reflections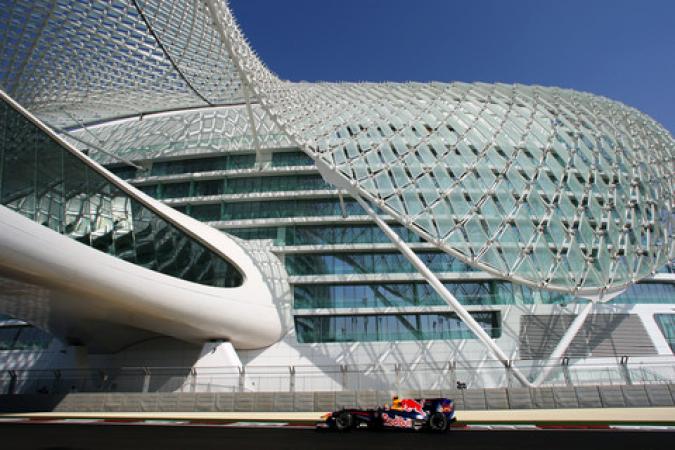 By Ian Lockwood
November 21 2014
Dan & Seb report from FP1 & 2. The team share their favourite moments of Sebastian
SEBASTIAN VETTEL
First Practice Session: Position: 4, Best Time: 1:45.334, Laps: 30
Second Practice Session: Position: 4, Best Time: 1:42.959, Laps: 30
"I think we have improved the car today, but we can still improve more. The super soft tyre seems pretty good for one lap, but I don't think they lasted very long, for everyone, and then we focused mainly on the harder compound. McLaren has made a step forward the last couple of races and the nature of the track here maybe suits them a bit better than other tracks, but it's Friday so I guess we will find out tomorrow. I don't really want to interfere with Mercedes in the race. It would be nice to race them and beat them, but I think realistically they are a bit far away. I want to get everything out of myself and the car and make sure I finish fourth in the Championship."
DANIEL RICCIARDO
First Practice Session: Position: 5, Best Time: 1:45.361, Laps: 23
Second Practice Session: Position: 6, Best Time: 1:43.183, Laps: 30
"Nice and warm today! We got all the laps in, which was important and we got to run both compounds on the long runs, so I think we achieved all we could in terms of a run plan. Mercedes are … yeah I won't even mention them! But anyway, they're fighting for the title so we'll let them go, but as for the rest it looks pretty tight as always for third place. We'll definitely try and do something (with strategy). Anything can happen and it's the final race, so hopefully the strategy can work to our advantage someway. Sebastian looked competitive today and hopefully we're fighting for that spot on the podium, it would be nice to have a battle with him and end the season like that, it could be a good farewell for him and the team."
SOUVENIERS OF SEB
As Sebastian Vettel gets set for the final grand prix of his six seasons in Infiniti Red Bull Racing colours, we asked some of our team members to tell us their greatest memories of his time as part of the Red Bull family, right back to showers of Christmas champagne with Scuderia Toro Rosso to championship wins and heartfelt radio messages here at Yas Marina.
#DankeSeb
Paul Monaghan, Chief Engineer, Car Engineering: For me it was Brazil 2012. Sebastian drove brilliantly in mixed weather with a damaged car and showed skill, bravery and commitment, all of which earned him his third F1 Driver's Championship title.
Rob Marshall, Chief Designer: After Sebastian's first race win at Toro Rosso, I was invited to the team's Christmas party, which was in a flash restaurant in the middle of Faenza. Parked outside the restaurant was his race-winning car, guarded by a couple of bouncers. Halfway through the party, Seb and a few of us sneaked out to the car and posed for some photos while he showered the car and everyone in champagne in typical podium style. The best thing was that the bouncers didn't realise it was Seb and got a bit upset about our behaviour!
Jonathan Wheatley, Team Manager: My favourite memory was a quiet moment we shared after the race in Brazil last year. Seb had just won his ninth race in a row and was very emotional, actually we were all pretty emotional as it had been a very intense season, and we simply sat there for a while in his room just trying to let it all sink in.
Guillaume Rocquelin, Race Engineer: My best memory of Sebastian was qualifying in China in 2009. We had a problem with the rear driveshafts and we were worried that they would not last the session. So we could only give Sebastian a single lap in each of the qualifying sessions. It was a damage-limiting exercise, in what was our first season together. Somehow, that did not bother Sebastian and he put it on pole with a single run in Q3, the first one for the team. That set the tone for what we were capable of together.
Joe Robinson, Number One Mechanic: My favourite Sebastian moment is India 2013. About five hours after sealing his fourth title, when most others in the team were off celebrating, Seb was in the garage with the boys helping to pack the freight so we could all celebrate a little earlier altogether. For me, that was the true mark of the man, a real leader.
Jon Gates, Tyre Technician: My outstanding memory (although there have been many) is Monaco 2011. To win in Monaco is an amazing achievement but the way we did it that year was literally incredible!
Christian Horner, Team Principal: There are so many happy memories to choose from, both on and off track, but probably the one that stands out most for me is the point when he crossed the line having won his first championship here in Abu Dhabi. The realisation that against the odds he'd done it, he'd become the first Infiniti Red Bull Racing World champion, the youngest World Champion, and the sheer emotion that he exuded on the slow-down lap was quite incredible. It was a very special moment in the team. It was great to have Dietrich here to witness it as well.
Ole Schack, Number Two Mechanic: In 2012, when we started from the pit lane in Abu Dhabi. We had our headsets on and Sebastian was in the car and he made a speech on the radio about how he believed in us and we believed in him. It was a big moment, it was quiet in the garage and no one dared look at each other – people had a bit of a lump in their throat. We won races and we won championships but that moment hit everyone right in the heart that's for sure.
Tim Malyon, Performance Engineer: My favourite moment was 2011 when I was lucky enough to be asked by the team to go up to the podium to collect the constructors' trophy; it's an incredible but overwhelming experience. From the moment I got up there, my mind pretty much went blank, as you're in front of so many people and cameras; you almost don't appreciate what's going on. I remember at the end, after all the official pictures, Seb grabbed hold of me and said let's do a picture for us and we stood on the podium together. It's a great picture.
Adrian Newey, Chief Technical Officer: Coming here in 2010, we had won the Constructors' Championship in Brazil, which was a tremendous feeling, but I was conscious of the fact that we'd only done half the job. Coming here, Mark was the favourite from a points position and Sebastian was in the somewhat happy position as he was an outsider and so he wasn't under too much pressure. Nevertheless, for him to have a chance of winning the title he had to win the race. He managed to get to the first corner first and simply drove away. Mark's challenge faded, which was tough for him, and Fernando got stuck with a strategy mistake, but the feeling of joy for everyone in the team when Sebastian crossed the line was huge; the feeling of joy was so special, it's something I will always remember.
View a Printer Friendly version of this Story.
Red Bull Abu Dhabi Friday Practice & Vettel Reflections
Discussion started by Racing Bulls , 21/11/2014 17:16
Racing Bulls
21/11/2014 17:16
What do you think? You can have your say by posting below.
If you do not already have an account
Click here to Register
.