Caz in Spain 2006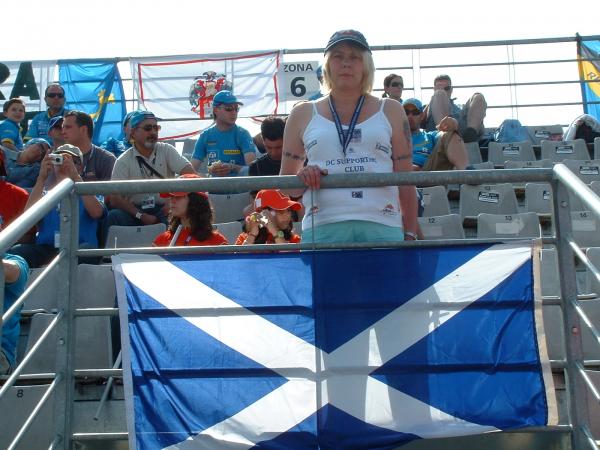 By Crazy Caz
May 20 2006
Well here I am back from the Spanish Grand Prix. Had an excellent time. It was nice to catch up with my friends. Some of which came from as far as South Africa, who I had not seen since last Year.
We arrived the day before some of the others and funnily enough our hotel was opposite where the other were staying.
Went to Barcelona for the day on friday, and went to the BMW pitlane park, which was a hands on experience showing all the in's and outs of the team. You could try changing a tyre on an F1 car, racing on a simulator, watch a driving display, and have your picture taken on the front of an F1 car which was cool.
Then went to an Irish bar and got a bit drunk and started singing. LOL Went to the track on Saturday and Sunday for the race.
Saturday was good apart from David Coulthard having a problem in qualifying which meant he did not post a time and had to be 21st on the grid. Sunday was excellent. It was the 1st time I had experienced a GP from a grandstand. Ours was near the first corner. My friend Tanya had made a big banner with David Coulthard Supporters club, GO DC GO on it. Unfortunately it was quite big and we couldn't put it up anywhere, so on the drivers parade we held it up in the air and he looked up and saw us and waved.
The race was excellent - especially at the start the noise of all 22 cars going down to the first corner was undescribable. The rest of the race was good with the battle between Alonso and M Schumacher really good. With Alonso being the well deserved winner at his home GP, the Alonso fans were flying their flags and blowing their airhorns and seemed genuinely happy that he had won. WELL DONE ALONSO DC was 14th which was not so good, but as least he finished.
Well I had a great time and want to go to Monza in September.
Here are some pics
Crazy caz
More Red Bull Racing headlines