Trevor Carlin stands down from Jordan post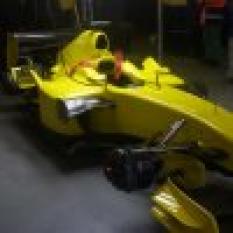 By Phil Giles
June 9 2005
With just 24 hours left before the team knuckle down to some serious action at the Canadian Grand Prix, Trevor Carlin leaves the team to concentrate on running his own Carlin Motorsport team.
Adrian Burgess will take over from Trevor who leaves amidst rumours of an apparent feud with Colin Kolles.
"I am very pleased to be involved in the whole Midland F1 Project from its conception, and I hand over my role as Sporting Director at Jordan Grand Prix to Adrian Burgess, knowing he will do a superb job." he said. "Alex Shnaider and Colin Kolles have a very clear vision of where they want to take Midland F1 and the purchase of the Jordan Grand Prix Team was the first step."

Adrian Burgess said: "I would like to thank Trevor for all the hard work he has put into rebuilding the team for the future and for helping to put in place the building blocks we need to move this team forward. Now, we must get our heads down and get on with the job of preparing for our entry as Midland F1 in the 2006 championship."
Colin Kolles commented: "I want to thank Trevor Carlin for the exceptional work he has done to bring Jordan Grand Prix back on track. I fully understand his reasons for stepping down, though his departure does create a void, both within the team and for me personally. We have worked together for several years and I consider him a trusted friend and colleague. I am grateful that he was able to nurture a talent like Adrian Burgess, who brings valuable and relevant skills to the team."

"I have followed Adrianís career for the last five years and am very proud that we are being given the chance to make use of his impressive experience," Kolles continued. "As I have always maintained, our situation of being in a transition year gives us the unique opportunity to try different options to ensure that next year, when the team will race as Midland F1, we will be able to be competitive from the very beginning. With Adrian at the helm of the race and test divisions and Trevor Carlin in the background as our senior advisor, I am confident we can achieve our objectives."