Good first practice for the Force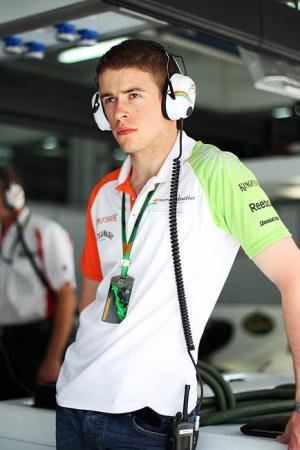 By Bigpip
March 26 2010
Oh my god, what the hell am I doing up at this ungodly hour? 1.25am on Friday morning and I'm in bed. The BBC Red Button has been pressed and the first practice session for the Australian Grand Prix is about to get underway.
One and a half hours to go. Holly Samos is going to have a chat to Andy Stevenson at Force India about their starter motor hole in the rear diffuser later on. So keep tuned for that. Hope I can stay awake!
First out onto the track for this session is Lotus' Jarno Trulli, followed by Liuzzi. Paul di Resta also takes to the track for their installation lap.
Nine rookies will be racing at Albert Park. How mad is that!
Paul di Resta has stayed out for a second lap and then back into the garage. Anthony Davidson comments on Paul looking down at the steering wheel because he's not sure yet of where all the controls are on the wheel.
Crofty reckons that it's Schumachers race this weekend.
Team manager Andy Stevenson. Issues over the diffusers and the starter hole. Force India were not one of the teams involved in this. Some teams exploited the width of the hole for the starter motor. They had made the starter hole larger and increased the size of the starter motor. Andy felt that there was little if no aerodynamic advantage.
How will sitting out P1 affect adrian? Not much. The track is green and won't affect the driver much. P2 is where the work begins. FI believe that it's good to give their third driver some experience in the car if he's needed.
Car will be optimised for the wind direction the team expect on Sunday.
55m clearance for cars being released. It will affect the teams as the pit lane is quite cramped in Australia. May be an incident if there's a safety car but it's doubtful.
Can they get in 3 seconds for a pit stop? Practicing at 2.8s on a stationary vehicle. Pit lane speed limit will be set at 60kph this weekend.
Tonio. For sure, the Target to get through to Q3. Definately. Target to achieve was to score points for Bahrain. Updates for front and rear. Can't say much but will show our hand on Saturday.
Mercedes and Force India mentioned in respect to the diffuser issue as the hole went through the diffuser but the hole was of a size where it wasn't too large.
Bruno Senna bumping around in the HRT. He's won three F3 races at this circuit. Ayrton would have been 50 this week. 1:39.329 for the first timed lap of the weekend.
1:37.989 completed by Bruno after 5 laps. Everyone's done at least one lap.
Virgin Racing's Lucas di Grassi was about to head out on a lap. He stopped at the end of the pitlane but off the main piece of tarmac. He's now got out on track.
Schumacher is going to win because it's his 250th GP and as such Crofty says he's going to win. He won his 50th, 100th, 150th and 200th races so it stands to reason!
Di Grassi is 5.592 seconds off Bruno Senna's time.
Karun Chandhok is on track. Can he match Senna's time? Yes he can, by 0.011s. Kovalainen is on track and the car looks a handfull but he goes quickest of four times with a 1.36.810.
Hamilton is on track and shouuld be much faster than anyone so far. Half way around and he's 2 seconds up. 1:30.076 5.9 seconds faster than Kovalainen
Di Resta out on track. Just 1.8s down on Hamilton. 1:33.765 Good lap.
Renault's Petrov slower than di Resta although De La Rosa and Kobayashi have gone faster. Di Resta has taken a place back from Pedro and Petrov leap frogs Paul.
Kobayashi has taken the front end off his Sauber at turn 12.
Michael Schumacher gone into second place.
Red flag out to clear Kobayashi's front wing from the track.
Track is green. Webber out onto track. Schuey could get a slap for keeping the speed on under red flags. Christian Horner suggests a 10 place grid penalty for at least two races!
Mark puts the Red Bull into 5th. Slow! Vettel leapfrogs him immediately and is up on the second lap but only goes third, behind Nico Rosberg.
Button's Merc goes into third.Liuzzi has only done 2 laps so far. Rosberg goes fastest.
Jenson into 1:27.798 looking good for McLaren at the moment.
Hamilton goes faster and Rosberg faster than Hamilton.
di Resta is 14th out of the 21 drivers who have set a time.
Jenson puts the McLaren fastest with 34 minutes to go in the session. Liuzzi out on track but 9 seconds behind the leader. Only 5 laps completed for Liuzzi.
Kubica second fastest at the moment.

Kobayashi has gone off again. The front wing just came off the car. Red flagged again. Initial thoughts were that it was di Resta's Force India
Track open again. Nobody immediately out.
25 minutes remaining. di Grassi out on track. Trulli's Lotus still hasn't set a time.
Alonso was held up slightly by Chandhock and has backed off to give himself some room. Senna bouncing around doesn't improve on his time and stays in 23rd.
Paul di Resta is in 15th. Liuzzi 17th abd out on track. 2 seconds off 1st and improves to 16th place. Trulli has set a lap and has gone 20th.
Kubica's Renault goes quickest. Liuzzi goes up into 13th.
di Resta up to 13th and Liuzzi has chucked it up to 8th. Kubica has increased his lap time three laps running.
De la Rosa comes to a stop out on the track. No damage but it's the second broken Sauber of the weekend.
Buemi has put the Torro Rosso into 6th, faster than Massa. Massa takes the place back
Di Resta has completed 20 laps, 13 for Liuzzi. Tonio is up to 10th place. Senna takes a trip onto the grass.
Kubica remains fastest in this session. Chandhok complaining of traffic and not being able to get a complete lap in.
Liuzzi puts the car in 9th. One place in front of that Schumacher bloke.
Di Resta stays in 14th place. Looking good though for Paul di Resta who's .300s off Vitantonio.
He's done a final lap and has put the car into 11th just behind Liuzzi in 10th place.
End of session.

Kubica, Rosberg, Button, Massa, Vettel, Alonso, Hamilton, Buemi, Petrov, Liuzzi, Di Resta, Schumacher, Algersuari, Webber, De La Rosa, Barrichello, Hulkenberg, Kobayashi, Trulli, Kovalainen, Di Grassi, Senna, Chandhok, Glock.
Good showing from Force India and an excellent drive from Paul.
Right. Sleep!
View a Printer Friendly version of this Story.
Good first practice for the Force
Discussion started by Force India (IP Logged), 26/03/2010 03:08
Force India
26/03/2010 03:08
What do you think? You can have your say by posting below.
If you do not already have an account
Click here to Register
.
kvasista
26/03/2010 04:56
good coverage big pip, paul doing fp, wat do u think abt it??? good for the team... hamper for our drivers???
F1Zooom
26/03/2010 04:58
Thanks BigIP for the posting and starting the site up
This must be the one of the few races which are perfect time
for me .... imagine race is @ 10:00 PM on Sat night - wow!
Irony - I am out traveling and not sure if will be able to
see the GREAT AUSSIE RACE!!!!!!!!
Practice 1: Looks really good ... espl. Resta was impressive, for his first dive! Hopefully will be able to see his drive!
FI's race looks promising for this weekend!
Did they get the wing update? does anyone has photos to share?
F1Zooom
[
www.forceindiaf1.com
]
[
www.forcefans.co.uk
]
Bigpip
26/03/2010 08:38
Tonio said there were updates front and rear today.

Darwin was right!
Jordan > Midland > Spyker > Force India