2010 Chinese Grand Prix Preview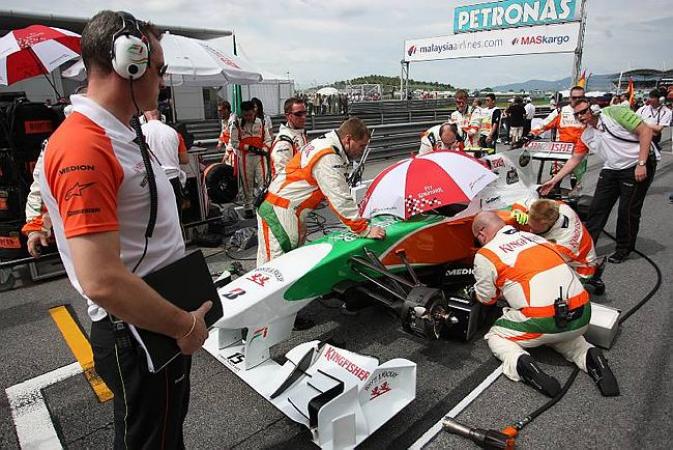 By Force India Press Office
April 13 2010
The Chinese Grand Prix will be the fourth round of the 2010 FIA Formula One World Championship and the final event in the quartet of flyaway races that opened the season. Held at the state of the art Shanghai International Circuit on the outskirts of China's largest city.
The Force India Formula One Team will be heading to this event with high hopes of keeping its recent run of form going after scoring points in the first three races of the year. Adrian Sutil picked up his first points-finish of the year in Malaysia with a fighting fifth place, taking the team's season total so far to 18 points.
Team Q&A
Dr Vijay Mallya, chairman and team principal

Dr Mallya, the team is currently sixth in the constructors' championship and has 18 points from three races. You must be pleased with this progress so far?
At the start of the season I said we wanted to be regular points finishers and here we are, three races in, with three points' finishes. It's very pleasing when you see just how far we've come in one year: after three races in 2009 we had nul points and were tenth. The difference, I believe, has been keeping the focus on what we want to do. We've kept our heads down, got on with the job and to a certain extent kept out of what the other teams are doing - we've focussed on our own game. It's a real credit to Mark Smith and his team that we've got the points we have. The team at Brackley and Silverstone are tight-knit, efficient and the results are now coming through.
You've made a lot about wanting fifth in the championship. Three races in, do you still think this is possible?
The grid is very tight as we saw in Malaysia and Australia and there's no clear delineation between the front and the midfield. The most important at this stage is that we are still up there fighting. Renault look very strong right now but there's still a lot more races to go this year and we have a clear direction about where we are going that will keep us with them, or hopefully leapfrog them. The drivers are confident and the team is working well so I think fifth is still realistic.
Driver Q&A
Adrian Sutil (car 14, VJM03/03)

Adrian, you scored your first points of the season in Malaysia. What were your feelings after this race?
It felt really good to finally get them. It was an exciting race as well in the end, racing against Lewis. Fighting against each other is always a pleasure, as we did it a lot in F3 and sometimes in F1. We have a lot of respect for each other; I am happy for him when he wins and he is happy for me when I do well. I was happy, relieved, proud - all of the above really - when we got to the finish. I knew we had the car to do it so it was only a matter of time before we scored some points. I'm now full of motivation for the rest of the season.
What do you think about the next race in China?
The next race in China will be a bit different but there are some similarities to Malaysia as well. The circuit layout is different, of course, but you need a good top speed, which we have, and you need a little bit of downforce for the mid sector, for the slow corners so I think it should suit our car really well. I don't think we should be concerned about our performance at the moment, we are strong and we can fight in the top 10, and that's very encouraging at this point of the year.
What is possible in Shanghai?
I'm confident, definitely. It was encouraging in Malaysia, and also the last races in Bahrain and Australia. I think we can show a very similar performance in China. Temperatures will be a bit cooler, but there is a long straight and you need to be very fast on that, and that's what our car can do. It has also the downforce required for the slow speed corners. My feeling is that we can perform well again in Shanghai.

Tonio Liuzzi (car 15, VJM03/01)
What are your thoughts on the next race in China?
We are pushing to try to bring some more steps forward for the car. I have been in the simulator and we are pushing to bring updates to China as we want to be ready to score points again and not let our momentum slip. For sure it's one of the circuits that I like, and I've always had good results there. In fact my best result in F1 was at that circuit - in 2007 Sebastian Vettel and myself finished fourth and sixth for Toro Rosso. We go to China pretty positive about our potential. It was good to finally get into Q3 in Malaysia and from there we have to hope for a good race. In Malaysia we were quite comfortable in the car and I have to hope that the luck stays with me this time and we can get some more points.
Do you enjoy driving at the track?
It's pretty similar to Malaysia. There are a lot of high speed corners, and it's quite technical, especially Turns One and Six and Seven. It's got a flow as a circuit and there are some technical corners, and it's always a crazy race because there can be some different weather conditions. So overall I'm looking forward to it! More points are the aim and we can do it, for sure.
Paul di Resta, test and reserve driver
Paul, you've driven two practice sessions now. What are your key learnings from this?
It went relatively well in Malaysia. It was always going to be a difficult task as I hadn't had any running in the simulator beforehand so it completely new to me and very different conditions. With the high temperatures and the different behaviour of the tyres it was an uphill curve but I felt I moved forward, I improved and I got some good experience. I didn't find it physically tough but the heat and humidity was something else. In DTM you get very hot inside the car but this wasn't something I'd ever experienced. It's all part of that learning curve and I felt I acclimatised to it well.
You've also had the chance to sit in different cars, with you driving Adrian's in Australia and Tonio's in Malaysia. Is this a particular challenge for you?
Each crew has their ways of doing things as there are different engineers and mechanics but the cars are very similar. I am now getting a feel for how Tonio or Adrian want their base set-ups, but in terms of the programme it is entirely the same as the race drivers. At the moment I'm still conscious it isn't my car so I have to be careful to build up gradually, be controlled and constructive and get the data for weekend
Have you driven on the Shanghai International Circuit before?
No it will be new again to me and I won't have any simulator running beforehand so it will be starting from the bottom, learning the new track. At least I have now got some experience on this type of wide, Tilke track so it should just be a case of making steady progress again.
View a Printer Friendly version of this Story.
2010 Chinese Grand Prix Preview
Discussion started by Force India (IP Logged), 13/04/2010 10:32
Force India
13/04/2010 10:32
What do you think? You can have your say by posting below.
If you do not already have an account
Click here to Register
.