Australia Preview - Full Press Release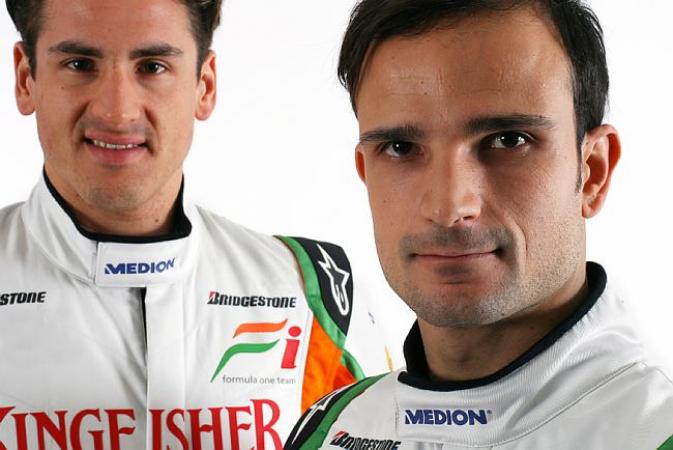 By Force India Press Office
March 23 2010
Following an encouraging showing at the 2010 curtain raiser, the Bahrain Grand Prix, the Force India F1 Team now heads to Australia in a buoyant mood for the second round of the FIA Formula One World Championship. Tonio Liuzzi, contesting his first full race season since 2007, secured two points in Bahrain while Adrian Sutil qualified in the top ten and raced to 12th position at the flag fall.
The team has reason to be optimistic for the next race as new aero developments will be introduced, while test and reserve Paul di Resta will make his free practice debut on Friday. The young Scot will replace Adrian Sutil in FP1 as he seeks to gain further track time and experience behind the wheel of the VJM03.
Team Q&A
Dr Vijay Mallya, chairman and team principal
In Bahrain Tonio finished ninth and 'best of the rest' behind the eight cars from the four pacesetting teams. Were you satisfied with that?
It's what our objective was over the winter. We set ourselves an internal objective of finishing fifth in the World Championship. I know there's a long way to go, but it's a right start. We've got a solid car to start with, and we've got a good base, and now it's about the development rate for the rest of the year. It was fantastic for Tonio to have scored points for the first time since 2007. Adrian's second fastest lap means there's also some good for him to take out of the race too. I think we all acknowledge that last year our progress was sporadic - on some tracks we were very quick, on others not so good - so to come out this strongly is a really good step forward. With the new upgrades we have in the pipeline for Australia I can say with every faith that we can carry the momentum forward.
Paul di Resta will be driving one of the cars on Friday in Australia. What is the thinking behind that?
Paul is a very good driver and has a lot of potential. But as a third driver the question is how he can use this potential if there's no testing in-season. This is a good solution all round, he can learn the car and the tracks in real time and therefore spend his simulator time helping to develop the car, which will be of real benefit to us. The race drivers are very supportive of the move - they've all been young drivers one time!
How has the reaction been in India to the team's success?
Formula One is growing by leaps and bounds in India. Firstly they have an Indian team and now, in the form of Karun Chandhok, they have an Indian driver. The fans now have genuine interest to hold on to. Sure, people were aware of the big legends of the sport - Ferrari, Michael Schumacher, Lewis Hamilton - but for them to have tangible, identifiable properties is the difference between a minority sport and national interest. With the Indian Grand Prix now looking very promising it's really building - you've got these heroes and now you can go and watch them too. You can see the interest growing day by day, on our social networking site we've got more than one million followers.
Driver Q&A
Adrian Sutil (car 14, VJM03/03)
How would you review Bahrain?
I think it was a very good start to the season. We were very competitive in free practice, I was quickest in FP1, and then again in qualifying where both Tonio and myself were in the top 12. Last year we didn't get through to Q2 in Bahrain so to come out and be in the top 12 is really positive. Everything went well until the start of the race for me and then I dropped back down the field but from the team perspective at least one car got into the points. But now we want to go even higher in Australia. I think there is still potential to improve everything and get close to the top five or six.
From your perspective how was the racing in Bahrain?
Well, after the start I dropped down to 21st position and I came 12th at the end of the race so it shows that you can overtake and have a good race. OK, some of the cars I passed were the new teams and we had a performance advantage over them, but in the midpoint of the race I was fighting with Kubica [Renault] and the two Saubers so you can pass with the new regulations, it was just higher up the field that people were very cautious. But then at the first race of the year you never know really how everything will behave in race trim. You do long run simulations in testing, but until you have the field around you it's can never be 100% representative. Under these circumstances it's natural to take care as you don't want to be a DNF in the first race. But last year's Bahrain Grand Prix was also not that interesting, with only refuelling and pit stops so never really overtaking possibilities. I think every driver was a bit cautious as it was the first race and we had to go a long distance on the soft tyre and nobody really knew the best way to call it. Now we will go to Australia and tweak it a bit more to the limit and start to be a more aggressive. I think there will be some more overtaking.
Looking to Australia now, what are your thoughts on the Albert Park circuit?
It's one of my favourites. It's quite a nice street circuit with a few run off areas through a park so it's very beautiful. But it's also very challenging with a lot of quick corners and a few slow speed corners so altogether it's a great circuit to race on. I also have a lot of history there - I made my race debut for Spyker at the track in 2007, it was where Force India made their race debut the next year and then last year I was ninth. If we can get that position again this year that's two points! We've got to aim for this or higher - I'm pretty happy with where we were in qualifying and how we performed in the Bahrain race so we've got a lot of reasons to look forward to Australia now.
Tonio Liuzzi (car 15, VJM03/01)

Tonio, Bahrain was a great result for you and the team. How was it from your perspective?
Overall the whole weekend was positive. We learned a lot about the tyres and how they perform in the warm temperatures and also how far we can push the fuel in the race. I was a bit disappointed with qualifying in that we never got a clear lap, but the race was encouraging and was a great result for the team and myself. The team has worked so hard over the winter to find improvements and never gave up pushing so to get two points in the first race is fantastic. They are a team that is focussed, knows what they are doing and how to get there so they really deserve it to have good results on a regular basis. This is just the start.
There's some new upgrades coming for Australia as well. Do you think this could push you further up the field?
We have some new developments on the front and rear wing. I'm pretty hopeful it will be a step forward as every upgrade we made last year was positive, so the correlation from the wind tunnel seems to be working well. Of course you never know what the others are bringing but I would hope this would move us a little closer to the teams in front. My target would be to get into Q3 this time out and then, of course, get into the points again.
Australia will be a twilight race again, with the start at 17:00hrs. From a driver's perspective is this an issue or a particular challenge?
It wasn't a real problem last year - there was just one corner where the sun was very low and it was maybe a bit harder to see but everywhere else it was OK. The real challenge is that it can be critical with the temperature as the sun goes goes down and when you are on the harder tyre you start to have warm-up problems. But I think Bridgestone have worked on this now and so I am not worried about this. We'll look through the findings from Bahrain and see what we can do.
Paul di Resta, test and reserve driver
How was Bahrain for you?
Bahrain was a genuinely interesting experience. I've been to F1 races before but always as an observer, I've never been so involved in a team. A lot of the time was spent attending meetings, speaking with the engineers and learning how the team functions over a race meeting. It's a professional team and I've learnt a lot about how to approach the car, deal with the systems and the procedures and also what the team needs from me in terms of feedback and support. They've made me very welcome and I'm looking forward to putting it all into practice when I get my chance in Australia.
It your first time out in free practice in the VJM03 this weekend. What are your thoughts ahead of this?
I am excited, for sure. Given the pace of the car in Bahrain it's a great opportunity for me at this stage. I've never been to Melbourne but I'll walk the track with the engineers on the Wednesday ahead of the race and work with them to be able to do some useful work during the session. At the end of the day I'm not going to come out and try and set fastest times - it's about feeding my information back into the race schedule, helping the team and learning as much as I can. If I set a good time, great, but we need to approach this as a team as well and work through our programme.
How have you been preparing for the task ahead?
I've been in the simulator, tried to learn the Albert Park layout and I've looked over all the information from Bahrain so I feel as prepared as I can be at this stage. As I say when we get to Australia I'll be walking the track, working with the engineers and then keeping my focus during the practice session. I feel ready and can't wait to get started; it's a great opportunity.