Spa 2010 - Free Practice Report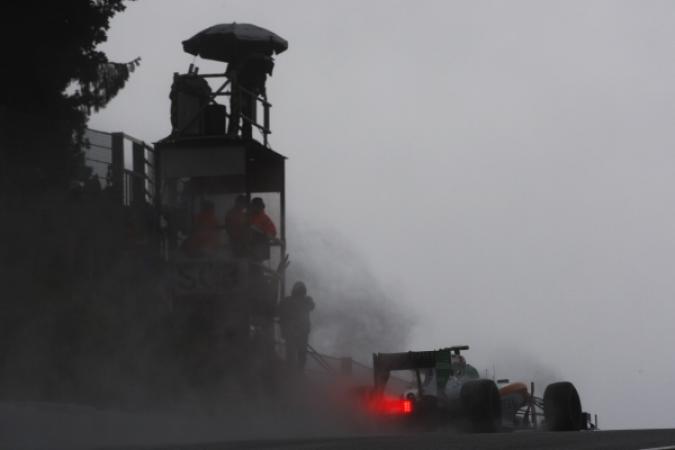 By Force India Press Office
August 27 2010
Day one of the Belgian Grand Prix and the usual talking point for the majority of the day was the weather as rain, sun, further heavy rain, cloud cover and then more rain punctuated the F1 running. Force India's Adrian Sutil however flourished in the conditions as the German driver finished fifth in the opening 90 minute session and second in the afternoon.
Tonio Liuzzi, running on a different programme to Adrian, put in some productive development work on the team's new blown diffuser and finished in 15th and 16th positions respectively.
Adrian Sutil (car 14)
With the weather it was quite difficult but I enjoyed it a lot and we had a good balance straightaway. I was very comfortable and every run I went out I was one of the quickest, so a very positive start to the day. In the dry the car was just getting better as grip improved. In the second session I did a run on the hard tyre and then had time for one single lap on the soft right at the end, but there was so much traffic out on the track that getting a time was always going to be hard. But at least we have an idea about the tyres and how the car will perform on the different compounds. We know it's going to be difficult to replicate this form tomorrow when we expect conditions to be drier but overall I'm feeling good, the car is fast and I am in good shape.
Tonio Liuzzi (car 15)
Overall a difficult day, not just because of the weather, but because of the programme we were running. We had a different programme from Adrian, running with some newer development parts. We have a really good speed into the corners and the car is very balanced. The blown diffuser does the work we expect it to and is performing quite well, but we tried a few things that we still need to define before tomorrow. We are down on top speed and are losing a bit of time on the straights and of course that's not what you want when you're at a place like Spa that has such long straights. I'm positive for tomorrow though and looking forward to getting a complete package tomorrow.
Dominic Harlow, chief race engineer
Two wet sessions today, and a busy test programme for the team. The morning conditions permitted only running on the wet tyre, as we compared different car configurations with Adrian and Tonio. The car was quite well balanced in the wet, but we occasionally did suffer from a bit of understeer. During the afternoon the circuit became dry enough for us to use prime and option tyres, but it wasn't really an evaluation because of the evolving circuit, yet all the same it allowed us to collect more data on the blown diffuser that seems to be working as we expected. However we will be investigating the F-duct performance on Tonio's car this evening as there is a top speed differential between the two cars. Overall our performance seems reasonable and if we follow the conditions sensibly should be able to achieve our twin objectives of Q3 and scoring more points this weekend.
View a Printer Friendly version of this Story.
Spa 2010 - Free Practice Report
Discussion started by Force India (IP Logged), 27/08/2010 20:06
Force India
27/08/2010 20:06
What do you think? You can have your say by posting below.
If you do not already have an account
Click here to Register
.
perer
27/08/2010 20:41
It looks kinda promising at this moment, but I wonder which nose they will use, LIuzzi is using the high flat one, which they used for Canada (succesfully). And Sutil is atm quick with the standard round one. But well I bet it's goint to rain tomorrow and on sunday. So it's a lotery anyway.
Bigpip
27/08/2010 21:27
It will be a lottery but at the moment there are few better in the wet than our Ade!!

It'll be a very interesting weekend!

Darwin was right!
Jordan > Midland > Spyker > Force India
force_indy
28/08/2010 09:14
Its def going to be an interesting weekend, but we do look very fast regardless the weather.
Are we the fastest in the speed-traps, I think from watching the times in p1/2 sutil is the quickest in the 1st and final sectors, i think we should be in the top 5 for quali (sutil). I'm not sure how luizzi will do but hopefully in the top ten.
on different news, there is a rumour that we will be swapping engine provider with the red bull team!!!! i really hope not link below:
[
www.motorsport.com
]
perer
28/08/2010 10:49
in FP3 it all looks kinda funny, we where still back to back testing the f-duct, and front wings. So I hope the have enough data on what is quickest.