Blown diffuser test on Friday for Force India in Hungary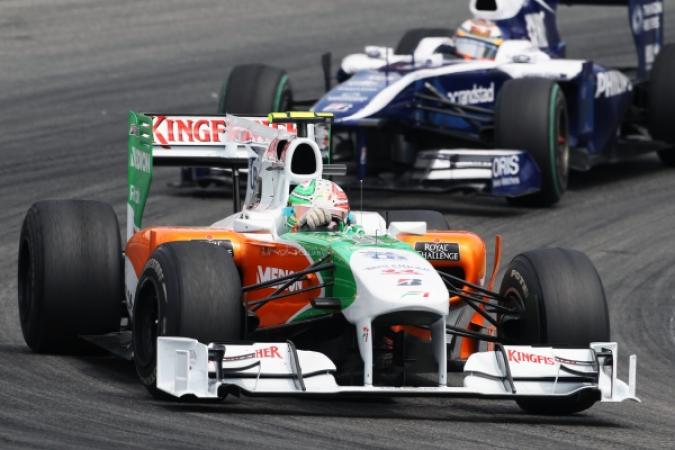 By Force India Press Office
July 28 2010
Just one week after the German Grand Prix, the Force India F1 Team will be back in action, this time at the Hungarian Grand Prix held at the tight, twisty Hungaroring on the outskirts of the capital city Budapest. After missing out on points for only the second time this season at the last race, Force India will be looking to regain its momentum and edge its points tally higher in Hungary.
Team Q&A
Dr Vijay Mallya, chairman and team principal
Germany was very disappointing for the team but I see it as a blip rather than anything more significant. It started very well, of course, with Adrian P1 in FP1, but after that we didn't get to grips with the track and one issue led directly into the next. Fortunately it was only the second time this year we have missed out on the points and - more importantly - we did not lose any ground to our main rivals so we got off lightly, all things considered. However this clearly cannot happen again as the race for fifth and sixth in the championship is closer than ever now and we need to finish with at least one car in the points at each race from now on.
We can however be confident that we have enough strength in current performance and the new developments coming. On Friday we will test the blown diffuser, which we believe will give us a big step forward. We will analyse the findings and any data will be fed back into the programme for the second half of the year. Similarly, we have some new developments on the front of the floor.
This year we have a much more balanced car over all types of tracks and, while we would look forward to Spa and Monza as high speed tracks that should suit us better, I think we will hold our own in Hungary.
Driver Q&A
Adrian Sutil (car 14, VJM03/03)
Hockenheim obviously wasn't the best race weekend for us, unfortunately. We had a mechanical issue in practice, which in turn affected qualifying and the result was that I started at the back so we had to try a pretty creative race strategy - use the option tyres at the start, pit very early, and put on the hard tyre and go the whole race. Otherwise you spend a lot of time trying to overtake other people. However because of the radio conversations with Tonio and him coming in at the same time they mixed up the tyres in my stop so I had to pit again to change the rear left. This set didn't perform well and after a few laps, it was sliding and I flat spotted the front. I changed to the soft tyres and did quite well, good lap times, and I could enjoy my driving at least.
But now we can look forward to the next race in Hungary. Budapest is a great city, it's beautiful there, and always nice and warm. I'm looking forward to it after a cold weekend in Germany! The Hungaroring is actually a difficult track, with a lot of corners that require focus as one leads into the next without any recovery time. I like driving there, even though the average speed is quite low. Qualifying is very important, and despite our recent form in this area, I'm always confident I can make it into the top 10.
We'll also try new parts, including a new blown diffuser on the Friday. In the past I've never had much luck in Hungary, but this is a new year for me, year number zero, with a competitive car, a strong position in the championship and everything to push for.

Tonio Liuzzi (car 15, VJM03/01)
Like Adrian, Hockenheim was one of those races you have every so often that doesn't seem to ever come together. The accident in qualifying was a real disappointment as I got caught out on a damp patch on the kerb, but because of where it was the car went straight into the wall and I missed the rest of the session and started P22. I had a good start though but got squeezed into one corner, which meant I thought I'd damaged the front wing. I had a discussion with the team during the lap, and we decided to pit and change it. Adrian was in front of me in the pit lane when I came in as part of his strategy, so it all happened very quickly and there was a misunderstanding with tyres, so I had to make another stop to put it right. The race was basically difficult from that point, which was a shame because we had a strong pace, and with the hard tyres we were really consistent and fast. It was good enough to be in the top 10, if we had started in front.
But Hungary is now coming very soon and although we know it could be a tough weekend for us because of the strength of the competition now, we still have a chance to fight for points because we're always there when everything goes right. And it's like a big Monaco in that the circuit is very twisty and there's not much room for overtaking, and at Monaco we were quite strong.
I quite like the track and I've been pretty fast in the past. It's all about the rhythm, akin to a kart circuit, so I like it! It's one of the old school circuits with a nice atmosphere and a beautiful city, and it's always good to be there. I believe we have a chance to score points, but the others won't make it easy.
Paul di Resta, test and reserve driver
In Hungary I'll be getting back to my normal Friday duties, driving in FP1 when I replace Tonio. Of course, after sitting out Hockenheim, I'm looking forward to getting back out there. The Hungaroring will be another new track for me so I've been doing my homework, going in the simulator, looking through last year's data and talking with the engineers to be as prepared as I can.
It looks like it's quite a tight track and the cars don't get going as much as at other tracks such as Silverstone or Melbourne, but I've always enjoyed watching the races there so hopefully it will be good to drive.
The year is really flying by now and we're now well over half way. I feel so much more comfortable in the car and at the moment it's even more exciting to be part of the programme as the team is now under pressure to move forward and do the best job it possibly can.
View a Printer Friendly version of this Story.
Blown diffuser test on Friday for Force India in Hungary
Discussion started by Force India (IP Logged), 28/07/2010 09:50
Force India
28/07/2010 09:50
What do you think? You can have your say by posting below.
If you do not already have an account
Click here to Register
.