China Practice Report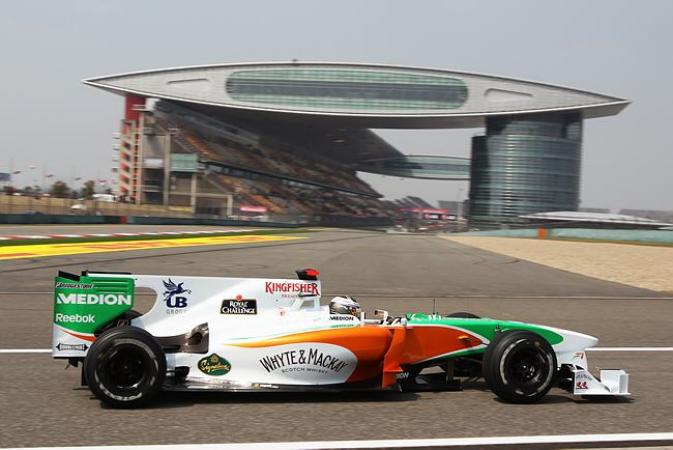 By Force India Press Office
April 16 2010
Free practice for Sunday's Chinese Grand Prix got underway today at an unseasonably chilly Shanghai International Circuit. The Force India F1 Team nevertheless pushed on with its programme and was able to complete its schedule of tyre evaluation and baseline set-up work.
Adrian Sutil was a promising ninth in the morning and as the afternoon saw a marginal improvement in grip levels, bettered his time to record the seventh best lap.
Paul di Resta, celebrating his 24th birthday today, was back in action in FP1. With this being Paul's first visit to Shanghai his focus was initially to learn the circuit and then establish a baseline set-up for the weekend. Tonio Liuzzi took back the VJM03 for second practice and closed the day with the 16th best lap after difficult runs on the softer tyre compound.
Adrian Sutil (car 14)
It was quite a good day, with no real problems. The track conditions were notvery good out there to start with. It was very green and hard on the tyres,particularly the harder set we used in the morning. The grip improved over theday but even at the end it was still very low. The balance of the car was goodthough and I think we looked pretty strong on both types of compound so, withthis in mind, I'm expecting a similar qualifying and race performance toMalaysia.
Tonio Liuzzi (car 15)
It was difficult out there today. The prime tyre, which was my first run of theday, was good. The car was behaving well but then after we changed to the softtyre we were sliding all over the place and struggling to get the temperatures in the tyres. It was a big frustration as the car was not there any more. It was strange as it was such a clear change from hard to soft. We need to look into this problem but I think we can be positive about the rest of the day as on the hard tyres we seem to be quite strong.
Paul di Resta
It was a very difficult session as the conditions were quite tough out there.The track was green with little rubber to start with and the low temperatures and the hard tyre compound made grip levels very, very low. I still managed to learn a few things about the car and of course the circuit. It's a tricky track with some blind corners and variety of speeds and it's hard to get into an easy rhythm straight away. Unfortunately I flat-spotted one of the front tyres,which compromised how much I could get out of the last two runs but we still got what we wanted out of the session and I have learnt another track so, all in all, it was productive day.
Dominic Harlow, chief race engineer
Sunny but still quite cold today. The early track grip has been low, and the tyres a little difficult to warm-up, that's all as expected really. We have a reasonable balance, but need to work hard to get the grip. With Paul driving Tonio's car in FP1, we ran our usual combination of tyre evaluation and set-up programmes between the three drivers, and apart from a couple of small issues in FP2 and the bigger bumps this year, it was a reasonably smooth day.
AdrianSutil (car 14, VJM03/03):
FP1: 9th 1:38.008 (13 laps)
FP2: 7th 1:36.254 (31 laps)
TonioLiuzzi (car 15, VJM03/01):
FP1: Did not participate
FP2: 16th 1:37.804 (31 laps)
Pauldi Resta (car 15, VJM03/01)
FP1: 15th 1:38.618 (26 laps)
FP2: Did not participate
View a Printer Friendly version of this Story.
China Practice Report
Discussion started by Force India (IP Logged), 16/04/2010 11:46
Force India
16/04/2010 11:46
What do you think? You can have your say by posting below.
If you do not already have an account
Click here to Register
.