Australia: Lap by lap as Massa takes pole in Melbourne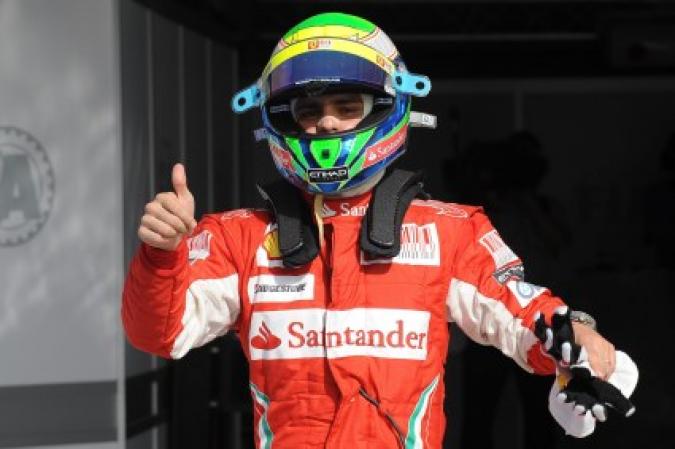 By Pitpass.com
April 4 2010
Mark Webber topped the timesheets this morning, as the teams made their final adjustments ahead of this afternoon's all-important qualifying session. One of the last drivers to post a time, after a couple of exploratory laps the Australian was on the pace and hanging around the top of the timesheets for much of the session.
His time, like almost all the times this morning, was set on the softer (option) tyre on a fuel load and while this is indicative of how things should pan out over the next hour, we are still unclear as to what the actual race pace, or indeed order, might be. Certainly, the harder (prime) tyre is proving notoriously difficult to get up to optimum temperature, with some saying it is taking as many as 3 laps.
Michael Schumacher appears to have the edge over his Mercedes teammate this weekend, while Vettel is definitely one to watch, even if his Australian teammate is hogging the limelight.
The McLarens are clearly up there, both drivers pretty evenly matched over the course of the weekend thus far, while at Ferrari Massa has consistently been off the pace of Fernando Alonso.
Of the rest, the Force India continue to impress, as do the Toro Rossos and Renaults, while the Williams duo appears erratic, Hulkenberg, in particular, still struggling to find his feet.
The Saubers, having given up on the F-duct, at least for now, are getting on with things, even if Pedro de la Rosa appear to have forgotten what mirrors are for, while Lotus are clearly best of the rest. Virgin and Hispania are still enjoying a baptism of fire, both teams trying to cope in their own way.
The question everyone is asking this weekend is whether Melbourne will produce the sort of action and drama we'd all hoped for in Bahrain. While there is talk of rain hitting Albert Park at some point tomorrow afternoon, the strategy - which suggests all teams will be making one stop - is going to be somewhat similar to the season opener.
Then again, this is Melbourne not Sakhir and the Albert Park circuit does have a habit of producing a controversial race. However, let's hope that this doesn't come in the form of an accident for it has to be said that it appears very crowded out there, a situation not helped by some very slow cars, a significant number of rookies and the failure, by some who should know better, of certain drivers to make use of their mirrors.
Air temperature is 21 degrees C, while the track temperature is 24 degrees. There is still thick cloud hanging over Albert Park, however, the forecasters still claim that rain is not expected. However, seasoned F1 people insist that there is rain in the air. Indeed, three minutes before the session gets underway, this morning's pace-setter, Webber, looks to the sky with just a hint of concern.
The lights go green and Q1 is underway, Liuzzi and Sutil leading the way. Chandhok is another 'early riser', as is, surprisingly, Felipe Massa. Then again, considering the concerns regarding the weather, not to mention problems with traffic, maybe the Brazilian is doing the right thing.
Liuzzi crosses the line at 28.848 to set the benchmark, however, this is almost instantly beaten by Sutil (28.031), while Massa effectively abandons his lap only managing a 31.306.
No such problems for Alonso who goes quickest with a 26.162 as Kubica goes second and Liuzzi third. Schumacher's first lap is a 42.509, the German, like so many, losing out to traffic.
Webber posts 25.951 to go quickest but Alonso immediately replies with a 25.522. A 26.156 sees Vettel go third.
All 24 drivers are on track as Rosberg improves to second (25.562) and his Mercedes teammate third (25.736).
The order is constantly changing, Vettel is now quickest (24.774), ahead of Alonso, Webber, Button and Rosberg. All the usual suspects in the danger zone.
As Hamilton goes quickest in the first sector, Button goes second overall (24.897). A massive slide for Hamilton but he still manages a 25.046 and P3.
With eight minutes remaining, Petrov and Buemi are just above the danger zone, as is Massa (26.444).
Barrichello complains of drivers "not paying attention", the Brazilian veteran finding it very frustrating.
Massa improves to seventh with a 25.635 as Hulkenberg is one of the first drivers to go out on the option compound.
Three minutes remain and all but the Top 5 are on track - Vettel, Button, Hamilton, Alonso and Webber.
Loads of green lights as drivers post personal bests but no purples.
Massa improves to sixth but is demoted by Sutil, who crosses the line at 25.504. Elsewhere, Rosberg goes quickest in the second sector, however, a poor final sector (traffic?) means he fails to improve.
Both Lotus drivers in the danger zone, as is Petrov. The Russian pushes hard but a big mistake means he fails to improve and therefore fails at the first hurdle.
Rosberg posts 24.788 to go second while a late charge sees Kubica improve to tenth.
At the end of Q1, we lose Petrov, the Lotuses, the Virgins and the HRTs.
Quickest was Vettel, ahead of Rosberg, Button, Hamilton, Alonso, Webber, Schumacher, Sutil, Massa and Kubica.
The lights go green for Q2 and Webber is straight out, followed by Hamilton, Rosberg, Schumacher and Button. There is talk of spots of rain but there don't appear to be any umbrellas or macs. However, the drivers appear to know better and keen to get in a 'banker' lap.
The Ferraris are on options tyres, as is Schumacher, the rest appear to be on the prime tyre.
Alonso goes quickest in the first two sectors, while Webber (24.797) goes quickest overall. The Spaniard eventually crosses the line at 24.459. Massa is third, ahead of Vettel, Rosberg and Button.
Alonso and Webber both on very quick laps, though on entirely different rubber. Rosberg also on a very fast lap.
Webber, having gone quickest in the first and final sectors, goes quickest with a 24.276, while Button posts 24.531 to go third. The McLaren driver was on softs which gives some idea as to the pace of the Red Bulls which are both on the harder compound.
With less than seven minutes remaining, Hamilton is seventeenth of seventeen. The McLaren driver heads down the pitlane knowing that he needs to get in a good lap now if he is to go forward into Q3, for, as we know, the weather and back-markers could cause him problems.
Hamilton begins his flying lap with four minutes still on the clock. A 25.251 sees him go seventh, he's out of the danger zone but there's a long way to go. If he is to stay in the game he really needs to do another quick(er) lap.
Surprisingly, both Force Indias in the danger zone with two minutes remaining.
"Where do I need to find time," asks Hamilton. "Middle and final sectors," is the worrying response.
It's a Red Bull 1-2 as Vettel posts 24.312 in response to Webber's 24.276.
Hamilton improves to tenth but is demoted when Sutil goes eighth. Kobayashi gets horribly out of shape but somehow keeps it all together.
Having gone quickest in the first and final sectors, Vettel takes the top spot with a 24.096.
It's all over for Hamilton, he only has the fuel for those two flying laps, and is therefore ordered back to his pit. Consequently, the Englishman's day's work is done, as is Buemi's, Liuzzi's, de la Rosa's, Hulkenberg's, Kobayashi's and Alguersuari's.
Quickest in Q2 was Vettel, ahead of Webber, Alonso, Button, Rosberg, Schumacher, Massa, Sutil, Barrichello and Kubica.
Ahead of the all-important final phase it has to be said that the Red Bulls have a clear advantage, their pace on the prime tyre quite remarkable. However, will Mercedes, Ferrari or Button take a massive gamble in an outright attempt to take pole? Indeed, could Barrichello, Kubica or Sutil spring a major surprise?
Once again, when the lights go green Webber is quick to get to work, the Australian and his rivals still watching those worrying clouds.
All but Kubica and Sutil are on track, both drivers looking to be going for one hot lap.
Webber and Massa both very, very quick on their out laps.
Alonso sets the benchmark with a 24.606 but this is soon beaten by Webber who crosses the line at 24.035.
Schumacher goes third but is demoted by his teammate, who goes third with a 24.884 and Vettel, who takes provisional pole with a 23.919, the German pushing his car to the very limit, and then some.
Next time around, Alonso improves but remains thirds, Schumacher stays sixth.
With four minutes remaining, the big guns pit, the final shoot-out is about to begin.
Button posts personal bests in the first two sectors, improving from fourth to fifth with a 24.675.
Surprisingly, Rosberg is on the harder compound, all his rivals seemingly on the softer option.
Massa posts personal bests in the first two sectors as Schumacher leaves the pits, like his teammate, on the harder compound.
Webber goes quickest in the first sector as Alonso posts personal bests in the first two. The Spaniard fails to improve on third while the Australian remains second, mainly due to a poor second sector.
Pole is clearly in the bag for Vettel however, the German doesn't pit instead choosing to continue around. Schumacher, on the other hand, does pit, while Rosberg fails to improve, Mercedes hard tyre gamble not having paid off.
Consequently, Vettel takes his second successive pole, with Mark Webber making it an all Red Bull front row.
Fernando Alonso qualifies third, ahead of Button, Massa, Rosberg, Schumacher, Barrichello, Kubica and Sutil.
An interesting session, and a remarkable performance lap from Vettel, while the home crowd is sure to fire up Mark Webber tomorrow afternoon.
After the monotony of Bahrain, can F1 redeem itself on the streets of Melbourne? Let's hope so.