Australia: We might have done a bit better today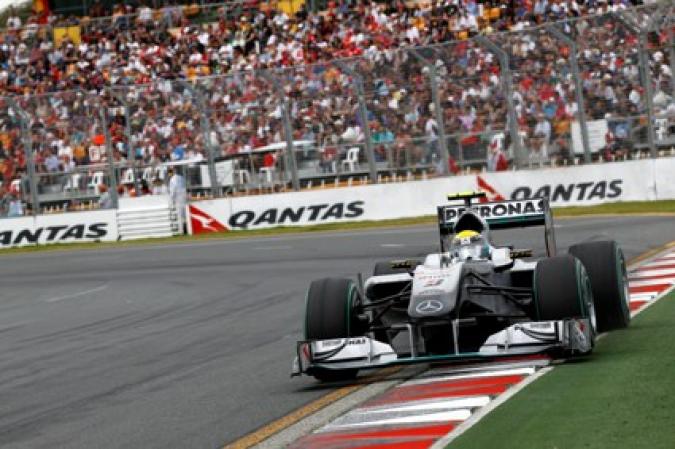 By Mercedes GP
April 4 2010
Nico Rosberg and Michael Schumacher qualified their MGP W01 cars in sixth and seventh positions today ahead of the Australian Grand Prix at Albert Park in Melbourne tomorrow.
Under grey skies with cooler temperatures than during today's practice, the MERCEDES GP PETRONAS pair progressed easily through Q1 with two runs on the prime tyre, and through Q2 using the softer option tyre for a further two runs.
With rain threatening in Q3, Nico and Michael went out right at the start of the session. Running on the option tyre, both were unable to find a clean lap with Nico making a couple of uncharacteristic mistakes and Michael caught up in some traffic. Their quickest laps put Nico in P6 and Michael in P7 and whilst both drivers came back into the pits to switch to the prime tyre for a final run, they were unable to improve their times.
Nico Rosberg
Race Driver #4Mercedes GP
"It was a disappointing qualifying today as I had made really good progress during practice with my engineers but didn't do the best job when it mattered. I made a couple of mistakes on my best lap on the option tyres which cost me three or four tenths. There was more in the car today so it's always frustrating when you don't get the most out of it. It's not typical for me to make such mistakes in qualifying. But that's the way it goes sometimes and sixth position is still a good place to start. We should be stronger in the race and anything can happen tomorrow."
Michael Schumacher
Race Driver #3Mercedes GP
"We had a reasonable qualifying session today and I am ok with the outcome even if I was a bit handicapped by traffic, especially on my final quick lap. We made some changes with the car after practice this morning which did not work out perfectly. But in general I would guess the ranking that we see now reflects the situation well and our performance is probably the maximum for our car at the moment. Anyhow, we still have a lot in hand for tomorrow's race, and I am on the clean side of the grid for the start. As we all know, a lot can happen over the course of a race."
Ross Brawn
Team PrincipalMercedes GP
"Whilst we weren't necessarily able to compete with the top three, I thought we might have done a bit better today, and certainly be fighting for fourth and fifth places. We didn't really seem to get smooth runs and whilst it's the same for everybody with the conditions and traffic, the little things just didn't quite come together for us today. The car is good so we're a little disappointed but we know what we've got to do. We've got to find some time to compete with the guys in the top two or three positions and that's our objective."
Norbet Haug
Vice PresidentMercedes-Benz Motorsport
"It was not quite the optimum result that we could have achieved today but better than fourth place would not have been possible. We know that there is more work to be done in order to improve our technical package and catch up to the Red Bulls and Alonso's Ferrari which were out of reach. This will happen step by step and it will take some time. Nico and Michael did a good job within the possibilities that we currently have and are split by less than half a tenth of a second. We will try to do a better job tomorrow and improve our positions during the race."