Australia: Lap by lap as Button returns to winning ways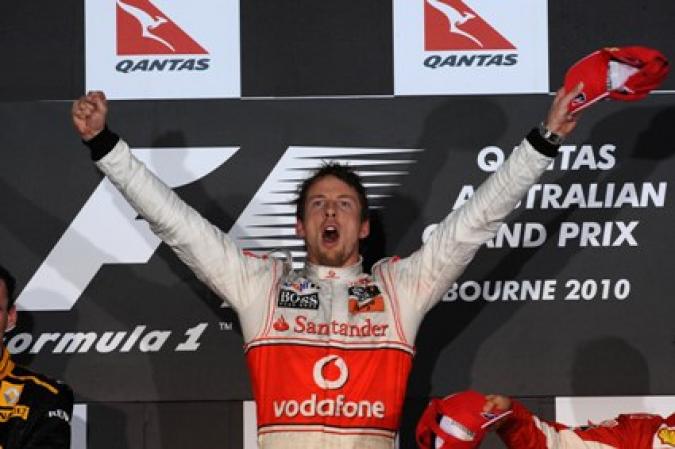 By Pitpass.com
April 4 2010
Judging by their qualifying performance, today's Australian Grand Prix is Red Bull's to lose. The pace of the two drivers, particularly Sebastian Vettel, was absolutely electrifying, with rivals fearing there's even more in reserve.
However, this is F1 and as we know from experience anything can, and usually does, happen. Other than the usual threat of first lap incidents - a serious concern today given the additional teams and the confines of the Albert Park circuit - there is the weather, Red Bull's notorious reliability and the threat from the late start time.
At the end of yesterday's qualifying session, Mat Coch wrote: "It is so, so dark here. If this were cricket they'd be back in the pavilion by now, and the race finishes an hour later than this. This is going to be called early tomorrow if it's cloudy like this."
In Bahrain, Vettel was romping to victory when a spark plug failure, 15 laps from the end, dropped him to fourth, gifting the win to a most grateful Fernando Alonso. Today, other than anticipating further reliability issues, the German will face an almighty threat from his teammate, Mark Webber, who would dearly love to win his home race.
While Vettel jokes that he intends to deprive his teammate in payback for the Australian winning last year's German Grand Prix, let's not be fooled, behind the impish grin is a highly competitive racer with no room for sentimentality only winning. If Webber is to win today, he will have to beat his teammate not just the other twenty-two drivers out there.
No doubt, as in Bahrain, the biggest threat to the Red Bulls will come from Ferrari where Fernando Alonso has had the edge over Felipe Massa for much of the weekend. While the scarlet cars don't have the pace or grip of the Austrian cars they do have reliability.
In many ways McLaren's best hope lies with Jenson Button after Lewis Hamilton failed to make it into Q3. The Woking team clearly has a number of issues and it looks likely that it won't be able to start closing the gap until Barcelona. In the meantime, it must do the best job it can and keep adding points to its tally while at the same time depriving its rivals.
At Mercedes, Michael Schumacher is much closer to Nico Rosberg than he was in Bahrain, and the wily old fox should never been written off, particularly on a track where he's won before and when weather conditions look likely to have an impact.
Rubens Barrichello and Robert Kubica continue to uphold honour for their teams, while Adrian Sutil, having once again got the Force India into the Top Ten, must ensure he learns from Bahrain and stays well clear of any incidents today.
Lotus know it will be take time before they start closing the gap, even to the Saubers and Toro Rossos, while Virgin and Hispania will be delighted to make it to the chequered flag, fuel tank permitting in the British team's case.
More than anything however, after the processional disappointment that was the season opener, Melbourne has to serve up something special today. Much of what is wrong in F1 today - and there is much wrong with F1 - cannot be fixed over night, and while we don't expect cars to be battling three abreast throughout the race, it would be nice to see a few drivers at least having a go as opposed to saving their engines, conserving their fuel or settling for points.
In the hours leading up to the race the rain has been constantly threatening, with the odd few spots falling from time to time. In many ways, the uncertainty is the worst possible scenario for the teams.
Having replaced the fuel collectors on both its cars overnight, and made adjustments to the suspension, Virgin will be starting from the pitlane. Jarno Trulli will also start from the pitlane as the team has concerns over his hydraulics.
As in Bahrain, the majority of the drivers are missing from the grid as the row with FOM over passes for their 'personal gurus' continues.
Ten minutes to go, and with the drivers waiting on the grid ahead of the parade lap, the cloud is thicker and the rain is beginning to fall just that little bit harder. Indeed, Michael Schumacher is told that there are fifteen more minutes of rain expected. We are definitely heading into Intermediate territory.
The air temperature is 26 degrees C, while the track temperature is 24 degrees. Humidity is 36 percent.
The tyre warmers come off and Vettel's Red Bull is shod with Intermediates, as are the cars of most of his rivals.
On the parade lap it is clear that the drivers are struggling for grip, more than a few get worryingly out of shape.
They're away, and while they all get away cleanly there's an incident at the first corner leaving Alonso facing backwards after being clouted from behind by Button. Meanwhile, further around the track Hulkenberg, Kobayashi and Buemi are stranded in the gravel trap after a nasty looking coming together, while Schumacher is told he needs a new front wing after falling victim to Button. The Safety Car is deployed.
At the end of lap 1, Vettel leads Massa, Webber, Kubica, Rosberg, Button and Hamilton, who got a great start, taking to the grass in order to avoid the first corner melee.
As the field continues behind the Safety Car, the rain has stopped, however, official claim that it will return within the hour. Replay indicates that the incident which eliminated Hulkenberg Kobayashi and Buemi was the result of a wing failure on the Sauber, the second of the weekend.
At the end of lap 4 the Safety Car pulls off, Vettel leaves a sleepy Massa for dead as Kubica is all over Webber and Hamilton hassles his McLaren teammate.
Alonso, now down in eighteenth, makes short work of Glock, as he should, while Schumacher passes di Grassi. The prospect of the Spaniard and Schumacher battling one another as the slice through the field is a great one.
Hamilton goes around the outside of Button at Turn 4 as Webber passes Massa who, having made a mistake, is now under attack from Kubica who, in turn, leads a train of cars. Sutil posts fastest lap (43.223).
At the end of lap 6, Button is the first driver to switch to slicks (soft), the Englishman appearing to catch his crew by surprise. Just a few corners later the world champion runs wide, indicating that he might have made the switch too early.
On lap 7, Webber goes quickest (42.237) as he closes to within 1.2s of his teammate. Alonso and Schumacher now running thirteenth and fourteenth.
At the end of lap 8, Massa, Sutil, Rosberg, Hamilton and a whole heap of others, following Button's example by switching to slicks. Consequently, Liuzzi is now up to third ahead of Alguersuari.
Button posts a new fastest lap (39.126) as Vettel pits, leaving Webber leading Sutil. Liuzzi and Alguersuari have also pitted.
Webber finally pits at the end of lap 9, as does Sutil, which means that Button is now running second, behind Vettel, the Englishman's gamble having paid off in spades. Elsewhere, Petrov is stranded in the gravel at Turn 3.
Webber runs wide at Turn 1 after leaving the pits, losing a place to Massa, while Hamilton passes Barrichello to take seventh.
After 11 laps, Vettel leads Button by 1s, Kubica is third ahead of Rosberg, Massa, Webber, Hamilton, Barrichello, de la Rosa and Alonso.
Hamilton is told to attack Webber, the Englishman advised that Webber is struggling with his tyres. Elsewhere, more misery for Sutil as the German is forced to retire, leaving just 17 runners of the original 24.
On lap 13, Vettel posts a new fastest lap (31.856) as he extends his lead over Button to 2.4s. Kubica, who is 3s behind the McLaren, has his mirrors - providing he can see them - full of Rosberg.
Alonso is all over Barrichello, the Spaniard making short work of the Williams before setting off after Hamilton. Further down the field, Schumacher is all over Alguersuari.
Webber makes a fantastic move on Alonso which sees an opportunistic Hamilton also pass the Spaniard. However, not satisfied with seventh, the Englishman challenges the Australian who is having none of it, they touch and the Red Bull takes a trip across the gravel. Another visit from the Melbourne police for the McLaren star?
On lap 17, as he strives to make up for the earlier incident, Webber posts a new fastest lap, the Australian crossing the line at 30.639. He is now running eighth, 2.3s down on Alonso.
Rosberg is told to "squeeze a little bit more" in order to close in on Kubica and not fall into the clutches of Massa and Hamilton.
After 20 laps, it's: Vettel, Button, Kubica, Rosberg, Massa, Hamilton, Alonso, Webber, Barrichello, de la Rosa, Liuzzi, Alguersuari, Schumacher, Kovalainen, Glock, Chandhok and di Grassi. Prompting the obvious question, will the Hispania and Virgin go the distance?
A mistake by Massa in the final corner at the end of lap 21 sees Hamilton close right in, the Englishman making short work of the Ferrari on the pit straight. Alonso, who has a grandstand view of the incident, is caught napping by Webber who takes seventh from the Spaniard.
Replay shows something appear to fall from the front wing on Hamilton's car. The McLaren crew assembles in the pitlane but the 2008 champion doesn't stop, indeed, he is closing on Rosberg at a huge rate of knots.
Webber, clearly on a charge, is all over Massa, who clearly moves from side to side in his efforts to block the Australian. Rob Smedley comes on the radio to advise Massa where he is losing time, essentially how he should be dealing with Webber. Elsewhere, Schumacher has passed Alguersuari and is now all over de la Rosa.
Another superb move from Hamilton who passes Rosberg, running around the outside of the German at Turn 11, however, attention shifts to Vettel who has gone off into the gravel his race over, though it is unclear why.
Webber passes Massa to take fifth, the Brazilian, who is struggling fro grip, is also under pressure from Alonso.
Therefore, after 28 laps, Button leads Kubica by 3.7s with Hamilton all over the back of the Pole's Renault. Rosberg is fourth, 1.3s ahead of former Williams teammate Webber. Massa sixth and Alonso seventh.
It's all over for di Grassi who is now in the Virgin garage where his crew are working on his car. Chandhok is still lapping, though two laps down on the race leader.
At the end of lap 29, Schumacher makes his third stop of the afternoon, taking on a new set of soft tyres. The German rejoins in eleventh, just ahead of Alguersuari, however, the Spaniard passes the Mercedes as he tries to get up to race speed.
The fight between the two Ferraris, while thrilling, is costing Alonso dear, the Spaniard losing valuable time behind his teammate. Will this lead to disharmony at Maranello?
As Schumacher posts a new fastest lap (30.293), Webber pits for another set of softs. As the Red Bull driver drops to seventh, his teammate walks back to the pits having revealed that he suffered brake failure.
At the end of lap 33, Rosberg pits, rejoining ahead of Webber, who makes short work of the Mercedes driver, much as Alguersuari did with Schumacher.
As Hamilton pits at the end of lap 34, teammate Button posts a new fastest lap (30.201) as he extends his lead over Kubica to 10.1s. Hamilton rejoins just in front of Webber, the pair immediately locked in battle.
All over Hamilton, Webber posts a new fastest lap (29.806) as race leader Button continues to extend his lead, his silky smooth driving style ideally suited to these conditions.
Hamilton runs wide allowing Webber through, however, the Englishman soon re-takes his position. Next time around, the McLaren driver posts a new fastest lap, crossing the line at 28.754.
On lap 38, Webber posts a new fastest lap (28.737) as he keeps pace with Hamilton, who is now 18.9s behind fourth-placed Alonso.
Although he is lapping up to 1.5s slower than Hamilton and Webber, his smooth driving style, the uncertainty over the weather, a 31s advantage and the fact that he has the two Ferraris and a Renault as a cushion, suggest that Button may well be on his way to a second successive Australian GP victory.
On lap 42, Button posts his personal best time of the race (30.195), as he extends his lead to 14.8s. Back in fifteenth place, Chandhok is still running, admittedly around 8s a lap slower.
Kubica, who is having a magnificent race, everything taken into consideration, is being caught by the Ferraris.
Hamilton is told that at his current pace he will catch the leaders. He asks if his teammate will have to pit. "He doesn't have to," he is told, "but his tyres are very, very old". Behind the McLaren driver, Webber posts another fastest lap (28.483).
After 45 laps, it's: Button, Kubica, Massa, Alonso, Hamilton, Webber, Rosberg, Liuzzi, de la Rosa and Barrichello.
Massa is told to up his pace, warned that Hamilton and Webber are closing in, which they clearly are. Elsewhere, teammate Alonso is struggling for grip.
On lap 49, Hamilton and Webber are just 1.5s down on Alonso. The information is passed on to the Spaniard who replies: "I don't want to know!"
While Hamilton and Webber stalk the Ferraris, Button is still cruising, a 20s advantage over his McLaren teammate. Elsewhere, Chandhok has made his second stop of the afternoon, the Indian youngster now four laps down on the leader.
Replay shows Barrichello passing de la Rosa for ninth as Hamilton reveals "my tyres have gone off, my tyres have gone off".
Sure enough, the McLaren driver appears to have nothing left, the gap between him and Alonso's Ferrari consistently hovering around the 0.5s mark. No pun intended.
On lap 55, Webber almost comes to grief as he closes in on Hamilton, the Australian catching the McLaren quicker than he expected. Elsewhere, Schumacher makes a classic move on Alguersuari.
Hamilton is very, very frustrated, making his unhappiness over team tactics fully known. He makes a move on Alonso, but the Spaniard is having none of it. The Englishman slows and is clouted by Webber, sending the McLaren into a spin and forcing the Red Bull to pit for a new front wing.
Schumacher passes de la Rosa to take tenth, a consolation point after a miserable day.
Jenson Button takes the chequered flag, waved, as it happens, by John Travolta, Robert Kubica takes second, Felipe Massa third and Fernando Alonso fourth.
Rosberg finishes fifth, ahead of Hamilton, Liuzzi, Barrichello, Webber and Schumacher, the last of the point winners, with Alguersuari eleventh, ahead of de la Rosa, Kovalainen and Chandhok.
This was certainly what we needed after the monotony of Bahrain, F1 - which as we have always been told is If backwards - reminding us why we fell in love with this sport in the first place.
Button has taken some stick over the years, even following his championship season, but today's performance, particularly his decision when to change to slicks, was the mark of a champion. It was a stunning performance, put firmly into perspective by his teammate's race.
If today was a classis for Button, so too does Robert Kubica deserve praise, maybe more so considering the equipment at his disposal. The popular Pole did all that was needed of him, giving his team a much needed boost as it saw off the challenge of Ferrari and Mercedes.
Ferrari will no doubt see today's result as a disappointment, but in all honesty neither driver has looked particularly impressive here this weekend, and third and fourth is more than they deserved.
Another strong drive from Rosberg, however, Mercedes clearly has work to do if it is to fight for wins far less the tile.
Clearly Melbourne is not Hamilton's circuit, the Englishman having an Australian Grand Prix weekend only marginally less bad than in 2009. Criticising his team in the middle of a race - particularly when his teammate has made a brave, ultimately successful call - is not a good thing to do. While it would be wrong to heap further misery on the youngster it has to be said that he's looking a little ragged at present, both on and off the track. Perhaps the decision to drop his father as manager was not the best call.
A great drive from Tonio Liuzzi at Force India while Adrian Sutil will be wondering what exactly he has to do to convert his qualifying performances into race results.
Once again, Rubens Barrichello did just what was needed, while Nico Hulkenberg will feel particularly aggrieved following that first corner incident involving de la Rosa.
Mark Webber will probably feel like heading to the nearest bar and hitting the beer, maybe even a few shots of vodka mixed with his team owner's energy drink. However, the Australian's Melbourne misery will be nothing compared to that of his teammate as Red Bull's infamous reliability issue continues to work against the team. That said, but for that brake failure, would Vettel have been able to stop the Button steamroller?
It's hard to believe that Michael Schumacher will be happy to finish tenth, however, it's all part of the learning process as he continues to get used to F1 2010 style. Had it not been for that first lap incident he would no doubt have finished in the top eight, who knows, what reward his legendary experience might have reaped.
Karun Chandhok and Hispania deserve a special mention, the Indian youngster and his team, against all odds, and despite minimal running, got to the end of the race, albeit five laps down on the winners. There's still a long way to go, but it's a start, and after his bravery in Bahrain, opting to run the car despite all the inherent problems and lack of track time, surely deserve some credit.
While there were some good overtaking moves this afternoon, as we have constantly been trying to tell the powers that be, we don't have to have overtaking several times every lap. However, we want the possibility that there might be a move, such as when Hamilton and Webber closed in on the Ferraris, that uncertainty, as opposed to drivers holding station for lap after lap after lap.
Thank you Jenson, thank you Robert, thank you Melbourne.