Australia: We clearly need to find some more performance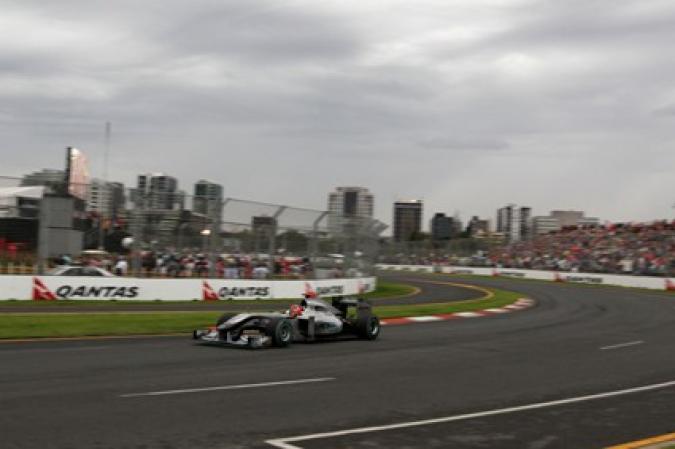 By Mercedes GP
April 4 2010
An eventful race at Albert Park for the Australian Grand Prix saw Nico Rosberg and Michael Schumacher bring their MGP W01 cars home in the points for a second successive race with Nico in fifth position and Michael in 10th place.
Rain immediately before the start meant all cars began on intermediate tyres. Michael was hit by Fernando Alonso in the first corner and was forced to pit for a new nose, resuming the race at the back of the field. Nico was running in fifth place at the end of lap one.
With the track drying, both drivers pitted on lap eight to switch to slicks. With the soft option tyres suffering from degradation, Michael pitted for a fresh set on lap 29 with Nico following on lap 33, rejoining in 12th and 7th positions respectively.
An exciting end to the race saw Nico catch up to the closely-bunched group from Robert Kubica in second place to Mark Webber in sixth place. He was therefore in position to take advantage when Webber and Lewis Hamilton collided and move up to fifth place. Michael had a late surge to overtake Jaime Alguersuari and Pedro De La Rosa, collecting the final point for 10th place.
MERCEDES GP PETRONAS are currently in third position in the Constructors' Championship after two races.
Nico Rosberg
Race Driver #4Mercedes GP
"Fifth place is a good result after a mixed-up race today. I had a bad start in the wet and after that we lacked pace and I struggled with the option tyre. The rear degradation was pretty bad so we decided to go for a second stop and get some fresh tyres to try to attack the group ahead. Even with the tyre advantage, it would have been difficult to pass once we caught up and therefore it was good to make up a couple of places when Mark and Lewis had an incident, so I'm pleased with that. We need to keep on taking the points whilst we improve the car so overall it was a decent weekend."
Michael Schumacher
Race Driver #3Mercedes GP
"I could have had a good race today so it was a pity that I was hit right after the start. That incident decided my race obviously. But things like that happen and you have to just say 'that's racing'. I had to take the remainder of the race from last position but I have to say that I was still having fun as our pace today was promising and for part of the race, we were going quicker than the top group. It was nice to pick up a point and we can take that good feeling into the next race where we will look forward to another challenge."
Ross Brawn
Team PrincipalMercedes GP
"Nico did a very good job today and pushed hard to get fifth place. He was in a reasonable position halfway through but we began to get concerned about his tyres. He had lost a position to Lewis and it looked like Mark would get past so we took the decision to bring him in. As expected with fresh tyres, he caught up with the pack towards the end and was able to take advantage of the ensuing incident with the cars ahead. Whether we gained from bringing him in or whether his original tyres could have held out is difficult to know. Michael had the first lap incident which made his race very difficult thereafter and he did a very good job to keep at it and score a point. Overall I'm pleased with how the team performed this weekend. We got the most out of the car but clearly need to find some more performance. It's not out of reach and we have a lot to look forward to over the next few races. Congratulations to Jenson on a great performance and victory today."
Norbert Haug
Vice PresidentMercedes-Benz Motorsport
"A very entertaining race and indeed probably one of the best ever. The rain and the various tyre strategies mixed up the field and our drivers showed competitive speed. Better than fifth and tenth positions was possible but Michael was a victim of Button and Alonso coming together in the first corner which required a stop and nose change. Michael stopped three times in total so finishing in tenth position and in the points was the maximum that he could achieve after an excellent drive. Nico did a great job, finishing just over two seconds behind a podium position and in the same league with the fastest. Great job, Nico! We have scored points in all four starts and our speed in Melbourne was much better than in Bahrain. Congratulations to Vodafone McLaren Mercedes and to Jenson Button. Their early tyre change was followed by a great and measured drive from Jenson. This was the 69th victory for Mercedes-Benz since Melbourne 1997 and I hope soon we will have a jubilee. Looking to the next race in Malaysia, everybody in the team is very dedicated to catching up and I am sure this will be achieved soon."