BAR Honda is the fastest Formula One team ever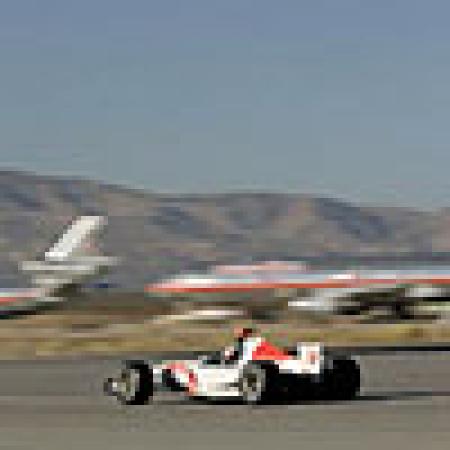 By BAR Honda
November 6 2005
BAR Honda is the fastest Formula One team ever. Unofficially, while shaking down its Bonneville 400 record-attempt car at Mojave airport in California on Friday 4 November, South Africa's Alan van der Merwe became the first F1 driver to crack the 400kph barrier. He managed three runs at over 400, the fastest of which was his last: 415kph (257.88mph).

His speed along the tarmac runway was recorded in two ways: by his car's on-board Pitot tube and by a 60-metre radar trap set up by the team.

Actually, there was a third reading. A spectating California Highway Patrolman was delighted when one of van der Merwe's passes sent his radar gun off its 205mph scale, this breaking a colleague's station record of 170mph set by a speeding Porsche driver.

"The car ran perfectly," said Gary Savage, Bonneville 400's tech chief. "The day proved how important all the recce work has been, and how important it was to approach this challenge in a proper professional manner, to show respect, rather than just turn up on the Salt Flats, go for it and hope for the best."

The day, however, was not without problem: a 45-knot side wind, with gusts up to 60 knots.

"There was dust everywhere," said Savage. "We even had tumbleweed blowing across the track. It was like being in a Western film."

Despite these challenging conditions, the car's stabilising rudder was locked in its 'neutral' position throughout.

"The rudder is for the high-slip, low-grip conditions at Bonneville," explained Savage. "This, of course, means that the car was absolutely in F1 spec at Mojave as there was no moveable aerodynamic device on it.

"It was an encouraging day and we are confident that we can achieve this speed - and more- at Bonneville. But we also know that its salt surface is a much more difficult proposition.

"The key now is to be patient and wait for the right conditions."

The teams hopes to return to Bonneville in late May or early June of next year.

This year's record attempt at Bonneville was postponed after storms flooded the Salt Flats.