Monaco GP: Facts and Figures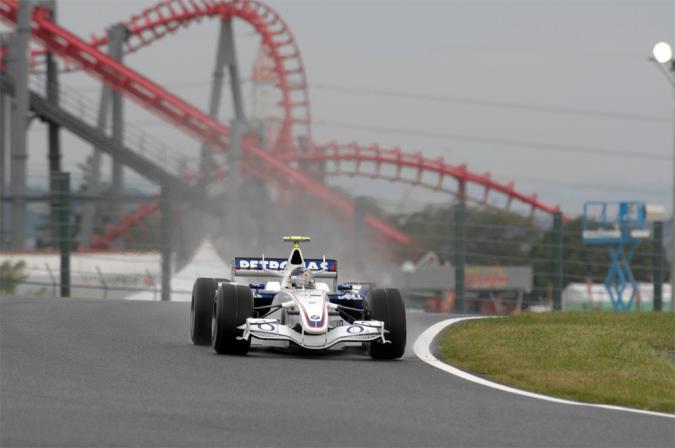 By BMW Sauber F1 Team
May 23 2008
The "Circuit de la Principauté" will host the sixth Formula One Grand Prix of the 2008 season. Here, you will find some interesting facts about the race on the Principality, the Grand Prix of Monaco. .
Circuit/Date:
Monte Carlo/25th May 2008

Start time (local/UTC) :
14.00 hrs/12.00 hrs

Lap/Race distance:
3.340 km/260.520 km (78 laps)

Corners:
12 right-hand and 7 left-hand corners

Winner 2007:
Fernando Alonso, Vodafone McLaren Mercedes, 1 hr 40:29.329 min

Pole position 2007:
Fernando Alonso, Vodafone McLaren Mercedes, 1:15.726 min

Fastest lap 2007:
Fernando Alonso, Vodafone McLaren Mercedes, 1:15.284 min

Data 2007 (race):
Full-throttle percentage: 42%
Top speed: 286 km/h
Longest stretch at full throttle: 8 sec / 510 m
Gear changes per lap: 54
Tyre wear: medium
Brake wear: high
Downforce level: very high
History and Background:
The Monaco circuit is the shortest GP course in the calendar at 3.340 kilometres. Nowhere else does a race cover more laps (78). The race distance of 260.520 kilometres is the shortest of the season.
Monaco has hosted 54 Grands Prix since 1950. The length of the course has fluctuated between 3.145 km and 3.370 kilometres. For the first 14 GPs the race distance covered 100 laps. The most successful driver in Monaco to date remains Ayrton Senna with six wins.
Only since 2004 have there been garages for the cars along the pit lane in Monaco. Prior to that, teams had to push the cars back and forth between makeshift garages in the paddock or an underground garage for each practice and qualifying session and the race.
On Fridays, the Formula One engines traditionally remain switched off in Monaco. That is why the first two free practice sessions are held on Thursday.
Covering an area of 1.97 square kilometres, Monaco is the world's second smallest independent state after the Vatican. It comprises the districts of Monte Carlo, La Condamine, Fontvieille, Le Larvotto, Les Moneghetti and Monaco Ville. The total population of this state, which imposes neither income tax nor inheritance tax, is 33,300. Of these, 5,070 are true Monegasques. Monaco has the highest population density of any state in the world. The head of this constitutional hereditary monarchy is Prince Albert II.