Heidfeld let down by Sauber tyre stategy 2nd week in a row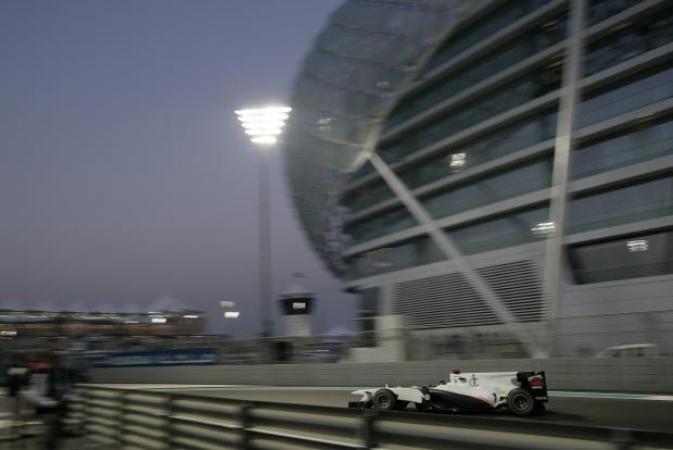 By kineticKid
November 14 2010
Nick Heidfeld was disappointed that his tyres were yet to "switch on" when the clock stopped in Abu Dhabi qualifying. The Moenchengladbach native suggested that he should've been released with time for at least one more timed lap.
After a difficult second session on Friday, the team managed to improve the cars for Saturday in Abu Dhabi. Things were already a lot better in third free practice. In the qualifying for the last Grand Prix of the 2010 season Kamui Kobayashi came 12th, while Nick Heidfeld was 14th. Neither driver was a hundred percent happy, with Kobayashi having some trouble with the brake balance and Heidfeld knowing, in hindsight, another lap would have helped to get the maximum grip level out of the tyres.
Weather: dry, 17-30°C Air, 32-43°C Track
Kamui Kobayashi: C29.04 / Ferrari 056 Qualifying: 12th / 1:40.783 min (in Q2) ) / 3rd Practice: 14th / 1:42.566 min (16 laps) "I missed Q3 by just a fraction of a second, and it was definitely a possibility for our car on this track. In general the car is much better than it was on Friday, and my lap was quite okay. But since we changed the brake material for free practice three, which is routine, I have had problems. The brake balance between front and rear isn't right. This obviously results in a lack of confidence and makes it difficult to put three perfect sector times together. Nevertheless I'm very much looking forward to the race tomorrow, and I believe I can score points from where I am starting."
Nick Heidfeld: C29.03 / Ferrari 056 Qualifying: 14th / 1:41.113 min (in Q2) / 3rd Practice: 10th / 1:41.893 min (20 laps) "We have improved the car a lot since Friday. Qualifying wasn't bad, but I am not completely happy. It takes a few laps to heat up the tyres. In Q1 I used a set of Prime tyres and then a set of Option tyres. Like last year, the difference isn't really huge here. Although it is hot, the tarmac seems to be very smooth and doesn't offer too much grip. It is not easy to get the car's balance right here. In Q2 I used a single set of the softer Option rubber. The last lap was okay, I had no traffic or mistakes, but I still could feel there was more grip to come from the tyres."
James Key, Technical Director: "We seemed to head in the right direction for the set-up in free practice 3 after some good work by the drivers and engineers over night. We were fairly happy how the cars felt going into qualifying. There it was really all about the tyres, which spec to use and how long to stay out, because the warm-up was an issue, particularly with the changing conditions. The track temperatures and the length of the life of the tyres were the two factors we needed to trade off. So we tried longer runs in each session, and for us this was okay. Traffic was also a problem today, so to do more laps was sensible. It was a good lap by Kamui, he missed out on Q3 by just 1.3 tenths, but we have some fresh tyres for tomorrow. It's gonna be a fascinating race with the way the grid turned out today. We just hope for a good race on our side and some more points." --------------------------------------------------------------------------------
View a Printer Friendly version of this Story.
Heidfeld let down by Sauber tyre stategy 2nd week in a row
Discussion started by BMW Sauber F1 (IP Logged), 14/11/2010 01:42
BMW Sauber F1
14/11/2010 01:42
What do you think? You can have your say by posting below.
If you do not already have an account
Click here to Register
.