The Tech Final Judgement: Nurburgring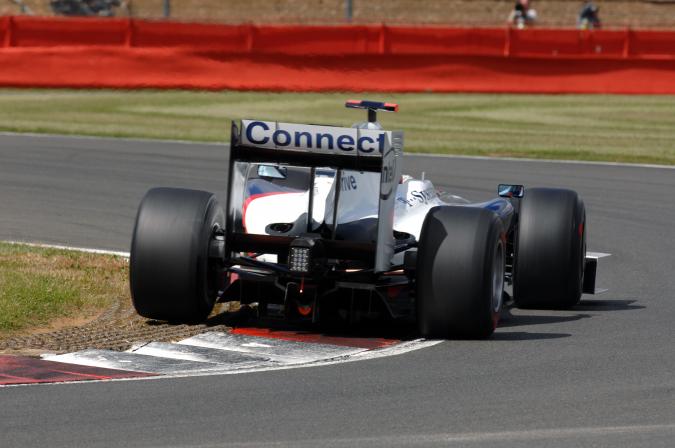 By BMWF1Talk
July 9 2009
Welcome to our new section of technical reviews, this time aimed to anticipate which technical changes the car of BMW Sauber, and the other teams, will have for the coming GP. In the following issues we will add more features.
What will BMW bring for this race?
A further developed double-decker diffuser, the second version of this device from BMW. Also, new mechanical modifications such as new rear suspension and allegedly some other tweaks to the chassis which could affect weight distribution, to try improving the deficient mechanical grip of the F1.09. And although Kubica claimed a slightly revised front wing, the one used on Friday was the same as in the British GP. The new wing won't be installed on the F1.09 until the Saturday morning practice.
Minor changes on the gearbox may be on the list too, we hear.

How will this affect?
The diffuser, result of a further understanding of the complex multi level diffuser concept, should provide some extra downforce which the BMW Sauber car still lacks. Don't expect huge gains, especially with expected wet weather in Nurburgring, but nevertheless a good step forward. However some sacrifices will have been done to enhance this diffuser, with some re-sculpting of the underbody as well as other areas such as the rear crash structure.

The mechanical changes should act towards solving a problem that BMW and some the teams have solved, which is no other than the "feared" heating-up-the-tyres issue. As Technical Director Willy Rampf said ahead of the German GP "Much will doubtless depend on how successful we are at getting the tyres to work", which was for example the case in Monaco's struggle. In fact in the last two years of 'standard' Bridgestone tyres, they have been proven quite tricky to be operated in their optimum temperature window, with the change to slicks making little difference. Graining is still a major issue too.

Both mechanical settings and lack of downforce are responsible for this problem, which probably BMW won't solve completely this season, we fear, and only a brand new design, gathering the understanding of the problem's causes, will get rid of this dismal issue.
Definitely the new rear suspension should improve traction, which fortunately, as seen in the Heidfeld-Alonso battle three weeks ago, is not the weakest point of the F1.09. Dynamics at pitch and roll should be improved too by this change.

What will rivals bring?

The other teams are not standing still, either. Virtually all teams will bring improvements, after the 3-weeks gap, including the leading teams BrawnGP and Red Bull. The former will use the new front wing first tested in Friday Practice in Silverstone but not used in the race nor qualifying, as well as several other aerodynamic updates. This wing sports a new endplate layout. Red Bull on the other hand will bring further developments to their Silverstone-debuted RB5-B, though it is not clear which.
Mclaren are expecting no miracles nor major upgrades, but will bring some new parts; however they reckoned they will change their approach of "throwing" lots of new parts to the car to see if they work and solve the pace problems as it ultimately proved rather confusing and counterproductive. Renault will implement a slightly modified front wing, as well as new engine cover and some mechanical changes; suspected modifications to the diffuser are on the way too. Force India will have a continuation of the new front wing assembly they used in Britain and a new detail on the floor.
It is unclear what teams like Williams will bring. As soon as we get hold of some photos from the 'Ring we will update this section.

The Veredict:
A good step for BMW, but by no means radical nor enough. 'Couple of tenths' range gain could be expected…Eifel's unpredictable weather permitting. However if these changes finally make the Bridgestones work on the F1.09, the improvement could be much bigger than that range, but unfortunately not enough to get much further than the top midfield.
That said, we hear that a major update of the F1.09 is expected for the European GP in Valencia; we will provide you further details soon…
View a Printer Friendly version of this Story.
The Tech Final Judgement: Nurburgring
Discussion started by BMW Sauber F1 (IP Logged), 09/07/2009 18:20
BMW Sauber F1
09/07/2009 18:20
What do you think? You can have your say by posting below.
If you do not already have an account
Click here to Register
.