BMW Sauber's Brazil GP Preview: challenging Interlagos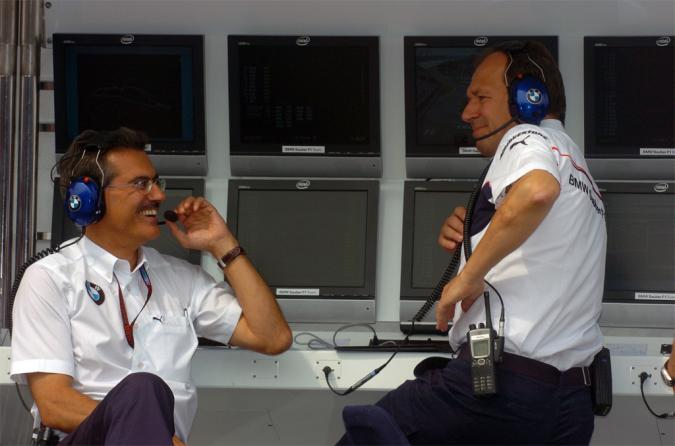 By BMW Sauber F1
October 12 2009
The BMW Sauber F1 Team fell short of its potential at the last two Grands Prix in Asia. The Brazilian GP on 18th October takes place on the challenging Interlagos circuit and provides the next - and penultimate - chance to score a result that will do justice to the comprehensive development work carried out on the F1.09.
The 2008 Brazilian Grand Prix entered the Formula One history books as a real thriller, with the World Championship literally being decided during the final seconds of the nail-biting last race of the season. There is a good chance that Interlagos will again be the backdrop for the title decisions in 2009.
Robert Kubica: "Brazil was the season finale in the past years. With Abu Dhabi new on the calendar, the situation is different this year. The Interlagos track is very nice to drive. Especially sector 1 with the first three corners is quite challenging. Turn 1 is blind and therefore it is difficult to find the ideal braking point there. The final sector goes up a huge hill and consists of a couple of left turns.
"In Brazil we drive anti-clockwise, which is physically quite tough as we are used to driving the other way round. If it rains in Interlagos, driving will be very tricky as there is lots of standing water on the track. So I'm hoping for good weather."
Nick Heidfeld: "Interlagos is a fantastic and very challenging track. Because you drive it in an anti-clockwise direction, it puts a real strain on your neck muscles. The circuit used to be full of horrible bumps. Having it resurfaced before the 2007 Grand Prix made a huge difference, but by 2008 the track wasn't as good. I'll be interested to see what kind of condition it is in now.
"In the last two years we had some exciting championship deciders there, with the weather always ready to tip the scales. There could be a repeat in 2009, even though Brazil isn't the final race this time.
"I'm in two minds about São Paulo. The churrascarias are really special, and I guess the city has a great deal to offer. On the other hand you hear about all these muggings year after year, which puts you off any major excursions. I'm looking forward to seeing Felipe (Massa) in the paddock again."
Mario Theissen, BMW Motorsport Director: "It's the final spurt for the 2009 Formula One season. Brazil marks another traditional circuit on the calendar, whereas in the final race at Abu Dhabi we'll all be broaching new territory. While in 2008 the BMW Sauber F1 Team was still in contention for both World Championship titles up to the penultimate race of the season, in 2009 it's a case of making the best of the situation and taking away as many points as we can. The results of the recent Grands Prix show that our development work is bearing fruit: we made it into the points in five consecutive races. Nevertheless, in Singapore and in Japan we fell short of our potential.
"Interlagos is about 800 metres above sea level. Due to the thinner air, all engines lose around eight per cent of their output. This makes the engine wear a little less as the loading on the crank assembly is slightly reduced. That will not only suit our team. Nick will keep running his ninth race engine which was fitted in Singapore, and Robert his eighth also from Singapore. Naturally we want to avoid fittinganother new unit, which would mean being relegated ten places on the grid."
Willy Rampf, Head of Engineering: "Interlagos is one of very few circuits that are driven anti-clockwise. The key stretch is the middle sector, where it's just one turn after another. Plenty of downforce, good traction and good balance are crucial here. With the car's set-up you also have to allow for the fact that the air is thin because of the altitude and so the engines lose output. In the final sector particularly, with its steep uphill start/finish straight, high engine output is critical.
"Since the track was resurfaced, it has been a lot less bumpy than before. That makes the mechanical set-up of the cars somewhat easier. The weather can play a decisive role in Interlagos with the likelihood of rain at this time of year being pretty high. Heavy rainfall causes rivulets of water on the track, which leads to aquaplaning. After experiencing compromised race weekends in Singapore and Japan, in Brazil we will do everything we can to fully exploit the potential of our heavily modified car and achieve a correspondingly good result."
Facts and figures:
Circuit/Date                    Autodromo José Carlos Pace, Interlagos / 18th October 2009
Start time (local/UTC)          14.00 hrs / 17.00 hrs (18.00 hrs UK, 19.00 Central Europe)
Lape/Race distance              4.309 km / 305.909 km (71 laps)
Corners                         5 right-hand and 10 left-hand corners
Winner                          Felipe Massa, Scuderia Ferrari Marlboro
2008                            1 hr 34:11.435 min
Pole position                   Felipe Massa, Scuderia Ferrari Marlboro
2008                            1:12.368 min
Fastest lap                     Felipe Massa, Scuderia Ferrari Marlboro
2008                            1:13.736 min
Data 2008                       Full-throttle percentage: 65%
Top speed: 314 km/h
Longest section at full throttle: 17 sec / 1220 m
Gear changes per lap: 40
Tyre wear: medium
Brake wear: low
Downforce level: medium

View a Printer Friendly version of this Story.
BMW Sauber's Brazil GP Preview: challenging Interlagos
Discussion started by BMW Sauber F1 (IP Logged), 12/10/2009 18:55
BMW Sauber F1
12/10/2009 18:55
What do you think? You can have your say by posting below.
If you do not already have an account
Click here to Register
.
sessions
12/10/2009 20:08
From the sound of things a lot will depend on the surface of the track and the weather, Other than that all we have to do is hope our driver's don't get mugged in their quest of enjoying the churrascaries.

sessions
Gemm
13/10/2009 19:36
As always here all will depend how car reacts to increased ride height. And how new diffused copes with that.

Other than that it's compromise downforce exercise.

All our hope is in qually. As in race we will again have to drive with limited rpm to save engines, like in Japan ( of course they will be cover up story too short 7th gear)

I expect us to be sitting ducks in Sector 3 so we won't be able to pass anyone.

Finally I am glad both European and North American posters are able to watch the race in civilised daytime.

On the watchlist:

Is Rubens going to finally win home race?
How cautiously Button will race?
How many risks Vettel is going to take?
Is KERSed McLaren going to shine in slow sector and KERSfly uphill in S3?