Pedro and Kamui frustrated by traffic in Hockenheim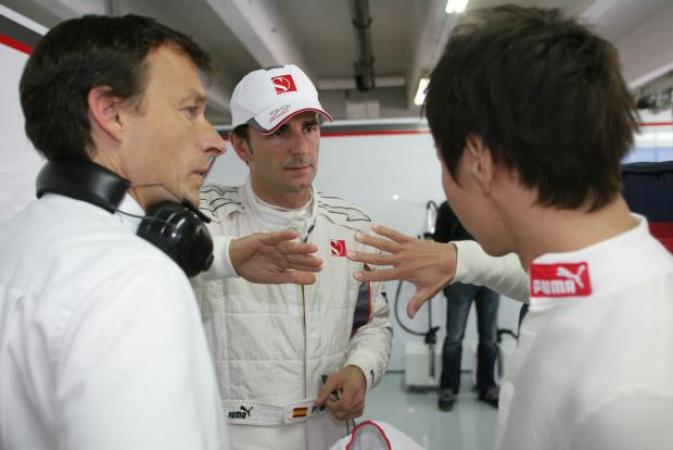 By Sauber
July 28 2010
Despite suffering no technical problems and both drivers finishing the race, the team didnít manage to score any more points at the German Grand Prix. Kamui Kobayashi finished 11th in Hockenheim, while Pedro de la Rosa came 14th. Kamui Kobayashi: 11th
C29.02 / Ferrari 056
"I am not really happy with today's race. I felt a lack of grip on both sets of tyres, and tyre degradation started quite early on. In qualifying the balance of the car was definitely better than today. However, I had a good start and made up two positions then. The crew did a good pit stop. I tried to overtake Michael Schumacher, who was held up by a back marker, but then we ended up fighting on the straight and this is not really a strength of our car yet. Later I tried to fight Vitaly Petrov, but could not get by him either."

Pedro de la Rosa: 14th
C29.04 / Ferrari 056
"The first laps of the race were very difficult for me on the hard tyres. It was like driving on ice. My race actually started only after 20 or 25 laps when the tyre temperatures and grip were there. Then the car improved on every lap as it was getting lighter. But the end of the race was very disappointing for me. After my late pit stop I was on fresh tyres and wanted to fight for positions. After I passed Nico Hülkenberg the next cars in front were Rubens Barrichello and then Kamui. But I have to say the behavior of the back markers was a serious problem over the whole race, and in the end I crashed into one who had opened the door for Rubens but closed it immediately again."

Peter Sauber, Team Principal:
"It was a good race and a good performance, but not the result we hoped for. Our goal now is to improve our qualifying performance in order to get the appropriate reward."

James Key, Technical Director:
"Ultimately it's a bit disappointing not to finish in the points. We decided to take a split strategy, with a gamble on Pedro's side and a standard strategy on Kamui's. Kamui drove well in a pack of cars and was probably held up early in the race. We brought him in to protect him against the cars directly around him, but it seems the option tyres lasted quite well for more laps and this enabled Vitaly Petrov to pass him immediately after his stop. He was then not able to re-pass him again, so we missed out on the points. With Pedro we decided to go as long as we felt we could, and then put the option tyres on at the end to see what was possible. Initially it worked well as he overtook Nico Hülkenberg, but then made contact with Heikki Kovalainen and damaged his front wing. It's a shame it didn't work out for us today, but it's only one week before the next race where we want to do better."

View a Printer Friendly version of this Story.
Pedro and Kamui frustrated by traffic in Hockenheim
Discussion started by BMW Sauber F1 (IP Logged), 28/07/2010 17:15
BMW Sauber F1
28/07/2010 17:15
What do you think? You can have your say by posting below.
If you do not already have an account
Click here to Register
.