Peugeot to buy HondaF1? Could BMW supply them?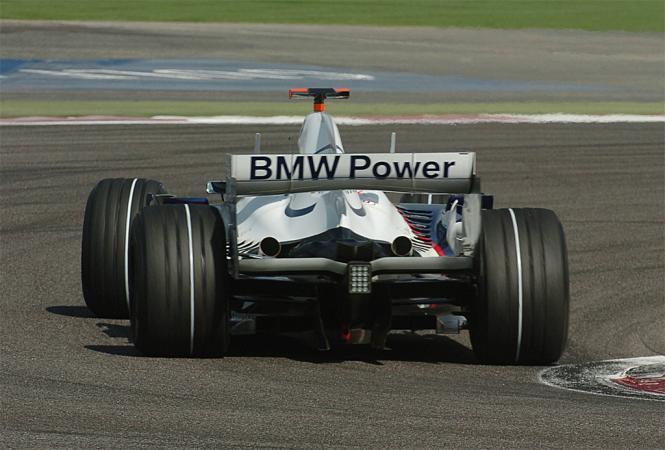 By BMWF1Talk
December 15 2008
It is being reported that the PSA Group (Peugeot and Citroen) could be one of the potential buyers of HondaF1. Although we are sceptical of how true is this, we take a look at some possibilities of this potential arrangement. Here we look too at the possibility of BMW supplying them engines.
Apparently, as reported by GMM, anonymous sources told the Belgian motor racing magazine Autosportnieuws that the carmaker, last involved in F1 as an engine supplier with the now-defunct Prost team, has made enquiries to buy the Brackley based team as an active F1 competitor.
Although all car manufacturers, including the PSA group, are being hit by the crisis, PSA has the advantage that they don't sell in USA, the most crisis-affected market, which already puts them in a better situation than Honda for example.
In fact Peugeot participates in the Le Mans series with a diesel powered car, while Citroen has been very successful in rallying lately, with Sebastian Loeb given them 5 consecutive WRC championships.
What's more, currently the only F1 French driver, Sebastian Bourdais, hasn't secured yet his renewal at Toro Rosso, and may lose his seat in favour of Sato and Buemi. So for the PSA it would be very attractive to rescue Bourdais, a multiple Champcar champion, and put him together with Button. Also, Loeb, Citroen driver and French as well, is adamandant that he would like to become F1 driver from 2010.
The former HondaF1 facilities are also one of the best around the F1 world, especially since the team invested last year lots of money to implement new test benches (for example new more advanced tyre load rigs) and re-organized its staff, after the prestigious Ross Brawn joined the team just one year ago. So in fact buying HondaF1, even if cutting some jobs, is a good investment, especially after FOTA and FIA agreed multiple measures to reduce costs and improve the spectacle. And Honda is well advanced in KERS development, and is believed to have created a good car for next year.
But, how could this affect BMW?
This new PSA F1 team would need an engine. The problem is that Honda is not very keen on continue providing them, as they want to cut costs dramatically, and only if totally necessary, would they provide engines to the team. So the new team would have only 3 options for next year, and realistically only 2. They would be Ferrari, BMW and Cosworth. Though, most likely Cosworth engines won't be ready for 2009 season, and perhaps they won't even make it to 2010 either, as the standard engine idea was scrapped .
Ferrari are for sure a strong option, as they just stopped supplying Force India, when it became an effectively Mclaren-Mercedes B-team, so they have the capacity and willing to supply HondaF1. Whats more, there is still strong link between Brawn and Ferrari.
Plus, last weekend, rumours of a new collaboration between PSA and Fiat (which owns Ferrari) could happen soon emerged. That would allow PSA to badge their Ferrari engines as Fiat, which would be very logical if this alliance finally happens.
The other option is BMW, which already said that, although not a priority, they wouldn't mind supplying another team if necessary.
Nick Fry said some days ago that a couple of teams had approached them for engine, so that would demonstrate this theory.
Now, there may be a problem for Ferrari supplying PSA F1. Can you imagine what people will think when they see a PSA F1 powered by a Ferrari engine? I'm not sure of how this would work from the marketing side. It may be positive indeed, or it may be against what is desired by PSA. Some buyers of a PSA car could even (unrealistically) expect their engine to be as good as Ferrari, which is simply not possible, or there may be some other reasoning's that could make this Ferrari-PSA connection negative. I'll let that marketing advantages/disavantages speculations for you own reflection or for the marketing masters.
However, some of you may remember that Peugeot has already collaborated with BMW in engine production. BMW was in charge of designing and Peugeot of manufacturing 1.6 petrol turbo engines, for the middle range of Peugeots and for the BMW Group Mini Company (the engines used in the Cooper and Cooper S). We could expect that this collaboration could continue, as it was satisfactory, and extend to other projects. This could be for other road car engines or, who knows, F1 engines.
In fact, in the F1 future we could see BMW-designed engines but manufactured by Peugot too, or perhaps badged as Peugeot, but BMW in-house made, or simply named BMW, although we suspect PSA wouldn't like the latter for the middle term, as they would rather prefer all the car to be PSA made or at least with the PSA name on it. What is clear is that Peugot won't produce its own engine from zero, not before 2013 at least, due to the engine freeze which makes new engines entrance almost impossible, and only when in 2013 the totally new downsized turbo engines are introduces, could PSA produce their own engines.
It would make lots of sense after all. BMW is the only manufacturer in F1 not providing, yet, customer engines, but has the capacity to (by just doing a subtle reorganization), as with the current engine restrictions the Munich factory has re-directed resources to KERS and gearbox, but wouldn't have problems with producing extra engines. In fact next year teams will be allowed to use just 20 engines per year, contrary to the around 60 of 2008, so BMW will have spare capacity to supply Peugeot with another 20 engines.
It would be a good way to recoup some of the cost of the engine department, as well as providing twice the track data over engine. BMW engine is widely believed to be as powerful as other front runners such as Ferrari and Mclaren, but with some better capabilities than the Italian one, for example better fuel economy or reduced refrigeration needs. BMW has already gained recognition as engine supplier over its history in F1, for example during the 80's with Braham-BMW and its extremely powerful turbo engines or during the BMW-Williams days.
All in all, this is an interesting option BMW should definitely look at, and we hope it turns out to be successful. While the Ferrari power option seems more feasible, there is still the chance that BMW could power it.
Remember, some of these ideas are just our speculation and opinion based on real facts, and may become reality in the future...or may not.
We shall know in just a few months.