Double DNF after dogged fight from Kamui and Nick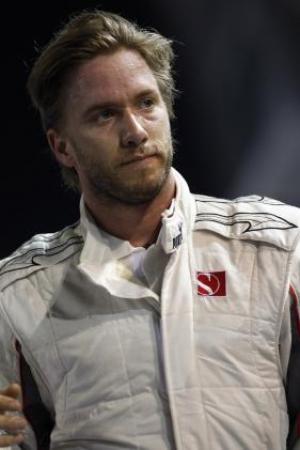 By Sauber
October 2 2010
Neither Kamui Kobayashi nor Nick Heidfeld finished the Singapore night race. Kobayashi was stuck for a long time behind Michael Schumacher, and after he had overtaken him he crashed into a barrier. A few laps later it was Heidfeld who was fighting with Schumacher, and who hit the barrier after a controversial manoeuvre by the Mercedes driver.
Nick Heidfeld: DNF, accident on lap 37, position 13 C29.03 / Ferrari 056 "Of course I would have hoped for a better result and wanted to finish the race. But, in my view, Michael (Schumacher) was braking a bit too late and knocked me out of the race. My race was compromised soon after the start anyway. Vitantonio Liuzzi wanted to pass me from a long way off on the outside in corner four. Then I believe he braked early and unfortunately I crashed into him. The car wasn't easy to drive with the missing rear wing endplate and, anyway, the set-up had not been ideal because you are not allowed to change anything after qualifying. However, having said that, the lap times were not too bad for a while in the race. I'm now looking forward to my favourite circuit, Suzuka."
Kamui Kobayashi: DNF, accident on lap 31, position 9 C29.04 / Ferrari 056 "It was clearly my mistake. After I overtook Michael Schumacher I knew I had to push very, very hard to score a point, but meanwhile the tyres were completely gone. I misjudged this in that corner and crashed into the barrier. Then Bruno Senna crashed into my car as well. The overall damage is quite bad. At the start it was very close and I lost one place to Vitaly Petrov. Against Mark Webber I had no chance, and then I was tenth behind Michael. I could have gone faster but had no chance to overtake. When I saw an opportunity I attacked him and it worked. Then, as I said, I pushed like hell and ended up in the barrier."
Peter Sauber, Team Principal: "Everything went against us today. We shall quickly leave that behind us and concentrate on Kamui's home race in Suzuka, which is important for our team."
James Key, Technical Director: "It's ultimately a shame not to finish. Our drivers had a split strategy to make use of the relative positions they were in. So we started Nick on the prime tyres, and Kamui was on the option compound from qualifying. With the very early safety car period we had to decide whether to pit Kamui or leave him out, and, like the guys around us, we decided to leave him out. Kamui got stuck behind Michael Schumacher, who was really slow and that cost Kamui an awful lot of lap time. Once he got passed Michael, Kamui had to push to the limit to get a gap to the cars behind him and to make the strategy work. Unfortunately in pushing he had an off, and that was the end of his race. Nick had a problem with his front wing and a puncture after a first lap incident, so we had to bring him in and give him the option tyres to catch up on. He then came in again during the second safety car period, and we put him on prime tyres, which would have taken him to the end. But then there was a racing incident which unfortunately saw him pushed out when he was the car in front."
View a Printer Friendly version of this Story.
Double DNF after dogged fight from Kamui and Nick
Discussion started by BMW Sauber F1 (IP Logged), 02/10/2010 05:29
BMW Sauber F1
02/10/2010 05:29
What do you think? You can have your say by posting below.
If you do not already have an account
Click here to Register
.