Nick and Kamui weather the storm to safeguard 6 points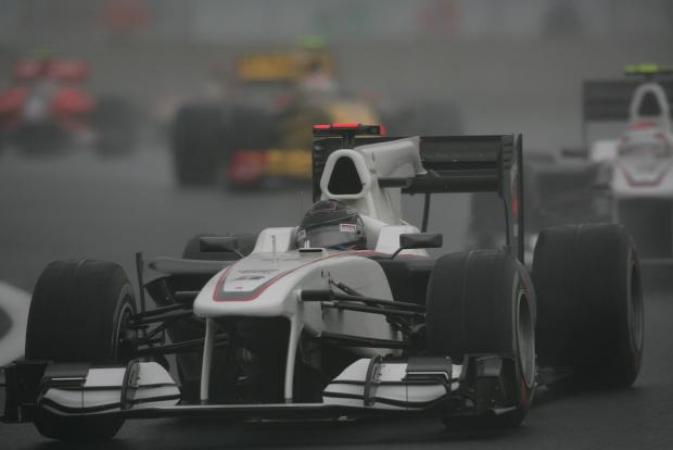 By Sauber
October 26 2010
Korean GP - Race
The first ever Korean Formula One Grand Prix, which was started after a huge delay and behind the safety car because the water wasn't draining away from the track, brought more points for Kamui Kobayashi and Nick Heidfeld. The Japanese finished the race in eighth just ahead of his German team-mate. When the chequered flag came out and the team had increased its tally by six points it was almost dark.
Weather: rain in the beginning, 19°C air, 17-18°C track,
Kamui Kobayashi: 8th C29.04 / Ferrari 056
"It was obviously a strange race day with the delay and the start behind the safety car. But for me it was okay to do it this way, as in the beginning I could not see anything behind the safety car. Poor visibility and a lack of grip were today's problems. When we changed to intermediate tyres when the safety car came out again after 19 laps it was very difficult to drive, as it was very slippery. When Adrian Sutil attacked me I stayed on the inside and didn't change line. I saw him in the mirror and had the impression he was not going to be able to brake or something like that. We touched but luckily my car wasn't damaged too much and I was able to continue. For the last laps I found the visibility very, very bad again. This time it was not because of spray but due to the darkness."
Nick Heidfeld: 9th C29.03 / Ferrari 056
"I am happy to have scored again. It was not easy today to keep track of what was happening in the race. I think it was the right decision to delay the start, as before then the visibility had been down to zero. We changed onto intermediates quite early. In hindsight it was actually too early as it wasn't easy to stay on the track, although we managed it, and then the conditions improved. After a lot of laps, and on a drying track, at the end the tyres were gone, but I think others had the same problem. I could not really defend my position against Adrian (Sutil) because, with the mirrors being so dirty, I just could not see him. I knew from the radio he was there, but I only saw him when he was beside me. For me racing in the darkness was on the edge, but I still felt I could see okay."
Peter Sauber, Team Principal:
"Both drivers in the points in a turbulent and difficult race - that's positive. Compliments to both drivers who had to fight hard, particularly towards the end of the race. However, although we scored six points we couldn't reduce the gap to our direct competitors. We now have two chances left."
James Key, Technical Director:
"Not surprisingly it was an eventful race with the conditions and the uncertainty over how the wet tyres would work here on the new track. It was sensible to delay the start a bit, and then take a cautious approach to start the race after the safety car came in. We took a bit of a gamble by bringing the cars in early for intermediate tyres after 19 laps during the safety car period, because the drivers thought it was possible. So we tried to pre-empt the inevitable pit stops for intermediate tyres. But we got held up badly by traffic and, as a result, we didn't really benefit from it and the others were able to pull away. That was unfortunate, but we can't complain, because both drivers did a really good job keeping it together under pressure, and hanging on to the tyres. The tyres lost a lot of lap time towards the final part of the race, as they were really old, but the drivers did a really good job of holding on, not making any mistakes and bringing the cars home in the points. We are happy with this result." --------------------------------------------------------------------------------
View a Printer Friendly version of this Story.
Nick and Kamui weather the storm to safeguard 6 points
Discussion started by BMW Sauber F1 (IP Logged), 26/10/2010 01:09
BMW Sauber F1
26/10/2010 01:09
What do you think? You can have your say by posting below.
If you do not already have an account
Click here to Register
.
TheContrarian
26/10/2010 01:28
Solid effort, all things considered. I think they called the guys in too soon, but hindsight is a beautiful thing, now isn't it...
I hope they can continue to bring home points. I would like to see Nick score in the remaining two races, and find a seat for next season. Why Renault aren't calling is beside me...
racer-fan
26/10/2010 04:55
Renault isn't calling because Nick doesn't bring any money and Kubica isn't cheap.