Brazil Preview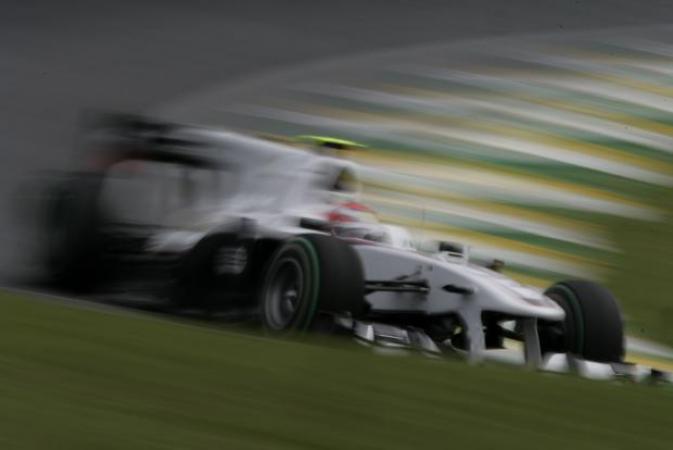 By Sauber
November 7 2010
Hinwil - October 29th 2010
More than once the Brazilian Grand Prix has produced spectacular racing – it has often been thrilling, sometimes odd and in the previous four years always championship deciding. Kamui Kobayashi and Nick Heidfeld are set to hunt for points again at the penultimate round of the 2010 season in Sao Paulo.
18th of 19 World Championship Rounds, 5th – 7th November 2010
Kamui Kobayashi: "In 2009 I drove my first ever Formula One race in Brazil when I stood in for Timo Glock at Toyota. I didn't expect much because I didn't know the Interlagos track and I hadn't driven an F1 car in dry conditions for eight months. It was a difficult situation for me, but I just believed in myself and my goal was to make no mistakes and finish the race. It's a nice track which is physically very demanding. In the 2009 race it was tough for my neck, especially in the last corner which is extremely long and has high g-forces. The track is also quite technical, but for me the main aspect was the physical one. Of course, this will not be a problem again this year. The weekend was very special for me in every respect. The weather conditions changed constantly, and it was almost impossible to work on the set-up. We just changed tyres time and time again, and I tried to complete as many laps as possible in practice. I'm very much looking forward to my second Brazilian Grand Prix."
Nick Heidfeld: "I like the Interlagos circuit. It isn't a very long lap, but it is demanding. We drive anti-clockwise and a special loading on the neck muscles is characteristic to that circuit. My favourite corner is number 6 – an uphill double right hander, fast and blind. We have had unbelievably exciting races in Sao Paulo, and quite often the weather has played a role. I have many special memories from Brazilian Grands Prix. In 2001 I achieved my first podium in F1 with Sauber. It was in the rain and it was unforgettable and emotional. In 2002 all of a sudden there was a medical car on the track, which wasn't supposed to be there. The fractions of a second when I was hoping the driver would not step out of the car's door he had just opened seemed to me like an eternity. I wouldn't have had a chance of avoiding hitting him. Luckily he didn't get out. For the last four years the championship has been decided in Interlagos, and this can happen again in 2010. In any case, the chances for another exciting race are quite high."
Technical Director James Key: "It is good to go back to Interlagos, as this race has a great atmosphere and a lot of support from the local fans there. The track is an interesting one with several overtaking opportunities, so potentially making the race an exciting one. Our intention will be to maximise our points in the best way possible, and try to continue the trend of the last few races. The C29 will be the same specification it has been in previous events, but we obviously have several set up options to consider. One of these is the downforce level. In Interlagos you either gain on the straights or in the corners of the windy infield section, so we will have to strike the right compromise. Because of this we will have to watch our top speeds, but also the balance and grip level of the car in the second part of the lap. Our car's strength should be to deal with the front tyre wear. Regarding the mechanical set up, we will have to consider the track's bumpy surface and also watch for a change of direction and good front end grip, with traction being important at the end of the lap into the uphill section."
View a Printer Friendly version of this Story.
Brazil Preview
Discussion started by BMW Sauber F1 (IP Logged), 07/11/2010 15:12
BMW Sauber F1
07/11/2010 15:12
What do you think? You can have your say by posting below.
If you do not already have an account
Click here to Register
.