Force India Monza Preview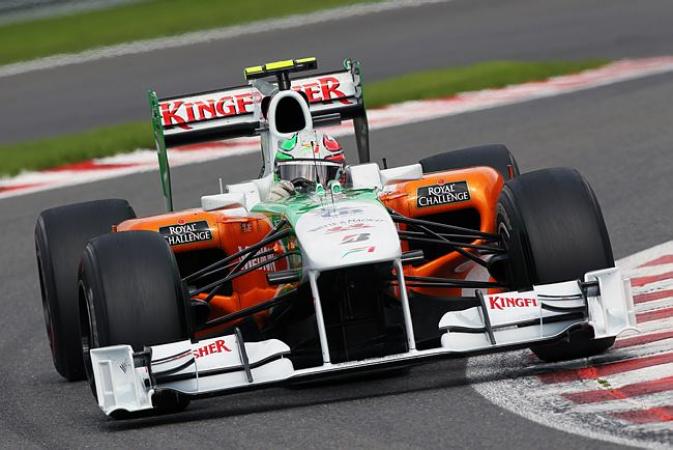 By Force India Press Office
September 7 2010
The Italian Grand Prix this weekend will be the final race of the European season before the FIA Formula One World Championship embarks on a quintet of flyaway races in Asia and South America. The Force India F1 Team heads to this historic event looking to consolidate the form it showed at the previous event in Spa-Francorchamps, where it secured its third double points finish of the 2010 season.
Team Q&A
Dr Vijay Mallya, chairman and team principal
Yet again Spa was a good track for us, ultimately yielding a double points finish for Adrian and Tonio. These points were crucial for us in the constructors' championship, moving us 18 points clear of Williams for sixth, but it also showed that we're back in business for the second part of the season. The pace and the handling were both encouraging and, with similar configuration tracks coming up in Monza, Japan and Brazil, we're hoping that this performance can be replicated.
Of course we know that the on track fights will intensify and it's not going to be easy to consolidate our position but we feel the momentum is with us now. Adrian and Tonio both raced very well and we've been given a real boost by the double points - we needed it after a couple of frustrating weekends before the summer break.
But we're not sitting back based on this performance - we've been doing a lot of work back at the factory on the blown diffuser, and conducted a successful aero test last week to develop further. We will also use a low downforce package to suit the top speeds we reach in Monza, which is a further refinement of the Spa package. We're cautiously optimistic and quietly confident - if it all comes together I would hope we could show a similar level of performance and results to Spa, but there are so many varying factors that you just can't take anything for granted at this stage in the season.
Driver Q&A
Adrian Sutil (car 14, VJM03/03)
Belgium was a great race weeked for us and something we really needed to take us into the second part of the season. It started well in practice, with the car very easy to drive and responding well to changes. It felt quite easy to go out and set quick times so right from the start I believed we were in for a shot of a good finish. Qualifying then went well, we got the weather calls almost exactly right and got back into the top ten for the first time in a few races, which we really needed to do.
It was a pretty exciting race after that and we were always towards the front of the field. Fifth was pretty much the maximum we could do and I was delighted we could hold onto it with the weather changing and then the safety cars. At the end only the championship contenders ahead of us so we can be satisfied.
Based on the speed and handling of the car in Spa I'm now really looking forward to Monza.
We don't have the top speed advantage we had last year so it's going to be another close weekend, but we do know that we are amongst the quickest and that gives us a big chance to be in Q3 and then getting in the points. I got a great finish there last year - fourth, my best finish in F1 so far, and to get that again would be amazing.
Of course there's a huge championship battle going on ahead of us so getting towards the front isn't going to be easy, but I'm confident, the team has got its momentum back after the double points finish in Spa and we're all going to Italy very optimistic.
Tonio Liuzzi (car 15, VJM03/01)
I was really pleased to get that final point in Belgium: I had to work harder for that one point than almost any other I can remember in my F1 career. It was a really crazy race with the rain and then the battles with the other drivers but I really enjoyed the extra challenge of fighting back through the field. It was very satisfying after a tough weekend.
We had some issues during practice, but as a team we worked together and found a solution just before qualifying.
The team did such a good job to work night and day to give me the best possible car they could. Ultimately I believe we could have finished even higher as I got hit by another car early on that damaged my wing and then Vettel ran into me in the last part of the race. Overall though I enjoyed the challenge and the extra pressure mentally, especially when the difference between getting it right and wrong was so small.
Next up I've got my home race in Italy, which is the same race I made my Force India race debut last year. It holds such great memories for me. Going into the race we had just had a fantastic result in Spa so the whole team was on a high, and we knew we had a great car going into Monza. I got the call and of course I was pretty nervous but I tried to build into the weekend and gradually improve. Then in qualifying I got into P7, which was such a fantastic feeling. Unfortunately in the race I had a mechanical problem when I was running in the top six but I really felt that I had done the maximum I could do.
Now this year as always we want to perform, especially after last year. But it's also not just that or because it's my home crowd that I want to do well, I also want to get the result we deserve this season. We have narrowly missed out on really good results for a number of reasons this year, so I want to pull it all together. And if it's at Monza, it's true that it will be even more satisfying. The signs so far are good - the aero test we did showed a big improvement, the car is already strong and we've got a good programme for the race weekend in place.
Paul di Resta, test and reserve driver
I'm looking forward to Monza where I'll be out again in free practice, this time replacing Adrian. It's a special track that will require a very different approach to the other tracks I have driven. It's low downforce, high speed and then heavy braking into the chicanes so it's going to be another experience to put in the book. I've done some work in the simulator in preparation for the run and I'm hoping to get as much out of the session as possible.
Of course the track has a very special atmosphere and while I'm there I'll want to look into the history of it and see some of the old banking and track. With my little bit of Italian ancestry and some of my family still living in the country, hopefully I will feel very at home there.
So it should be an interesting weekend, both professionally and personally. We'll all work together to do as well as we can over the weekend, have the right approach from the start and develop the low downforce package. We showed well in Spa so there's no reason why it shouldn't show again in Monza.
View a Printer Friendly version of this Story.
Force India Monza Preview
Discussion started by Force India (IP Logged), 07/09/2010 20:50
Force India
07/09/2010 20:50
What do you think? You can have your say by posting below.
If you do not already have an account
Click here to Register
.