Heidfeld third in qualifying, Kubica fifth.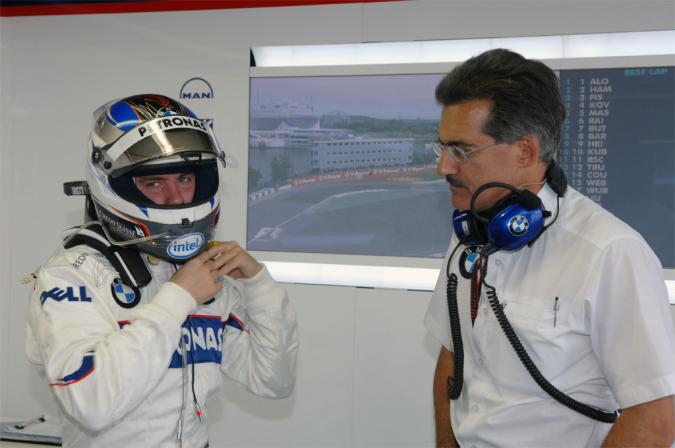 By BMW Sauber F1 Team
August 29 2009
Following a sensational display in qualifying at the Belgian Grand Prix, the BMW Sauber F1 Team have earned promising start positions in the 12th Formula One race of the year. Nick Heidfeld finished third in qualifying at the "Circuit de Spa-Francorchamps", while Robert Kubica will start the race on Sunday from fifth position.
Nick was out in the first part of qualifying after five minutes and completed a first stint. He safely moved into the second session: The German finished in ninth with a time of 1:45.566 minutes and was top of the rankings for a while. Nick didn't go out again. Robert was a little slower than his team mate and clinched 11th and his ticket for the second qualifying session with a time of 1:45.655 minutes. The Pole kept things exciting and avoided going out literally at the last second when he moved up six places just before the end of the session. The fastest driver in the first 20 minutes was Giancarlo Fisichella (Force India, 1:45.102 minutes).

Out: Sébastien Buemi, Jaime Alguersuari, Kazuki Nakajima, Romain Grosjean, Luca Badoer
The BMW Sauber F1 Team drivers were quickly back in action for the second qualifying session - and both drivers from the Munich and Hinwil team made it through in impressive fashion: Robert took second place with a time of 1:44.709 on this 11th lap, moving up into the Top 10 in qualifying. Nick also put in an exceptional performance in his 15-minute session: a personal best lap time of 1:44.709 secured him fifth place and a place in the shoot out for pole position. The best time went to Toyota driver Jarno Trulli, who recorded 1:44.503 minutes.

Out: Adrian Sutil, Lewis Hamilton, Fernando Alonso, Jenson Button, Heikki Kovalainen

Nick and Robert immediately started their chase for pole position on the grid - and gave by far their finest performance this Formula One season: Thanks to his lap time of 1:45.500 minutes, Nick will start the race on Sunday in third position. Robert drove superbly to take fifth on the grid, recording a fastest lap of 1:46.586 minutes. Force India driver Giancarlo Fisichella sensationally grabbed pole position with a time of 1:46.308 minutes. Toyota's Jarno Trulli will start in second.
Final standings: 1. Giancarlo Fisichella 2. Jarno Trulli 3. Nick Heidfeld 4. Rubens Barrichello 5. Robert Kubica 6. Kimi Räikkönen 7. Timo Glock 8. Sebastian Vettel 9. Mark Webber 10. Nico Rosberg.