Monza Preview: BMW Sauber bid farewell to Europe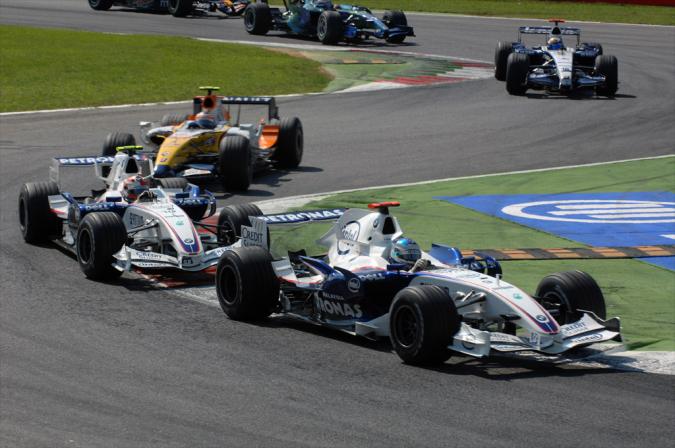 By BMW Sauber F1 Team
September 4 2009
The BMW Sauber F1 Team is sensing an opportunity as the drivers and engineers prepare for the Italian Grand Prix. The revitalising effect of the team's strong performance last time out at Spa-Francorchamps has boosted spirits ahead of the visit to Monza's legendary high-speed circuit.
The 13th race of the season - taking place on 13th September - represents a farewell to Europe, both for Formula One as a whole for 2009 and for the BMW Sauber F1 Team on a permanent basis in its current guise. After the Italian GP, the teams will travel to Asia and South America for the four remaining races on this year's calendar. At the same time, work continues on securing the future of the Hinwil factory in Switzerland.
Robert Kubica: "The Monza track is a very special one. As it is the quickest track on the calendar, the car's downforce level will be reduced even more compared to Spa-Francorchamps. Traditionally our cars are quite quick on low downforce tracks and our performance was already good at Spa. I have a good feeling for Monza and I am looking forward to the race as I expect a lot of Italian fans to show up there."
Nick Heidfeld: "The speed we had at Spa-Francorchamps with lower downforce gives us hope that we could do even better at Monza with even less downforce. However, the cars equipped with KERS will probably have a considerable advantage over the long straights of this high-speed circuit. I really like the atmosphere at the Italian Grand Prix. As well as all the Italians at the track, a lot of fans will also come over from Switzerland to support us."
Mario Theissen, BMW Motorsport Director: "As the ultimate power circuit, Monza has always provided BMW with a very special challenge. One of our highlights at the track came during the era of the V10 engines in qualifying for the 2002 race, when a BMW engine broke through the 19,000 rpm barrier and the car set a new record average speed for F1 of 259.827 km/h on its way to pole position. Now, even more than before, the main priority lies in maximising reliability, as each driver is only permitted eight engines for the duration of the season. This is an issue at Monza in particular, even though the maximum engine speed is now limited to 18,000 rpm. This circuit commands the respect of drivers and engineers alike in many different ways.
"We are aiming to build on our good results from Spa-Francorchamps - where we were competing at the front of the field for the first time in a long while - in the final race in Europe. Our strong performance in Belgium gave the whole team an extra shot of motivation for the next races, and we are confident that we are getting back into the fast lane once again."
Willy Rampf, Head of Engineering: "The result at Spa-Francorchamps represented confirmation for the whole team. It was important for all involved to see that our huge efforts over the preceding weeks had paid off. Of course we want to take this upturn in form with us to Italy and post another strong result at Monza.
"This is the last genuine high-speed track left on the calendar. The four long straights mean that keeping the drag level low is crucial, so we run the cars with less downforce here than anywhere else during the season. This involves using a modified front wing and a new and extremely small rear wing. An additional challenge for the drivers and engineers is to give the cars a mechanical set-up which ensures good braking stability and allows the kerbs to be taken aggressively, as this is absolutely essential in setting a fast lap time here. I'm very much looking forward to the race, as there's always a very special atmosphere at Monza."
Facts and figures:
Circuit/Date                    Autodromo Nazionale Monza / 13th September 2009
Start time (local/UTC)          14.00 hrs / 12.00 hrs
Lap/Race distance               5.793 km / 306.720 km (53 laps)
Corners                         7 right-hand and 4 left-hand corners
Winner                          Sebastian Vettel, Scuderia Toro Rosso
2008                            1 hr 26:47.494 min
Pole position                   Sebastian Vettel, Scuderia Toro Rosso
2008                            1:37.555 min
Fastest lap                     Kimi Räikkönen, Scuderia Ferrari Marlboro,
2008                            1:28.047 min
Data 2008                       Full-throttle percentage: 70%
Top speed: 351 km/h
Longest section at full throttle: 16 sec / 1,320 m
Gear changes per lap: 46
Tyre wear: low
Brake wear: high
Downforce level: very low

View a Printer Friendly version of this Story.
Monza Preview: BMW Sauber bid farewell to Europe
Discussion started by BMW Sauber F1 (IP Logged), 04/09/2009 14:51
BMW Sauber F1
04/09/2009 14:51
What do you think? You can have your say by posting below.
If you do not already have an account
Click here to Register
.