So, whats next for the BMW Sauber F1 Team and Fans?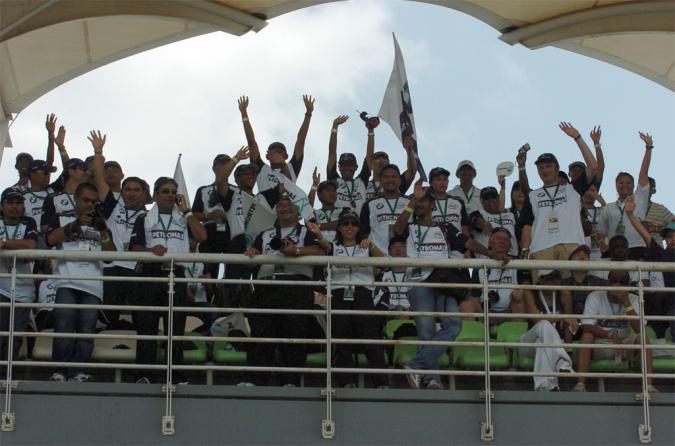 By The Offsider
July 29 2009
We are still recovering from the shock of today's announcement, which was pretty sudden. Only yesterday late night did we start learning about the possibility, with the BMW board revealing the convocatory of a special press conference today.
First Honda and now BMW, the question is: who's next? Toyota or Renault?
Incidentally the Toyota rumours have been around since before Honda retired, and it may end up that they don't abandon the sport anytime soon.
Anyway, back to BMW's case, why did they decide to stop the F1 programme, and what will happen with the team and its fans?
As already answered by other journalists, it was a mix of the financial crisis and poor results in 2009, accelerated by the fact that the signing of the Concorde Agreement till 2012 was inminent.
And there is a final reason, that may escape the first impression, but if you read carefully the press release and remember BMW's recent strategies you'll notice: KERS failure, both in BMW's case and F1 in general, with it being rejected by FOTA from 2010. Energy efficiency has been key for the brand, EfficientDynamics project being the highlight, and there is where KERS came into action. F1 was a perfect platform to give a big boost to a technology which was still very young and underdeveloped.
Despite the current KERS rules not helping to make things easy, with a low limit in terms of max energy stored and the weight distribution issue, we believe that in the coming years, with the system becoming mandatory and fewer restrictions in energy and power, it could have ended up being a success. Unfortunately we will never get to see it, not in the short term at least, with BMW's withdrawal and FOTA's agreement on scrapping KERS...so far.
And now, where does the team stand? What will happen with its workers?
Peter Sauber still owns a 20% stake, and some pledge for his return. But that wont be easy. He had a passive role nowadays, and really enjoyed it. Plus he would still need external investment, as even despite the cost-cutting measures, the team would be more expensive to run, with 400 workers at Hinwil, versus almost half that figure back in the privateer times. We could see a management buy out, ala Brawn, perhaps with Theissen involved too...after leaving his BMW Motorsport role, we presume. Likely? Doubtful...
But certainly SuperMarioGP would sound lovely!

Other option we hear is that a investor from one of the teams that failed to make it to the FIA's new entrants lists, could try...if BMW put a reasonable price, which most likely would be a symbolic 1€, just like in Honda's case.
In either case most jobs could be saved, but keeping them all will be extremely difficult, especially given the current economic crisis climate.
Hopefully FOTA will do what they claimed today, and push hard to rescue the team. We wouldn't like to see the loss of the factory with such a big staff figure, the most advanced F1 windtunnel and cutting the edge CFD supercomputer Albert3.
And what about the engines? In our view it would be wise to keep supplying them, at last for 2010, even if re-badged. Otherwise the Munich's factory would suffer, and the F1.10 would have to be redesigned to accommodate the new one, with all the negative compromises...
Given nowadays all manufacturers have to offer an engine+gearbox package for 6.5m€ (5+1.5), it would be a good option for both the new team and the supplier. The BMW plant is still strong, even if no longer the most advanced one, Mercedes' now being reputed for that; certainly more than the re-tuned Cosworth. But is BMW really willing to still provide them, or really retire totally, in the same way as Honda? In our opinion the latter would be a mistake; we shall see...

And what about the fans? Though part. Most will be very disappointed with the decision, and I can understand many of them giving up, however we expect most to stick to F1 and the new team, which hopefully will be some sort of SauberF1 comeback...and more successful than the BMW Sauber period. We hope most of them stick here; it will always remain a home welcoming all sorts of opinions and passions.

Our best wishes for all the guys at the Hinwil and Munich factories!

Further analysis to follow tomorrow, once we get a better picture of the whole situation.

View a Printer Friendly version of this Story.
So, whats next for BMW Sauber F1 Team and Fans?
Discussion started by BMW Sauber F1 (IP Logged), 29/07/2009 17:09
BMW Sauber F1
29/07/2009 17:09
What do you think? You can have your say by posting below.
If you do not already have an account
Click here to Register
.
JoeSoya
09/08/2009 04:38
I Hope Peter Sauber can take over BMW Sauber F1 team...
From BMW Sauber F1 team fan....
patgaw
09/08/2009 12:53
"the question is: who's next? Toyota or Renault?"

i think no one. they signed Concorde Agreement, so they are going to stay.
WanaM3
09/08/2009 14:24
Since BMW showed a lack of class in the whole withdrawal situation and a TOTAL lack of class in dealing with Peter Sauber I have found it difficult to cheer them on in other endeavors. My interest in F1 will have to be evaluated, but I do have an alternative. The new USF1 team is gearing up and I'll have to wait and see how they handle themselves. I do like Windsor and so will keep that option open. Time will tell. I wish Peter all the luck in trying to salvage a difficult situation. Peter deserves to win while BMW deserves to loose their A$$.
WanaM3
pgj
02/09/2009 22:20
How will you cope with the sad departure of BMW from F1? Will you quit F1, switch to another team or stay with whoever buys the team? Or do you follow your drivers?

I always take a keen interest in ex-drivers or partners. But I am still in shock. I did not see this turn of events coming. My bet was that a BMW F1 entry a nailed on certainty.

Williams and proud of it.