Paul Stoddart back to buy Sauber? or the Indian consortium?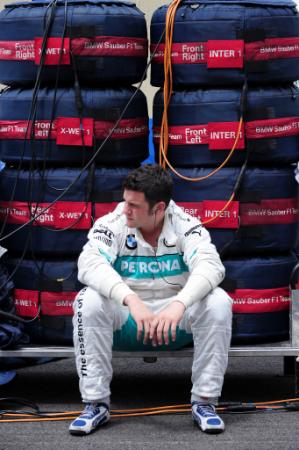 By BMWF1Talk
September 7 2009
This weekend rumours about an Indian business group on the verge of Sauberís buy out emerged. It was claimed that they would be keen to pay as much as 50m Ä, 5 more than Peter Sauberís initial offer but around 15 less than what BMW asked, to get in control of the Hinwil factory, and intend to place 25 year old Neel Jani, who is Swiss but with Indian origins, as one of the drivers.
Jani is no stranger to the Hinwil fellows as he was already test driver for the team back in the Sauber times, in 2005, and has done well after wards in GP2, America's single seaters and A1GP.
BMW is requesting as well warranties that they team will be maintained for the next 3 years, which would mean an investment of another 100m€.
A rumor that didn't make it tothe mainstream media was that Paul Stoddart, former Minardi F1 owner, might get it together. Later on it was proved false, but it was intriguing at that time. We spotted ina rather low profile twitter account that "following discussions in Munich after the Belgian GP, I (he) can state with some certainty that I (he) will have a team on the grid for 2010".
We weren't sure whether or not it was his real account, but decided to give it a try just in case...

Speculating on the possibility, it wasn't clear whether he would lead the Indian consortium or instead he is backed by a different group of investors. For Paul, after he had to sell his team to Red Bull, F1 has always remained unfinished business, and with his nemesis Max Mosley leaving this October, things could look much better for him.
It seems racing the Minardi name in USA wasn't enough...
Later today Stoddart denied this possibility or his relation with that twitter account: LINK

On a different note, we have heard too about some new sponsors on the way, not just Malaysian or Indian ones, but it is too soon yet to reveal of what relevance.
We hear too that the option of BMW using the Hinwil factory as development center for technologies of both road cars and motorsport is not discarded at Munich, either.

More to follow soon
View a Printer Friendly version of this Story.
Paul Stoddart Sauber take over rumor, and the Indian consortium?
Discussion started by BMW Sauber F1 (IP Logged), 07/09/2009 14:23
BMW Sauber F1
07/09/2009 14:23
What do you think? You can have your say by posting below.
If you do not already have an account
Click here to Register
.
Edited 1 time(s). Last edit at 2009:09:07:17:28:39 by BMWF1Talk.
sscollins
07/09/2009 16:26
The Stoddart story is nonsense
Stoddart denies rumours
sessions
07/09/2009 16:31
Why doesn't Stoddart and Peter Sauber join ranks and get the show on the road. Peter could handle all the political and administration tasks as well as Hiwill.
Paul could return to the trenches doing the nitty gritty on track requirements. Kind of a Todt/Brawn act !

sessions
BMWF1Talk
08/09/2009 09:23
crusty_bread
15/09/2009 17:25
LOL if Stoddy took over- this forum would be innundated with some pretty vocal aussi-forumites