R28 technical specifications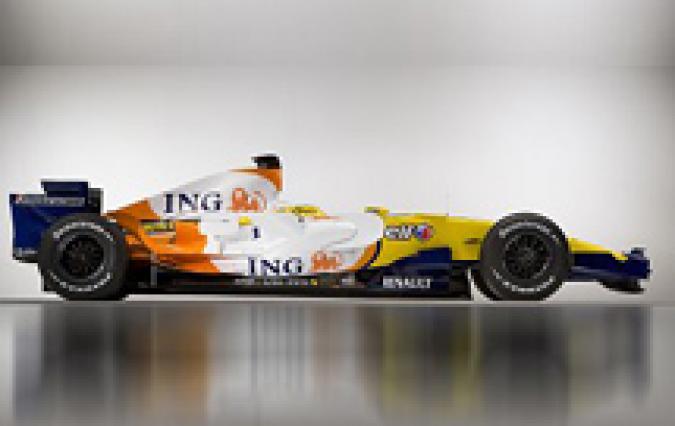 By Renault F1
January 31 2008
The R28, ING Renault F1 Team's 2008 contender, was presented today at the team's communications headquarters in Boulogne-Billancourt, on the banks of the Seine in south-west Paris. Bellow you can find the technical specifications of the R28 and RS28.
Renault F1 R28 Technical Specifications
Chassis:
Moulded carbon fibre and aluminium honeycomb composite monocoque, manufactured by the
Renault F1 Team and designed for maximum strength and stiffness with minimum weight.
RS27 V8 engine installed as a fully-stressed member.
Front suspension:
Carbon fibre top and bottom wishbones operate an inboard rocker via a pushrod system. This is connected to a torsion bar and damper units which are mounted at the front of the monocoque. Zero-keel design for front suspension mounting in order to optimise front end aerodynamic performance.
Rear suspension:
Carbon fibre top and bottom wishbones operating vertically-mounted torsion bars and horizontally-mounted damper units mounted on the top of the gearbox casing.
Transmission:
Seven-speed semi-automatic titanium gearbox with one reverse gear. "Quickshift" system in operation to maximise speed of gearshifts.
Fuel system:
Kevlar-reinforced rubber fuel cell by ATL.
Cooling system:
Separate oil and water radiators located in the car's sidepods and cooled using airflow from the car's forward motion
Electrical:
MES-Microsoft standard Electronic Control Unit.
Braking system:
Carbon discs and pads (Hitco); calipers by AP Racing.
Cockpit:
Removable driver's seat made of anatomically formed carbon composite, with six-point harness seat belt. Steering wheel integrates gear change and clutch paddles.
Car dimensions and weight
Front: track 1450 mm
Rear: track 1400 mm
Overall length: 4800 mm
Overall height: 950 mm
Overall width: 1800 mm
Overall weight: 605 kg, with driver, camera and ballast
Renault F1 RS27 Technical Specifications
Capacity: 2400 cc
Architecture: 90° V8
Weight: 95 kg
Max rpm: 19,000 rpm
Spark plugs: Champion
ECU: MES SECU
Fuel: Elf
Oil: Elf
Battery: Renault F1 Team

Identical specification RS27 engines will be supplied to the ING Renault F1 Team and to Red Bull Racing for the 2008 season.


View a Printer Friendly version of this Story.
R28 technical specifications
Discussion started by Renault Rockets (IP Logged), 31/01/2008 21:10
Sorry, only registered users may post in this forum.