ING Renault F1 Team first day with R28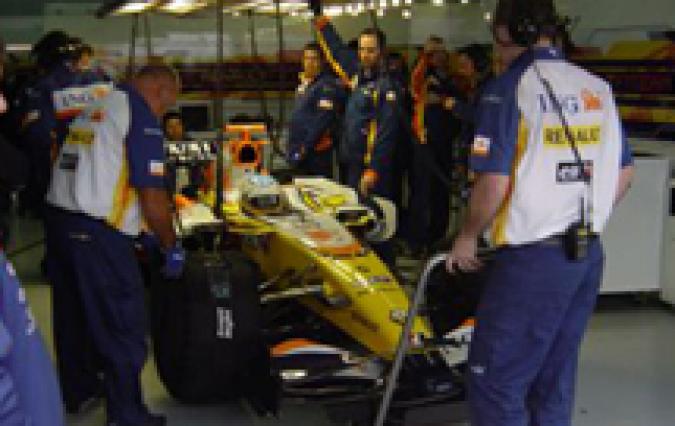 By Renault F1
January 21 2008
After completing a successful test a Jerez last week, the ING Renault F1 Team moved to Valencia this week for the first test with the R28, the new car that will be officially launched to the press on 31 January 2008. Fernando Alonso was the first Renault driver to try the new car,
and spent the opening day concentrating on checking the general functions of the car and making sure all the systems were operating correctly.
Fernando was happy to experience the new car and did not encounter any problems as the team completed its programme for the day. Despite foggy conditions in the morning, which delayed the opening of the track, the Spaniard was able to complete a number of runs towards the end of the day, completing a total of 39 laps.
Fernando will be in the car until Wednesday, and will then hand over driving duties to his teammate Nelson Piquet Jr, who will experience the R28 for the first time on Thursday.
Fernando Alonso: "When you have your first day with a new car, you always have to take your time to check that all the systems are functioning correctly, and that is what we did today. We were able to lengthen our runs little by little and ended the day with a 17-lap stint. Everything went well, but it is still too early to try and compare our performance with that of other teams, and that was not the objective today. The good news is that we encountered few problems, and we will be able to continue our work tomorrow."
Christian Silk, Test Chief Engineer: "It was a good first day of work, which is always important with a new car. The whole team is very enthusiastic about working with the R28 and it is clear that everyone has given their all to get this new car on track. We were able to follow our programme without any difficulties and there were no big surprises with the new car. It is a solid basis on which we can build in the days to come."
Bob Bell, Technical Director, Chassis: "Today has been very successful. We completed just under 40 laps and the car ran pretty much trouble-free – that is about as good a first day as you can expect with a new car. We would have completed our first run pretty much on time if it had not been for the weather, and I think that's a real tribute to the whole factory and all the hard work that has been put in to get this car here today. Overall, a really positive first day's work."
Fernando Alonso R28-01, 39 laps, 131 km, fastest lap: 1'13.027