The ING Renault F1 Team gears up for its Roadshow.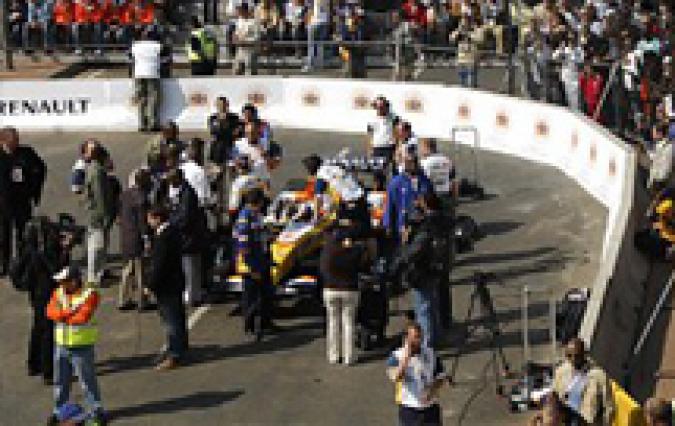 By Renault F1
April 6 2009
The ING Renault F1 Team gears up for the first Roadshow of the year in Dubai. The ING Renault F1 Team continues its successful Roadshow programme into 2009 with a visit to Dubai from the 9th to the 12th of April. The teamís cars will be demonstrated at various locations across the city throughout the four-day event.
Building on a tradition that dates back to 2003, the ING Renault F1 Team Roadshow has always focussed on taking Formula 1 to the fans and visiting new markets. In the past year the team has demonstrated its cars in cities such as Rotterdam, Lisbon, New Delhi and most recently Sao Paulo. Dubai will soon be added to that list when ING Renault F1 Team race driver Nelson Piquet joins third driver Romain Grosjean and demonstration driver Adam Khan for a special weekend of activities this April.
Plans for the Roadshow include a blast through the desert with last year's Renault F1 car, the R28, followed by a series of drag races against some of the world's most powerful super cars. The Downtown Barj Dubai will form the centrepiece for the main spectator events with the main demonstrations of the Formula 1 car taking place on a giant floating platform built on a lagoon in front of the world's tallest skyscraper. It promises to be an incredible sight.
Nelson Piquet, who will complete four demonstrations on the Dubai Mall lagoon platform said: "Dubai is one of the great cities of the world and the ideal place to stage a Roadshow. The chance to visit Dubai and show the people the excitement of Formula 1 is something I'm really looking forward to."
Romain Grosjean, who will also be behind the wheel of the R28 in Dubai commented: "I always enjoy Roadshows and the chance to demonstrate the car in front of fans is always a privilege. I love Dubai and I'm looking forward to going back there. The plans we have will make this Roadshow really special as it is something that has never been done before in this part of the world."
Demonstration driver, Adam Khan, who will be making his first appearance at a Roadshow event added: "I'm very excited about the activities we have planned for our four days in Dubai. It's a new market for Formula 1 and it will be great for the fans to experience the sight and sound of a Formula 1.
2009 Calendar:

Dubaï: 10/11 April
Moscou: 13/14 June
Bucarest: 10/11 October
Alger: 12/13 November

View a Printer Friendly version of this Story.
The ING Renault F1 Team gears up for its Roadshow.
Discussion started by Renault Rockets (IP Logged), 06/04/2009 12:08
Renault Rockets
06/04/2009 12:08
What do you think? You can have your say by posting below.
If you do not already have an account
Click here to Register
.
manuStudio
10/04/2009 14:57
FormulaFan
10/04/2009 20:40
Spectacular crash. [
">www.youtube.com
]
Really, just seemed to lose control while accelerating. Such waste of money and running time. It's not often you'll see a F1 car running outside of a racing weekend this year and this certainly didn't help.
Edited 2 time(s). Last edit at 2009:04:10:21:27:25 by FormulaFan.
manuStudio
10/04/2009 23:52
That's what happen when they try to give a favor to someone who has never been in a F1 before.
They should keep close to pros.

100% F1 Renault 2005-2006 WDC & WCC.
Mood Rossi
14/04/2009 19:05
showboatin backfired...wat a shame!
Sorry, only registered users may post in this forum.