2008 Monaco Grand Prix, Sunday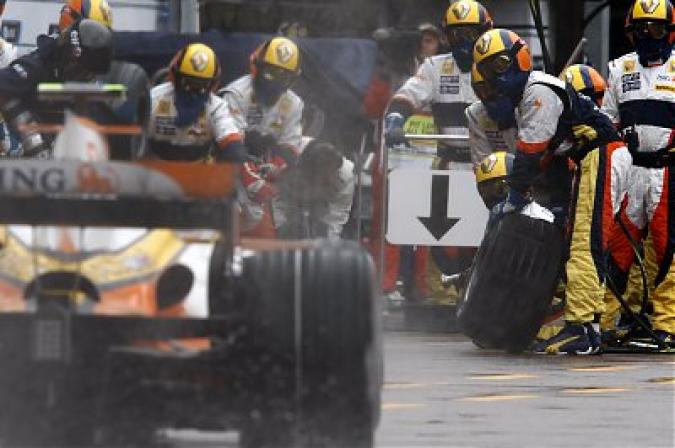 By Renault F1
May 26 2008
It was a disappointing Monaco Grand Prix for the ING Renault F1 Team as Fernando Alonso finished in 10th and Nelson Piquet retired from the race. The race was all about the weather with rain showers hitting the circuit just before the start. Fernando started on wet weather tyres and Nelson went with the extreme wet. Fernando soon joined Nelson on extreme wets after some eventful opening laps.
As the track dried out both drivers suffered with poor grip and were forced to switch to dry tyres early. It was soon after this that Nelson retired from the race as the Brazilian collided with the barriers at Sainte Devote. Fernando remained on track and showed good pace in the closing stages, recovering to tenth, outside the points.
It was therefore a case of unrealised potential today, but the team will regroup and put all its efforts into bouncing back at the next race in Montreal in two weeks time.
Fernando Alonso P10
"We were not able to achieve what I think would have been possible in a normal race. The track was always changing; the car was sensitive and I made some mistakes. After that, we tried to change our strategy, but it did not really pay off, which is a shame. As we are not fighting for the championship we certainly took our chances and some risky choices, but today that did not work and we must hope that the next race in Montreal goes better."
Nelson Piquet DNF
"I had a difficult weekend and I am extremely disappointed. The conditions on the track were changing, but we took the risk to switch to dry tyres when the track was still damp and tricky, which is when I went off and damaged the car. But I will not dwell on this and feel sorry for myself. I must remain focussed for the Canadian Grand Prix"
Flavio Briatore, Managing Director ING Renault F1 Team
"This was a missed opportunity, which is all the more frustrating because we were competitive today. Fernando drove an aggressive race, but after his off it was clear that he was too far behind to finish in the points. Nelson's race was disappointing, but Monaco remains a difficult test for a driver and it is a very unusual circuit. From here we now concentrate on the next race in Canada."
Pat Symonds, Executive Director of Engineering
"Setting the third fastest lap in the race reinforces the progress that we have made, even on this very different type of circuit, but that is all we take away from Monaco. It has been a difficult weekend, which ended in a difficult race where we did not realise our potential."

View a Printer Friendly version of this Story.
2008 Monaco Grand Prix, Sunday
Discussion started by Renault Rockets (IP Logged), 26/05/2008 22:40
Sorry, only registered users may post in this forum.