2007 Bahraini GP, Qualifying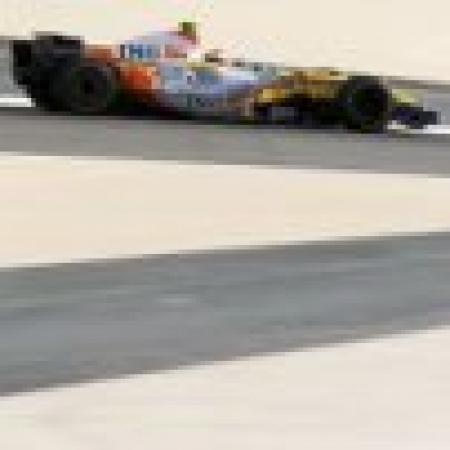 By Renault F1
April 14 2007
There were mixed feelings for the ING Renault F1 Team this afternoon at the Bahrain International Circuit, after seeing Giancarlo Fisichella qualify seventh, while team-mate Heikki Kovalainen will start twelfth in tomorrow's race.
| | |
| --- | --- |
| | Giancarlo Fisichella, R27-04 |
| Q1 | 1:33.556, P12 |
| Q2 | 1:32.889, P10 |
| Q3 | 1:34.056, P7 |
| | |
| --- | --- |
| | Heikki Kovalainen, R27-01 |
| Q1 | 1:33.467, P10 |
| Q2 | 1:32.935, P12 |
| Q3 | N/A |

The midfield battle during qualifying is so close at this stage of the season that every hundredth of a second counts, and along with Williams, Toyota and Red Bull Racing, the ING Renault F1 Team is in the thick of that fight. After the all-important second knockout round, all four teams had got just one driver into the final part of the session, with just two tenths of a second covering eighth to thirteenth positions.
Giancarlo Fisichella made the most of his opportunity in the final part of qualifying to take seventh spot, the first car outside the top three teams, to give himself a strong platform for tomorrow's race. Heikki Kovalainen was just 0.05s slower than his team-mate in the second part of qualifying, which meant he missed out on the final shootout, but his almost identical pace leaves the team optimistic the Finn can race strongly for a points finish from his grid position.
Giancarlo Fisichella, P7
I feel I achieved our current maximum today. It is so tight to get into the top ten for us at the moment and in fact, I was tenth in Q2 by just a few hundredths of a second. After that, we made the most of the opportunity to qualify seventh, ahead of our direct competitors. That is the best start for our weekend. After working hard in practice, I think we have found a consistent balance for the race, and I am looking forward to scoring more points tomorrow. That was not the target at the start of the season, but we need to the best with what we have at the moment. It is important to finish the races, achieve our potential and keep on scoring points. I did that in Melbourne and Sepang, and want to do the same again tomorrow.
Heikki Kovalainen, P12
From my point of view, there was nothing more I could get out of the car today. I did my maximum, and I was right on the limit all the way round the lap, but we didn't make it into the top ten. I have felt a little bit off Giancarlo all weekend, and we saw that in qualifying too. Of course I am disappointed, but we know we are in a very tight battle at the moment, and we had another reminder of that today. It will be another tough race tomorrow, but as always, I will be trying to race to the limit, to be aggressive at the start – and to try and score points.
Pat Symonds, Executive Director of Engineering
It was touch and go for us as to whether or not we would make it through the second part of qualifying, and ultimately, Giancarlo produced an excellent lap to qualify – while Heikki did the same, and lost out by just five hundredths of a second. Seventh on the grid for Giancarlo is clearly a strong performance for us at the moment, but as always, these things are relative – and we are the first to acknowledge we are some way short of where we want to be in terms of our performance. The team in the garage deserve a special mention today as well. We have had a long, hard trip to the first three flyaway races, but their commitment and professionalism have never wavered. That was demonstrated once again this afternoon, as they successfully replaced Giancarlo's gearbox, and swapped Heikki to the T-car, between practice and qualifying. Although the car is certainly under-performing at the moment, the team are certainly showing why they are world champions. Looking ahead to tomorrow, we have to aim to at least maintain our position with Giancarlo, and make up ground through the field with Heikki.
Denis Chevrier, Head of Engine Track Operations
We knew before this afternoon's qualifying session that we were not among the top three teams, so Giancarlo's position is the maximum we could have hoped for. Heikki was a victim of the exceptionally close battle to get into Q2, and lost out by the tiniest of margins. Both RS27 engines performed well and without problem, which was reassuring after a precautionary swap to the T-car for Heikki following the diagnosis of a potential fuel pump problem on his race chassis. Clearly, we are in for a tough fight tomorrow, and our goal has to be reach our potential by out-racing the cars around us, and trying to pick up points from the rivals in front.