2007 Bahrain Grand Prix - Round 03.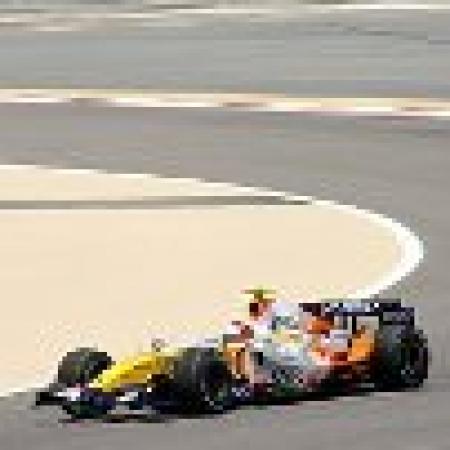 By Renault F1
April 15 2007
The ING Renault F1 Team endured a difficult afternoon at the Bahrain International Circuit, placing its cars 8th and 9th in the 2007 Bahraini Grand Prix, with Giancarlo Fisichella ahead of team-mate Heikki Kovalainen.
After qualifying 7th and 12th, the team knew it was unable to compete with the top three teams on pure pace, and that without retirements in front, 7th and 8th was the maximum possible result this afternoon. After Heikki Kovalainen made a strong, aggressive start to gain three positions, this seemed an achievable target. However, both drivers struggled for pace on their longest race stints (the first for Kovalainen, the second for Fisichella) and although they defended their positions as aggressively as possible, each lost ground that they were unable to regain later in the race.
Giancarlo Fisichella's single point maintains his point-scoring run during the start of the 2007 season, and means the ING Renault F1 Team remains fourth in the Constructors' Championship, with a total of nine points.
Giancarlo Fisichella, 8th position
This was another tough race for us. I made a good start and the pace was really good in the first stint – I was clearly lighter than Kubica in front, but he was holding me up which meant I couldn't build a gap to the cars behind me. Then I struggled in the second stint, as the rear tyres went away very quickly and I lost a number of positions – I was on the limit, but couldn't do any more to defend my place. Then the performance came back again in the last stint on the hard tyres, and I pushed Jarno as hard as I could – but just ran out of laps to get past him. It's disappointing not to achieve our maximum today, but ultimately, that maximum was seventh position. It is one point lost, but we all know that we want to be fighting for much more than that, and hopefully we can make some progress between now and Barcelona in four weeks.
Heikki Kovalainen, 9th position
I made a good start off the line, and overtook both Williams and Trulli's Toyota. Last week, I was side by side with him and he got the advantage – and I was determined that it wouldn't happen again. After that, the rear tyres dropped off quickly on the heavy fuel load and I was struggling everywhere – Trulli got past me, then I tried to defend aggressively against Rosberg, but he overtook as well after the final corner. The car improved a lot in the second stint, and I could see I was catching Fisi and Jarno, and thought that maybe we could do something. But then in the final stint, the rear end was tricky again, and I couldn't maintain the pace of the guys in front. It was a tough afternoon, like we expected, and it was a shame not to score points. We know, though, that the hard work needs to be done back at the factory – and I am confident that they will be pushing to their maximum to improve our competitiveness for the next race.
Flavio Briatore, Managing Director
This is where we are at the moment, fighting for the final points positions. We didn't expect the situation to change very much in the space of a week, and the race met those expectations. Both drivers did a strong job, but the car doesn't have the pace. There is a lot of hard work ahead of us to improve the situation, beginning with the four-week break before the next race.
Pat Symonds, Executive Director of Engineering
Once again, the team's overall performance was dictated by the car's current level of performance. With three teams in front of us that are clearly quicker, our race is for 7th place at the moment. The drivers did as much as they could today, and the mechanics once again worked hard to prepare reliable cars for them to maintain our 100% finishing record. In the race itself, both drivers seemed to struggle with tyre performance on their longest stints, but this does not explain our overall position. Our hard work will now continue back at the factory to get on top of our problems – and start moving forward.