Barcelona Testing Round-up: 03/05/2007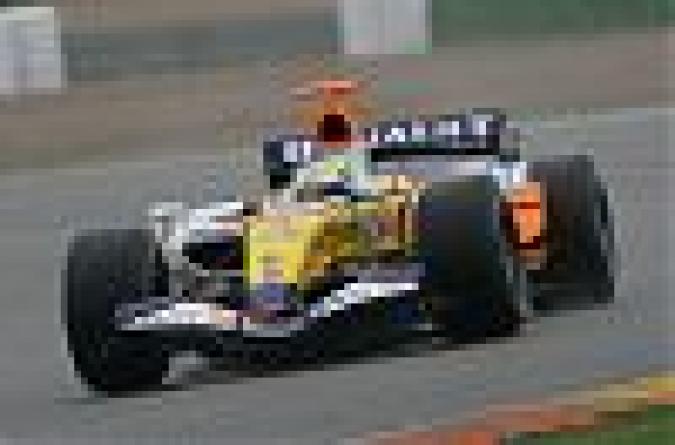 By Renault F1
May 3 2007
ING Renault F1 Team completed the fourth and final day of its test at the Circuit de Catalunya this afternoon. In spite of disruption from the weather, a useful final day in was well used.
Rain struck the Spanish circuit around lunchtime, which limited the useful running after this point. Nevertheless, Giancarlo Fisichella – at the wheel of chasss R27-05 – had already completed over 50 laps by this stage of the afternoon.
The Italian's work focused on chassis set-up, as he tuned the R27 to his liking around Barcelona's demanding long corners, and comparing the two types of Bridgestone Potenza tyre (the medium and hard compounds from the 2007 range) that will be used during next weekend's Grand Prix.
Summing up the week's work, Chief Test Engineer Christian Silk spoke in positive terms about the progress that had been made – and the team's attitude during the test:
"We completed most of our work this morning, when conditions were still dry. Giancarlo was pretty happy with the car straight way, and to a large extent this reflects the good progress that we had made earlier in the week. Overall, we have enjoyed a good week's work, with perfect reliability, and the team has given maximum effort overall all four days. Given the changeable weather conditions, we have done as much work as possible on our technical problems, and collected lots of useful data to analyse back at the factory."
| | | | | |
| --- | --- | --- | --- | --- |
| | DRIVER | TEAM | BEST | LAPS |
| 1 | COULTHARD | Red Bull Racing | 1:21.066 | 59 |
| 2 | DE LA ROSA | McLaren-Mercedes | 1:21.267 | 58 |
| 3 | MASSA | Ferrari | 1:21.483 | 38 |
| 4 | FISICHELLA | ING Renault F1 Team | 1:21.876 | 63 |
| 5 | KUBICA | BMW Sauber | 1:22.098 | 55 |
| 6 | SCHUMACHER | Toyota | 1:22.359 | 49 |
| 7 | KLIEN | Honda | 1:22.807 | 80 |