Testing Round-up 22/01/08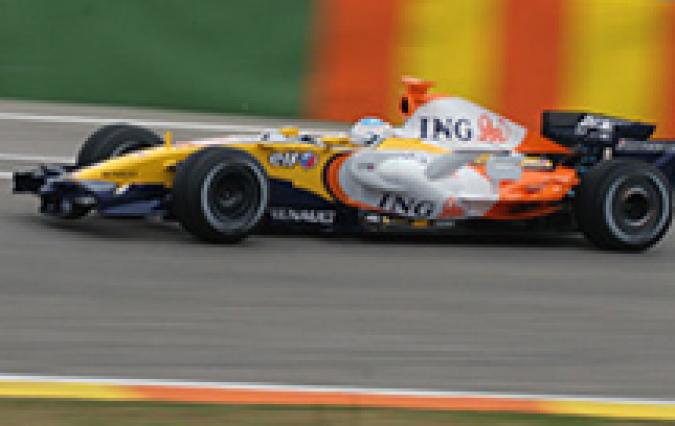 By Renault F1
January 22 2008
The ING Renault F1 Team was on track again today in Valencia, Spain to continue developing the new R28 with Alonso at the wheel. The team benefited from near-perfect track conditions with the sun shining and spring temperatures throughout the afternoon.
Fernando Alonso was again at the wheel of the R28-01, and continued with set-up work this morning, varying the balance of the car and evaluating the changes. He then concentrated on completing some long runs in the afternoon to test the reliability of different aspects of the car and to gather as much data as possible.

Once again, the ING Renault F1 Team enjoyed a productive day and completed its programme without encountering any problems with the new car. By the end of the day Fernando had covered 368 km and set the sixth fastest time in 1'13:315.

The Spaniard will be in the R28 again tomorrow for his last day of work with the team this week. He will then hand over driving responsibilities to Nelson Piquet Jr, who will experience the R28 for the first time on Thursday.

Fernando Alonso: "The second day ran smoothly and without any problems. I was able to get on with my programme and had good discussions with my engineers at the end of the day. I completed some long runs this afternoon, and the car was reacting well, so the results are encouraging. We now need to keep moving forward and developing the car."

Christian Silk, Test Chief Engineer: "We were able to achieve most of the objectives that we set ourselves for the second day of work. When you start working with a new car, you have to make sure that all the systems on the car are reliable and functioning correctly. That is what we concentrated on today, and from that point of view everything went well. Tomorrow we will begin a programme which will be more interesting for the drivers and the engineers, which will allow us to gather more data."



Fernando Alonso, R28-01, 93 laps, 368 km, fastest lap: 1'13:315
View a Printer Friendly version of this Story.
Testing Round-up 22/01/08
Discussion started by Renault Rockets (IP Logged), 22/01/2008 21:36
Sorry, only registered users may post in this forum.