Barcelona Testing, Day 2, 26/02/2008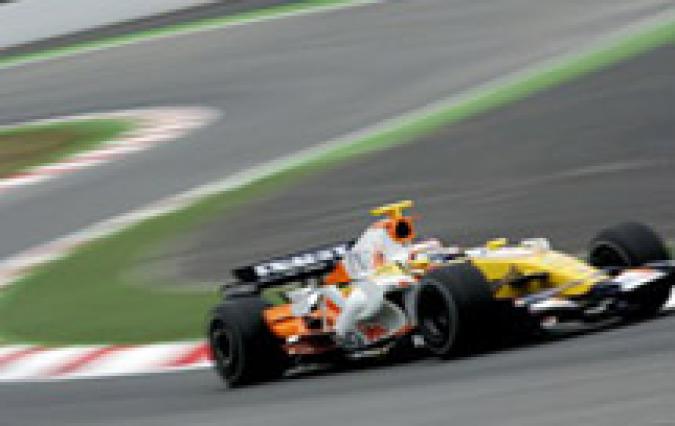 By Renault F1
February 26 2008
The ING Renault F1 Team remained at the Circuit de Catalunya near Barcelona today to continue with its final week of pre-season testing. The day began with cloudy and cool conditions, but the sun came out in the afternoon allowing the team to continue with its preparations for the new season in ideal conditions.
The team was running two R28s with Fernando Alonso and Nelson Piquet remaining in the cars for a second day. Having worked on race procedures and pit stops yesterday, the team switched its attention to working on the performance of the cars today.

Fernando spent the day running through an aero programme and tried various things with the car, while Nelson resumed the set-up work he had begun at the end of yesterday. Fernando completed a total of 79 laps while Nelson covered 45. For the final day tomorrow the team will make a final push in the last day of running and will continue practicing race procedures to be ready for the opening race of the season in three weeks time.

Fernando Alonso: "It was a good day, especially as it was dry for the whole day. We continued testing the latest parts and updates before Melbourne and it was a good time to check that everything is working well. We still need to find some performance in the car, but we have the potential and we just need to discover it. There is only one day of testing left, and we need to fully attack tomorrow to make the most of it."

Nelson Piquet: "We did not complete as many laps as we would have liked, but it was still a productive day and we learnt some things in the morning and gathered some interesting data. As a rookie, time in the car is so valuable and everytime I drive the car I feel more and more comfortable. For sure it would be nice to have some more time to prepare for the first race, but we have made the most of the time we had available. We are back to race simulations tomorrow, and if we have time we will try and do some long runs."

Christian Silk, Chief Test Engineer: "Good circuit conditions today, so we could get on with our programmes. We had some interesting stuff to try that had arrived from the factory and we go some good results from that. We also did some aerodynamic development and some chassis set-up work, which gave some positive results. So another good day's work, and we'll take that into tomorrow and continue with our preparations for the first race in Melbourne. "
Fernando Alonso, R28-03, 79 laps, 368 km, fastest lap: 1'23.112
Nelson Piquet, R28-01, 45 laps, 209 km, fastest lap: 1'23.467

View a Printer Friendly version of this Story.
Barcelona Testing, Day 2, 26/02/2008
Discussion started by Renault Rockets (IP Logged), 26/02/2008 22:50
Sorry, only registered users may post in this forum.