2010 German Grand Prix, Friday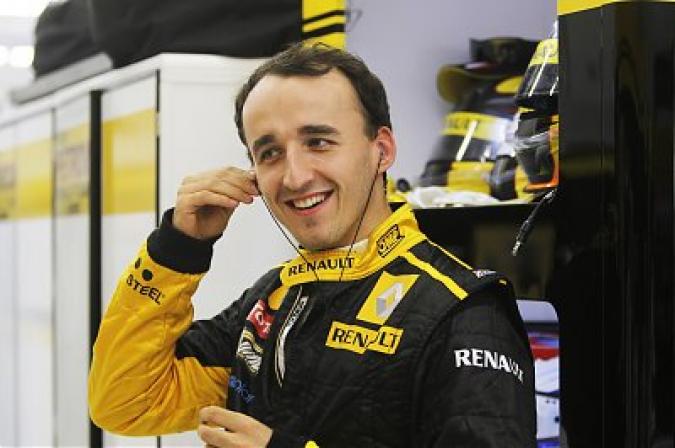 By Renault F1
July 24 2010
The debrief from the Renault F1 team on the Friday practice sessions ahead of this Sundays German Grand Prix, where the team are looking to put a disappointing Silverstone result for the Ango-French Squad behind them
Robert Kubica, R30-03
Free Practice 1: P13, 1.28.903, 20 laps
Free Practice 2: P8, 1:17.009, 37 laps
Robert: It was a difficult Friday because of the weather conditions which meant we ran all four tyre specifications at different points during the two sessions. These conditions make it difficult to test anything properly, so we concentrated on getting a feeling for the tyres. The super-soft compound actually performed quite well, possibly helped by the low temperatures, but it was more difficult to judge the hard compound because the track was still a bit damp when I ran with it. In terms of the balance, the car felt a little bit strange today, so we will investigate to find out what the cause might have been, and we will be hoping for more stable conditions tomorrow.
Vitaly Petrov, R30-02
Free Practice 1: P5, 1:26.948, 21 laps
Free Practice 2: P12, 1:17.547, 35 laps
Vitaly: When the weather conditions are changing all the time, it's difficult to find the right set-up, so we just tried to run and run today, to see how the track was changing and get a feel for the car. Even so, we managed to make some good changes and I think we have a good set-up for tomorrow. There were no problems during the day, and I know that my fastest lap could have been even quicker, so now we must keep working well tonight and see what Saturday brings.
Technical Debrief with Alan Permane, Chief Race Engineer:
How did the cars perform in the wet this morning?
There were no particular dramas. We ran both types of wet tyre as the circuit required, using the full wet first then intermediates as it dried out. Both cars tended a little bit towards understeer, but there were no major problems, and in fact Vitaly was a bit happier with the car than Robert in the conditions.
The circuit has been resurfaced in places. Were you able to assess how it will affect the tyres?
The conditions made life a bit difficult and meant we have not done as much of an assessment as we would have liked. A lot of the resurfacing has been done at turn six and the circuit took a long time to dry there because the tarmac is very closed.
How are the super-soft and hard tyres performing?
We had a lot of problems with the super-soft compound in Montreal but it looks to be behaving very normally here. However, we were not able to do a great comparison of the two tyre types, because the circuit was still wet in some corners when we ran the hard compound at the start of the second session. Neither tyre looked too difficult to manage, but the hard took a few laps to warm up then just got faster and faster, while the performance was there straight away on the super-soft, but with a touch more understeer.
What is your weather forecast for the rest of the weekend?
At the moment, we're expecting more rain today, and tomorrow morning may be wet too, but we believe qualifying and the race should be dry. Although the circuit was very green today, we did a long run on the super-soft with no problem at all during the second session, so we've got no concerns over the tyres. And we had a predominantly dry session this afternoon to get a handle on the car set-up and understand where we are in terms of performance.
View a Printer Friendly version of this Story.
2010 German Grand Prix, Friday
Discussion started by Renault Rockets (IP Logged), 24/07/2010 11:11
Renault Rockets
24/07/2010 11:11
What do you think? You can have your say by posting below.
If you do not already have an account
Click here to Register
.
Kristien
24/07/2010 11:19
Pos. Driver Team Time Laps
1. Sebastian Vettel Red Bull 01:15.103 18
2. Fernando Alonso Ferrari 01:15.387 21
3. Mark Webber Red Bull 01:15.708 16
4. Felipe Massa Ferrari 01:15.854 20
5. Nico Rosberg Mercedes Grand Prix 01:16.064 20
6. Lewis Hamilton McLaren 01:16.207 13
7. Michael Schumacher MercedesGrand Prix 01:16.473 16
8. Rubens Barrichello Williams 01:16.481 23
9. Robert Kubica Renault 01:16.646 20
10. Nico Hulkenberg Williams 01:16.743 17
11. Kamui Kobayashi Sauber 01:16.882 19
12. Sebastien Buemi Scuderia Toro Rosso 01:16.990 21
13. Jenson Button McLaren 01:17.037 15
14. Vitaly Petrov Renault 01:17.148 20
15. Pedro de la Rosa Sauber 01:17.220 19
16. Jaime Alguersuari Scuderia Toro Rosso 01:17.341 21
17. Vitantonio Liuzz Force India F1 01:17.538 22
18. Heikki Kovalainen Lotus F1 01:19.193 11
19. Jarno Trulli Lotus F1 01:19.607 10
20. Bruno Senna HRT F1 Team 01:20.533 9
21. Sakon Yamamoto HRT F1 Team 01:21.538 14
22. Lucas Di Grassi Virgin Racing 01:23.444 10
23. Timo Glock Virgin Racing 01:23.873 7
24. Adrian Sutil Force India F1 no time 2
9th and 14h in practice. Don't know what im expecting this weekend from the team. i think we may need some rain for a decent points scoring this weekend
anyone know the forecast for tomorrow?
ICR_IL_88
24/07/2010 11:51
It's supposed to rain tomorrow, so nothing is sure. I really hope the rain plays to our advantage.
Sorry, only registered users may post in this forum.