2010 Singapore Grand Prix, Sunday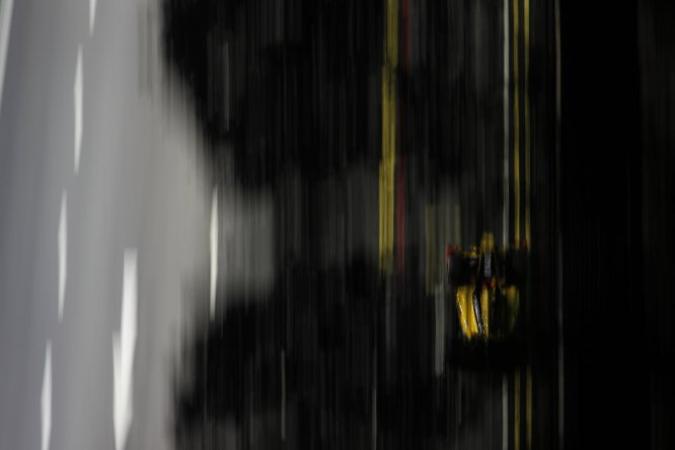 By Renault F1
September 27 2010
The Renault F1 team reflect on this years Singapore Grand Prix where Robert Kubica put in a stunning recovery drive after a puncture late on in the race.
Robert Kubica, P7
Fastest lap: 1:49.255 Started on option.
Pit stops: Lap 32, 30.441 (prime); Lap 45, 31.814 (prime)
Robert: The last few laps were definitely the most exciting part of the race. The engineers spotted a right-rear puncture on the data – it must have been some debris that cut the tyre, because I didn't touch the wall and couldn't feel anything in the cockpit. That stop dropped me from sixth to 13th position. I had much fresher tyres than the cars in front in those last laps, but it's still not easy to pass in Singapore, so it was good fun picking them off one by one. In the end, I got back to seventh place, which meant we only lost one position compared to our maximum this afternoon. Ultimately, if somebody had said that I would finish seventh today, and make one more pit stop than the cars around me, then I'd definitely have taken it.
Vitaly Petrov, P11
Fastest lap: 1:51.903 Started on option.
Pit stop: Lap 3 (prime)
Vitaly: I made a fantastic start and was running in 10th position early in the race. We stopped under the first Safety Car period and I was the first runner on prime tyres behind Webber, so things looked good. I need to look at the video to see what happened afterwards with Hülkenberg and why he pushed me out in turn seven, but his move cost me three positions. I was then stuck behind Massa, in the queue behind the Force India, and it just wasn't possible to overtake because we had all changed tyres at the same time. It was a tough race, but my luck went away from me yesterday in qualifying. I hope things will come back in my direction starting in Suzuka, so that I can put together a consistent weekend in qualifying and the race.
Eric Boullier, Team Principal
Overall, it's a disappointing and frustrating result because we scored very few points, while our nearest rivals Mercedes did a better job than us and stretched their lead today. Robert's puncture forced him to make an extra pit stop, and he drove superbly to fight back to seventh: it was the highlight of the race to see him make up six positions in nine laps. As for Vitaly, his race was compromised by a very ambitious manœuvre from Hülkenberg, which cost him three places and some valuable points. We now must look forward to Suzuka and hope for a better level of performance across the weekend.
Alan Permane, Chief Race Engineer
It was a pretty exciting afternoon – but we'd have preferred a more boring race and more points. Our car didn't have the pace to stay with Rosberg today, and it was hard to do anything creative with the strategy when everybody was making just one stop. Robert was headed for a sixth- place finish before his puncture, and he then did an excellent job to climb back up the order. We stopped Vitaly under the first Safety Car on lap three, and he was in a very good position when he tangled with Hülkenberg. That cost him a guaranteed points finish.
Rémi Taffin, Head of Engine Operations
It was a tough race for both cars. Robert and Vitaly both made very competitive starts and were in good positions in the opening stages, but we ultimately lost ground to our main rival in the championship. For the engines, it was a very easy race: the temperatures were well under control, and we had no problems to push all the way through. It was the second race for both engines and, as per our plan, these units will not be raced again.
View a Printer Friendly version of this Story.
2010 Singapore Grand Prix, Sunday
Discussion started by Renault Rockets (IP Logged), 27/09/2010 22:27
Renault Rockets
27/09/2010 22:27
What do you think? You can have your say by posting below.
If you do not already have an account
Click here to Register
.
Kristien
27/09/2010 22:28
i thought it was another disapointing race from petrov. i think he must do something special in the remaining races to prove he should keep the seat on merit and not money
Sorry, only registered users may post in this forum.