Legendary racer John Surtees has died at the age of 83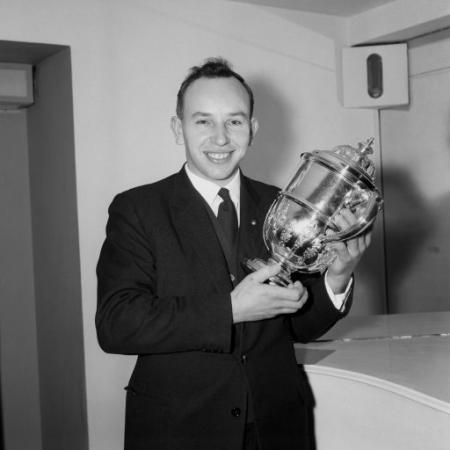 © PA Images
By Dan Moakes
March 17 2017
Sad news as motor sport legend John Surtees has died at the age of 83. The only man to be crowned world champion on both two wheels and four, 'Big John' was one of the most versatile of racers, and he left his mark in a way that few could hope to emulate; not least in the wake of personal tragedy.
John's father was Jack Surtees, a motorcycle dealer who also raced sidecars. John got his start in competition as Jack's sidecar passenger, at the age of 14, and he first tried his hand racing solo a year later. John's early motorcycles were Excelsior and Triumph models, and later he competed for Vincent, with whom he had embarked on an engineering apprenticeship. It was on this machinery in 1951 that he recorded his first major win. Within a couple of years Surtees was a regular winner, for Norton, at race meetings on British short circuits, more than once giving a hard time to Grand Prix champion Geoff Duke. His career was taking off, and by 1955 he would win 65 of the 72 races he entered, and inflict his first defeat on Duke.
John's first major placing on the international stage had been a fifth place in the 1954 Ulster GP on a 500cc Norton, and a year later he won the 250cc GP at the same event on an NSU. For 1956 he signed for MV Agusta and, with three 500cc victories, he took his first world championship title; and won his first 350cc GP in Belgium. There was just one win in 1957, but Surtees dominated Grand Prix racing over the next three seasons: 18 wins from 21 races in the 500 class gave him three consecutive titles, and there were 14 wins on the 350 in the same period to make him a double champion in 1958, 1959 and 1960.
However, John's racing activities had been curtailed by team boss Count Agusta, who objected to Surtees racing his own machinery in non-championship events. It was this restriction that led to the rider branching out into motor car competition, making his first test drives in 1959 and starting to race a year later. An early outing at Goodwood, where Surtees came second to Jim Clark, led to some drives for Team Lotus. Strong performances, including in the British and Portuguese Grands Prix, cemented his future as a Formula 1 driver; at the age of 26 he quit racing motorcycles altogether.
With Cooper and then Lola machinery, Surtees made good progress: by the end of 1962 he had finished runner-up in the British and German GPs for the Bowmaker Racing Team, also having taken his first two non-championship F1 victories. He had done enough to secure a move to Ferrari, where his development abilities put the team back on track. His first Grand Prix victory was at the Nürburgring in 1963, and six podium results a year later proved enough to take the world championship. 1964 also saw his best finish in the Le Mans 24 Hours race, third with the Ferrari 330P, and there would be four major sports car wins in the mid-1960s period.
1965 proved less productive than expected in Formula 1, and elsewhere he suffered with a late season practice crash during the Can-Am event at Mosport, from which he was lucky to survive. Back in the cockpit for 1966, John's frustrations with Ferrari led him to switch to Cooper mid-season, for whom he won the Mexican GP. Thereafter he raced for Honda, winning the 1967 Italian GP, then BRM. The 1966 season witnessed Surtees taking the Can-Am title with three wins in his Lola T70, entered under the Team Surtees banner.
The Surtees team produced its first racing car in 1969, to compete in the Formula 5000 category, and in 1970 made its entrance into Formula 1 as a constructor. John continued as a driver into the early 1970s, winning two non-championship F1 races for his own team, and another in Formula 2. By that stage Surtees was running fellow motorcycling graduate Mike Hailwood as one of his drivers, with Hailwood taking the 1972 European F2 title, as well as finishing second in that year's Italian Grand Prix. This was the catalyst for Surtees himself to retire from the cockpit, but his team would only record one further GP podium result, Carlos Pace third in Austria 1973, before Team Surtees was wound down in 1978.
The later years of John's life would see him make regular outings at historic meetings, with both bikes and cars from his own era. A dedicated family man, John was able to guide his son Henry when the youngster embarked on a motor racing career himself, but sadly this ended in the worst possible way in 2009 when Henry died after an accident in a Formula 2 event. The only positive outcome was how John established a charitable foundation in the name of his son, and in his personal dignity through adversity.
John Surtees was a confident and talented racer, technically skilled and a determined and honourable man. He was a significant figure in both of the Grand Prix arenas in which he competed, with achievements which may never be matched. He will be long remembered.
John Surtees: born Tatsfield, Surrey
11th February 1934 to 10 March 2017
World Championship titles:
1956 500cc (MV Agusta) · 3 wins
1958 350cc (MV Agusta) · 6 wins
1958 500cc (MV Agusta) · 6 wins
1959 350cc (MV Agusta) · 6 wins
1959 500cc (MV Agusta) · 7 wins
1960 350cc (MV Agusta) · 2 wins
1960 500cc (MV Agusta) · 5 wins
Grand Prix wins in total: 38 (1955-60)
NSU 250cc 1; MV Agusta 350cc 15; MV Agusta 500cc 22
Grand Prix podium total: 45 (1955-60)
Isle of Man TT wins:
1956 Senior (MV Agusta)
1958 Junior (MV Agusta)
1958 Senior (MV Agusta)
1959 Junior (MV Agusta)
1959 Senior (MV Agusta)
1960 Senior (MV Agusta)
TT podium results: 8 (1956-60)
TT fastest laps: 7 (1956-60)
World Championship titles:
1964 Formula 1 (Ferrari) · 2 wins
Grand Prix wins in total: 6 (1963-67)
Ferrari 4; Cooper 1; Honda 1
Grand Prix podium total: 24 (1960-69)
non-championship Formula 1 wins: 8 (1961-71)